NYC from Annie is featured in Opening Night, the seventeenth episode of Season Five. It is sung by Sue and Will.
As Sue plans to go to New York to heckle Rachel during her first Funny Girl performance, Will goes for Rachel's support. The two perform together and it merges with their entrance to New York.
Lyrics
Sue:
NYC
What is it about you
You're big
You're loud
You're tough

Will:
NYC
I go years without you
Then I can't get enough
Enough of the cab drivers answering back
With language far from pure

Sue:
Enough of frankfurters answering back
Brother, you know you're (Will: in NYC) NYC

Sue and Will:
Too busy, too crazy
Too hot, too cold, too late
I'm sold again on NYC

NYC

The shadows at sundown
The roofs, that scrape, the sky

NYC

(Will: The rich and) the rundown
The big parade goes by

Will:
What other town has the Empire State
And a mayor, five foot two

Sue:
No other town in the whole forty eight
Can half compare to you

Sue and Will:
Oh, NYC

Will:
You make 'em all postcards

Sue and Will:
You crowd, you cramp
You're still the champ
Amen for NYC

Will:
NYC
Just got here this morning

Sue and Will:
Three bucks, two bags
One me

Sue:
NYC

Will:
NYC

Sue and Will:
I give you fair warning
Up there in lights I'll be

NYC

You're standing room only
You crowd, you cramp
You're still the champ
Amen for NYC
Gallery
Video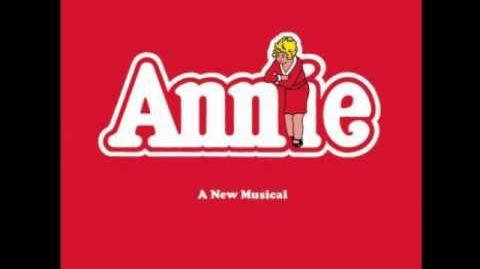 Ad blocker interference detected!
Wikia is a free-to-use site that makes money from advertising. We have a modified experience for viewers using ad blockers

Wikia is not accessible if you've made further modifications. Remove the custom ad blocker rule(s) and the page will load as expected.