Noah "Puck" Puckerman
General Information
Gender:
Male
Age:
20
Hair Color:
Dark Brown
Eye Color:
Hazel
Birthday:
1993
Height:
6'0"
Occupations:
Recruit personnel at United States Air Force
Aliases:
Puck (everyone)
Egghead, The Biggest French Whore of Them All (Quinn)
Punkin (Beiste)
Neanderthal (Kurt)
Puckzilla, The Lion King Puck-fasa, Big Daddy, Puckasaurus, Puckster, Puckerone, Puck-gellen, Pucky Puck, The Puckwagon, Sex Shark, Lola (while dressed as a woman), The Original Badass, The Saw, Sir (himself)
Nathan (according to the 09 - 10 "Thunderclap")
Sad Sack, Nerd (Lauren)
Private Puckerman (Santana)
Wingman (Finn)
The Girl with the Mohawk (Azimio)
A Hot Piece Of Booty (Becky)
Lima Loser (Quinn, Rick)
Nancy (Rick)
The Pucker Man (superhero alter ego)
Family & Friends
Family:
Mrs. Puckerman (mother)
Mr. Puckerman (father; estranged)
Unnamed Sister
Nana Connie (deceased, mentioned in Wheels)
Beth Corcoran (daughter)
Jake Puckerman (half-brother)
Relationships:
Quinn Fabray (girlfriend; in love, mother of his child)
Santana Lopez (ex-girlfriend)
Brittany Pierce (sexual; ended)
April Rhodes (sexual; ended)
Rachel Berry (ex-girlfriend)
Mercedes Jones (ex-girlfriend)
Lauren Zizes (ex-girlfriend)
Shelby Corcoran (former crush; sexual; ended)
Kitty Wilde (ex-girlfriend)
Friends:
Quinn Fabray
Rachel Berry
Finn Hudson
Mike Chang
Mercedes Jones
Tina Cohen-Chang
Kurt Hummel
Artie Abrams
Santana Lopez
Brittany Pierce
Holly Holliday
Shelby Corcoran
Sam Evans
Rory Flanagan
Giardi Triplets
Matt Rutherford
Sugar Motta
Joe Hart
Blaine Anderson
Lauren Zizes
Ryder Lynn
Becky Jackson
Marley Rose
Will Schuester
Sheldon Beiste
Enemies:
Rick Nelson
Phil Lipoff
Bobby Surette
Biff

Other Information
Interests:
Sex
Cougars
Music
Paintball
Star Wars
Super Mario Brothers
Screen writing
Clique:
New Directions (formerly)
Football Team (formerly)
Education:
William McKinley High School
University of Lima
Talent:
Singing
Dancing
Guitar
Lying
Sex
Committing Crimes
Song Writing
Piano (Accordion)
Vulnerabilities:
Beth
His Mohawk
Strengths:
Football
Singing
Guitar
Quinn's kisses
Weaknesses:
Falling In Love
Awards:
2011 High School State Football Championship (shared with the rest of football team)
'11 Show Choir Sectionals, first place
'12 Show Choir Nationals, first place
2012 WMHS Anti-Prom King
Series Information
First episode:
Pilot
Last episode:
A Wedding
Portrayer:
Mark Salling


Matthew Lepper (Younger)
Darren Criss (Tina's Dream)
"

I'm the original bad-ass. I had my first threesome at seven, and once I beat up a police horse.

"

—Noah Puckerman, Britney 2.0
Amn. Noah "Puck" Puckerman, USAF is a major character on Glee. Puck is an alumnus of William McKinley High School as of Goodbye. He is now a former member of both the Glee Club and the Football Team. He is currently enlisted in the Air Force.
As a self-proclaimed "badass," Puck is well known around the school for constantly tossing students into dumpsters and also for initially being a primary culprit for throwing slushies in everyones faces. At first, Puck is very much opposed to the Glee Club, deeming it "gay" and a group for "losers." Shortly after Quinn Fabray joins the club, Puck discovers that she has become pregnant with his baby, and joins the glee club as a way of being closer to her. As Season One progresses, Puck begins to enjoy glee club and find his passion for singing. 
Quinn eventually gives birth to their biological daughter in Journey. They named her Beth, and she is adopted by Shelby Corcoran, the coach of Vocal Adrenaline. In Season Two, Puck dates Lauren Zizes. In Season Three, it's revealed that Puck and Lauren broke up, as Puck says, "She was the one that got away, really slowly." In I Am Unicorn, he sees his one-year-old daughter, Beth for the first time since she was adopted. In Season Four, Puck returns to help out and mentor his half-brother, Jake Puckerman. Their relationship continues to grow and flourish, especially when Jake needs help with Marley. Puck dates Kitty Wilde after Sadie Hawkins, but they break up offscreen before Sweet Dreams. In Season Five, at the end of The Quarterback, Puck decides to enlist in the Air Force in order of honor his late friend, Finn. In 100, Puck officially begins a relationship with Quinn.
He was a main character from the beginning until he was demoted to recurring starting from Season Five. He is portrayed by actor and singer-songwriter, Mark Salling. 
Biography
Personality
"

Revenge? Fear? The merciless infliction of pain? These are my kingdoms.

"
Noah "Puck" Puckerman is, at first glance, the stereotypical bullying jock. Arrogant, rude, and judgmental, Puck is under the unwavering belief that because he is a good at sports, he is better than everyone else. He is also a bit "gangster," as he abuses many "dweebs" and has even been sent to juvie due to his delinquent behavior. He even states that by second period he's causing trouble, like holding a fire extinguisher in his hand and spraying an unpopular person with it. And because of his supposed superiority, he believes that allows him to mistreat anyone else who he feels is different from him (such as Kurt for being gay and Artie for being handicapped). Puck also has a very easily provoked temper, and will attack friends and enemies at the drop of a hat if pushed.
Puck's arrogant behavior has made it to where he often doesn't consider the consequences of his actions and behavior, and how it might affect others. Puck's arrogance not only relates to school politics, but also in regards to girls. Although crude, Puck is nonetheless handsome, and knows it. As such, he feels any and all women are fair game for his sexual prowess. He's shown himself to be particularly fond of older women MILFs (Mom I'd like to F*ck). In truth however, Puck is willing to have sex with any woman who is available, even his best friend's girl. He also seems to revel in the chase and the conquest, as can be seen with his pursuing of Lauren in Season Two. Because he has a lot of sex, he thinks he is a sex master, as stated in Prom-asaurus.
"

God, I'm so tired of people judging me for a few mistakes I've made. I've tried to be a good guy, I go to school and I say "be cool Puck, be nice" but by second period I've got a fire extinguisher in my hand and I'm spraying some dweeb with it and I don't know how I got there.

"

—Puck to Rachel, Bad Reputation
However, although Puck rarely shows it, he does have several surprising good qualities. He is sensitive about being liked and popular, and finds the idea of being an outsider or bullied unnerving and has been shown to feel guilty for behaving that way towards others so much so that he seems to have stopped his bullying streak since joining the glee club, at least his bullying towards glee members. He knows that his actions are wrong and owns up to that; he doesn't lie about it. Puck also seems to find family very important, as he has a regular family event in which his mother, sister and himself will watch Schindler's List. In addition, Puck is seen trying to be a good father and influence around his daughter,Beth,showing another time how much family means to him. When his mother asks him to date a nice Jewish girl, he does so and asks Rachel out in order to honor his mother's request. Furthermore, when Puck discovers that Quinn is carrying his baby, he does as much as he can to show himself as a good father, although he uses some illegal methods. He shows how much he cares for Quinn when he gets into a physical fight with Finn, after he stated that Finn was often thinking about himself, ignoring how much pain Quinn was in, and even going as far as saying that he does not deserve her.
"

Don't push me Karofsky. You pushed my boy Kurt out of here. Juvie or no, you're already number one on my list to go all Death Star on.

"
Puck has also proved loyal on occasion, as his friendships with the Glee Club have progressed, such as removing the Glist from Rachel's locker when "someone" (Quinn) put it there and his willingness to get into fights to defend Glee even if it will send him back to Juvie. He is also able to take care of Kendra's children alongside Quinn, something Kendra herself can't do, thus implying that he can be a good parent. Puck also seems to be changing his promiscuous ways, refusing to make out with Rachel because he felt guilty cheating with his best friend's girlfriend a second time. Most notably Puck seems to have genuinely fallen for Lauren Zizes, an overweight girl with a lot of attitude, clearly showing he is able to love someone for who they are despite popularity status or physical appearance and is not afraid to show it.
He has also mentioned buying dip on several occasions and seems to be a very devout Jew.
In Season Two he values his friendship with Finn, feeling bad about sleeping with Quinn, judging by his situation with Rachel. He eventually manages to win back his friendship, and seems to be a much helpful friend later.
As of Season Three, it appears as if Puck's juvenile behavior has lessened, and he appears to be on better terms with Artie or Kurt, and in the First Time, he tries to give Finn advice about him and Rachel. He's also trying to be a good father towards Beth, who has been adopted by Shelby, and persuades Quinn to get back to normal, therefore they can participate in Beth's life.  In Props, he experiences an emotional breakdown, crying in tears deeming himself as the school's failure. He then cites how his mother never shows up to any of his performances or games the entire time, and how for the first ten years of his life his father did nothing, but call him "garbage." This shows how insecure Puck has felt and how he may have seen himself.
It appears, that on a few occasions he is shown to not make a certain mistake another time. When Rachel got close to Puck to make Finn jealous, he did not sleep with her, apparently remembering that he already hurt Finn once with Quinn and does not wish to do it again.
Relationships
Main article: Quinn-Puck Relationship (Quick)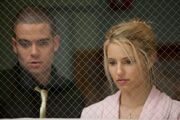 Puck has a one-night-stand with his best friend's girlfriend Quinn, from which she gets pregnant. Quinn initially attempts to raise her child with
Finn
, but when both, Quinn and Puck, realize, that Finn lacks the maturity to raise a kid, Puck steps up to raise money and spend time with her. Quinn, however, still doesn't think she can trust Puck, and stays in a relationship with Finn, until it is exposed in
Sectionals
that she cheated on him. Although Quinn and Puck are still relucant to commit to each other, they support each other through the remainer of Quinn's pregnancy, until
Beth
is born in
Journey
. Afterwards, they admit their feelings for each other, and choose to name their daughter Beth, a name Puck had come up with in
Theatricality
.
After Quinn gives birth, they do not talk much until the third season. Together they plot against Shelby, the adoptive mother of Beth, because they wish to have their daughter back. However, Puck soon develops feelings for Shelby, and reveals their plan to Shelby. After Quinn learns that teacher Shelby has slept with student Puck, she tries to blackmail her with it. in Goodbye, Quinn visits Puck to encourage him for a crucial exam, and they share a kiss.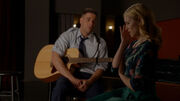 They only interact in one episode of Season Four, in which they are set up by Kitty to fight about Puck's half-brother Jake and his love-interest Marley.
In Season Five, the glee club alumni are back at McKinley to reminisce their time together before the glee club is shut down due to their loss at Nationals. Quinn is now dating a new man called Biff, who remains in the dark about Quinn's past. When Biff mistreats Quinn after learning what had occurred to her during high school, she is protected by Puck, and ends up leaving her boyfriend. Quinn and Puck begin dating immediately after.
Main article: Finn-Puck Relationship (Pinn/F*ck)
Finn and Puck were always best friends even though they past through a lot during Season One. In the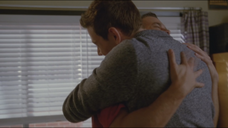 third season Puck wants Finn to join him after graduation, but Finn desists. Instead, he helps him to finish the year with a good mark and so he can graduate. In Season Four both discover that now are roommates. In Season Five, with Finn's sad and sudden death, Puck becomes depressed, and sings to him No Surrender. Also, to honor him, he decides to join the Air Force. 
Main article: Puck-Lauren Relationship (Pizes)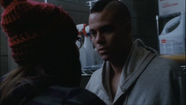 In Special Education, after trying to get the football team to join Glee, Puck finds himself locked in a port-a-potty for twenty-four straight hours. He is finally rescued by Lauren, who he then asks to join Glee as no one else will. Lauren agrees to join, under the requirements that Puck finds her Cadbury Eggs and also plays "7 Minutes in Heaven" with her. When they both arrive in Glee, Puck, in a state of shock admits that Lauren "rocked his world." Later at Sectionals, Puck tells Lauren not to worry about going on stage, as he has her back. She however retorts that she's not nervous because "show choir is stupid." Puck is left taken aback by this comment, but proceeds to dance and sing with her during Dog Days Are Over. During the next couple of episodes Puck desperately courts Lauren while she coyly refuses his advances, which only intrigues Puck more. They also share some smiles. However, it is implied that they soon begin an informal relationship. Eventually, she breaks up with him at the start of Season Three.
Main article: Puck-Rachel Relationship  (Puckleberry)
"Puckleberry," as Rachel Berry reveals in Bad Reputation and Rumours, and as Finn mentioned in Furt, is the name the high school gave to the pairing during their short relationship. They no longer appear to have feelings for each other, but are now good friends, despite the fact that Puck used to bully Rachel.
In Mash Up, Puck tries to win Rachel's heart when his mother expresses her desire for him to date a Jewish girl, and this prompts him to have a dream in which Rachel appears. They then enter a relationship, but break up the very same episode, since Rachel admits to still having feelings for Finn.
In order to get back at Finn for lying about still being a virgin, Rachel kisses Puck in Special Education, although Puck pulls back midway when he realizes that Finn's girlfriend is cheatign with him for the second time. This results in the end temporary end of Finn and Rachel's second relationship.
Main article: Puck-Shelby Relationship (Shuck)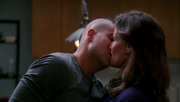 Puck and Shelby get more to do with each other when Shelby returns to LIma in Season Three, and tries to involve Beth's biological parents in her adopted daughter's life. After she shares with him how much she misses a significant other with whom she could share her experiences with Beth, Puck and Selby share a kiss. Puck then begins to develop feeligns for Selby, and even exposes Quinn's plan of taking Beth from her, but Shelby is not interested in dating a student. Despite this, they sleep with each other in I Kissed a Girl, although Shelby immediately expresses regret for doing so and ends things with Puck completely.
Quinn later uses their fling in an attempt to blackmail Shelby in Hold on to Sixteen.
Main article: Puck-Santana Relationship (Pucktana)
Puck and Santana are an on and off couple in the first two seasons, and are often sexting or sleeping together. After Santana comes out, Puck says that he knows he was just a phase, and is all right with that.
Main article: Mercedes-Puck Relationship (Puckcedes)
In the episode
Laryngitis
, Puck gets thrown into a dum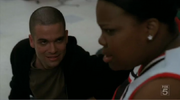 pster because he shaves his mohawk off. While he was inside the Dumpster, he thought that if he dated a Cheerio he would regain his social status. He decides to go after Mercedes, thinking that because they are both in Glee Club, she will be attracted to him. Puck sings 'The Lady is a Tramp' with Mercedes and
Santana
becomes jealous and anxious. She and Mercedes perform the duet
The Boy Is Mine
, which turns out to be surprisingly aggressive. Mercedes later dumps Puck for throwing "dweebs" in the dumpster, saying that's not who she is, and she doesn't think it's who he is either.
Main article: Kitty-Puck Relationship (Wilderman)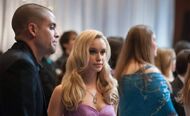 Because Jake is well aware that Kitty is attempting to sabotage his relationship with Marley, Puck persuades her to go to the "Sadie Hawkins"-dance with him, in an attempt to get her to leave Jake and Marley alone. Kitty agrees, and at the dance, they get along well, and leave early to have sex in Kitty's car. From then on, it is mentioned regularly that they are in a relationship, until
Lights Out
, when Kitty reveals to Ryder that they have broken up.
Family
Main article: Jake-Puck Relationship (Puckermen/Puckerbros)
Puck lives with his mother and sister. His father was not around to see Puck grow up. In Season Four, it was revealed that Puck has a half brother, Glee Club member Jake.
Songs
Instrument Playing
In a Solo
In a Duet
In a Group Number
Trivia
It was Mark Salling's idea to give Puck a Mohawk.
All of the bullying that Puck had done to Kurt, Rachel, and Artie was done to him: like Rachel, he was slushied in Mash-Up; like Kurt, he was thrown into a dumpster in Laryngitis and Props; and like Artie, he was locked in a portable bathroom in Special Education.
When Puck visited his daughter, Beth, for the first time since her adoption, he is wearing the same shirt that he wore when he sung Beth.
In Audition, he claimed to have gotten a vasectomy. However, in I Kissed a Girl, he is worried that he would get Quinn pregnant, despite not being able to conceive children. This is probably just a continuity error. 
Puck has played his guitar in every solo he has sung.
In Original Song, Puck stated that his favorite song of all time is "What's Going On" by Marvin Gaye.
Starting from 100th episode, Puck was never seen wearing another clothes out from his US Air Force Uniform. (With the exception of Take on Me performance).
Gallery
Quotes
Main article: Puck's Quotations