Puck-Artie Relationship
Comments

11
1,697pages on
this wiki
Puck-Artie Relationship
General Information
Nickname:
Partie
Arck
Artick
Intimacy Level:
Friends
The Puck-Artie Relationship, also known as Partie, is the friendship between Noah Puckerman and Artie Abrams. They officially became friends in Never Been Kissed, the sixth episode of Season Two.
Episodes
Puck and the Football Team trap Artie in a porta-potty, planning to flip it over. Finn points out that this could be dangerous, but Puck counters that Artie is already in a wheelchair anyway. Puck offers Finn the chance to tip the porta-potty over, but Finn instead frees Artie, to which Puck responds: "Why are you helping out this loser?"
Having now joined the Glee Club, Puck helps carry Artie on his wheelchair when they are storming out of the auditorium.
Puck wants to help Artie, but he cares more about his family so he tries to steal money from the cupcake fund for Quinn and their baby. Quinn reminds him that Artie is someone they both consider a friend, though. Puck then gives all the money to the Glee club in order to help Artie, like it was originally intended.
Puck chooses for his community service to be helping Artie. He and Artie sing
One Love (People Get Ready)
to raise Artie's popularity and gain some money to help pay Puck's parole. Artie tells Puck he is still in love with
Brittany
, so Puck arranges for them to go on a double date with him and
Santana
. At the restaurant Puck decides to dine 'n' dash, but Artie doesn't want to and pays, this makes Puck angry with Artie. When Puck gets told helping Artie doesn't count as community service, Artie offers to help Puck picking up trash by the highway, during which Artie would tutor him on geometry so that he can pass the class. Puck apologies for what he said at the restaurant and Artie thanks Puck for making him feel cool.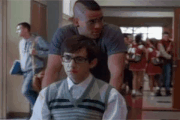 At the very beginning of the final scene of the episode, before Mr. Schue walks into the classroom to announce what his plans are for Sectionals, Artie is playfully punching Puck's open hands in some sort of game.
Puck plays the guitar during the song Isn't She Lovely, which Artie sings to cope with his breakup from Brittany. Later, he gives him some advice on how he can win her back. Puck also wants Artie's help to spike Sue's punch bowl, which Artie declines at first. However, after Brittany rejects his prom proposal, he tells Puck that he'll help. Later, the two perform Friday at the prom with Sam. The prank to spike the punch bowl ultimately backfires as Sue catches Artie in the act, resulting in him miss most of his junior prom. Sue tries to interrogate him to tell her who put him up to the job, but Artie refuses to rat out Puck, even though it costs him most of his prom.
As Artie is wheeling himself down the halls he raises his hand to give Puck a high-five, but Puck gives him an unamused look and leaves him hanging.
At the end, when everyone thanks Artie for being a great director and gives him flowers, there is a nice close-up shot of Puck smiling at him and clapping for him.
When the New Directions try to talk Artie out of his relationship with Becky, Puck questions if Artie has any intentions for dating her.
To help Puck graduate, Artie with the rest of the New Direction boys (minus Kurt) help Puck study for his Geography exam staying up the whole night to tutor him.
When Puck announces that he is going to attend the anti-prom instead of the actual one, Artie asks him what became of his plan to spike the punch bowl at prom with alcohol, reminding Puck how he almost lost his teeth for it the year before.
During You Get What You Give, Artie shakes his head and smiles at Puck's solo line and dancing.
When Rachel explains how Glee Club is about different people coming together in order to have fun at making music, she uses Puck and Artie as an example.
In Artie's dream, he can walk and therefore results in no Glee Club. In the halls, Artie notices Puck, along with Finn, Sam, Jake, Ryder, and Mike, harassing and bullying Kurt against the lockers and mocking his sexuality. Artie then steps in, wondering why they are acting like such jerks since they have sung Lady Gaga. Immediately Puck turns his attention to Artie and also pushes him into the walls and threatens to break his legs if he ever says that again to anyone. Artie then recruits all the members of New Directions into the choir room and tries to get them to remember the good times and the love they have for singing by performing Feliz Navidad. During the performance, Puck looks unamused and questions what he is trying to do.
It is also insinuated that without Artie and the club, Puck never got the help academically for his classes, and therefore failed and didn't get to graduate on time, and hence why Puck was still at McKinley.
They do not interact in the episode, but when Finn suggests doing a bake sale to raise money for Regionals, Artie reminds Finn that the fundraising back in "Wheels" had only successful because Puck had spiked the cupcakes with marijuana.
Artie watches as Puck performs No Surrender with the rest of New Directions. After the performance Santana confronts Puck about Finn's letterman jacket, Puck denies it but Artie still accused him of stealing it.
Artie, along with the rest of the alumni and New Directions, helps Puck with his Keep Holding On performance.
Songs
Duets
Sang Together (In a Group Number)
Season One

Song

Episode

Solos with

It's My Life/Confessions Part II
Vitamin D
Finn
What It Feels Like for a Girl
The Power of Madonna

Finn and Kurt

Shout It out Loud
Theatricality
Finn
Any Way You Want It/Lovin' Touchin' Squeezin'
Journey
Finn, Kurt, Mercedes, and Rachel
Don't Stop Believin'
Finn, Kurt, Mercedes, Rachel, and Santana

Season Two

Song

Episode

Solos with

Empire State of Mind
Audition
Finn, Mercedes, Rachel, and Santana
Billionaire
Sam
Stop! In the Name of Love / Free Your Mind
Never Been Kissed
Finn and Sam
Jingle Bells
Glee: The Music, The Christmas Album
Finn
Blame It (On the Alcohol)
Blame It on the Alcohol
Mercedes and Santana
Friday
Prom Queen
Sam
Bella Notte
New York

Season Three

Song

Episode

Solos with

Man in the Mirror
Hold on to Sixteen
Blaine, Finn, Mike, and Sam
Do They Know It's Christmas?
Extraordinary Merry Christmas
Blaine, Brittany, Finn, Kurt, Mercedes, Rachel, Santana, and Tina
La Cucaracha
The Spanish Teacher
Finn and Will
Related Songs
Trivia
Puck and Artie have both hooked up with Brittany, had some type of relationship with Becky, and have dated Kitty.
Puck usually pushes Artie's wheelchair when they have scenes together.
Artie seems to really care about Puck and his grades (Never Been Kissed and Choke).
Artie is the only member of the New Directions that Puck has talked to about what really happened to him when he was in juvie.
Gallery
v - e - d

Glee Relationships




Character relationship(s) displayed:

Adam

Artie

Becky

Betty

Blaine

Bree

Brittany

Brody

Burt

Cassandra

Chandler

Cooper

Dani

Dave

Elliott

Emma

Finn

Holly

Jake

Joe

Kitty

Kurt

Lauren

Mario

Marley

Mercedes

Mike

Millie

Puck

Quinn

Rachel

Rory

Roz

Ryder

Sam

Santana

Sebastian

Shannon

Shelby

Sue

Sugar

Sunshine

Tina

Terri

Unique

Will