Puck-Becky Relationship
Comments

11
1,697pages on
this wiki
Puck-Becky Relationship
General Information
Nickname:
Pecky
Buck
Intimacy Level:
Friends
The Puck-Becky Relationship, most commonly known as Pecky or Buck, is the friendship between Noah Puckerman and Becky Jackson. They had very minimal interactions during Season One, Two and Three, but it seems that they became friends during Prom-asaurus, the nineteenth episode of season three.
Episodes
While Becky is looking for a guy to be her boyfriend, she sees Puck, but removes him from her list of potential boyfriends because she doesn't like his mohawk. This list also included Artie, Mike, and Rory. She chose Artie because Rory smiles too much and not Mike because she isn't "a rice queen."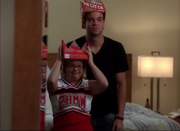 Puck and Becky both attend
Rachel
's "Anti Prom", along with
Kurt
,
Blaine
, and eventually
Finn
. When the others eventually decide to go to prom, Puck and Becky stay behind to play strip poker. After winning several rounds and making Puck strip down to his underwear, Becky tells him that she is upset because she wasn't nominated for Prom Queen. To cheer her up, Puck makes two crowns from cardboard, and crowns himself and Becky king and queen of Anti-Prom. They later attend prom together, where Becky distracts
Sue
, allowing Puck to spike the punch, and accomplish his dream after trying for two years.
Gallery
v - e - d

Glee Relationships




Character relationship(s) displayed:

Adam

Artie

Becky

Betty

Blaine

Bree

Brittany

Brody

Burt

Cassandra

Chandler

Cooper

Dani

Dave

Elliott

Emma

Finn

Holly

Jake

Joe

Kitty

Kurt

Lauren

Mario

Marley

Mercedes

Mike

Millie

Puck

Quinn

Rachel

Rory

Roz

Ryder

Sam

Santana

Sebastian

Shannon

Shelby

Sue

Sugar

Sunshine

Tina

Terri

Unique

Will