"

I just want somebody to love me.

"

—Quinn Fabray, New York
Lucy Quinn Fabray, known simply as Quinn Fabray, is a character on Glee. Quinn was the girlfriend of Finn Hudson, was one of the most popular students at William McKinley High School, and was the captain of the cheerleading team, the Cheerios. However, her life took a drastic turn when she learns that she is pregnant with Noah Puckerman's, Finn's best friend, baby. However, she lies to Finn and tricks him into believing that she got pregnant when Finn ejaculated prematurely when they were in a hot tub. The truth eventually comes out, and she and Finn break up. Afterwards, at Regionals, Quinn gives birth to her daughter, Beth, whom she gives up for adoption.
Throughout the series, Quinn goes through a rollercoaster of emotions. In Season Two, she starts a romance with Sam Evans, but Sam ends things with her after she cheats on him with Finn. Quinn and Finn restarts their relationship and run for prom court, but it ends when Finn realizes he's in love with Rachel Berry. In Season Three, she begins to exhibit erratic behavior, such as joining The Skanks and plotting to take Beth away from her adoptive mother Shelby Corcoran, Rachel's biological mother. After a series of bad relationships throughout seasons four through five, Quinn eventually finds romance with Puck, and the two enter a relationship.
Quinn is portrayed by Dianna Agron.
Biography
Personality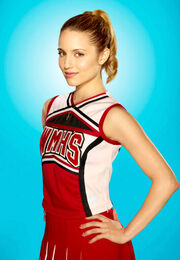 When first introduced, Quinn is the ultimate snarky mean girl. Popular, beautiful, and a complete snob, she is admired by every single boy in the school (not to mention everyone else). Quinn makes certain that everyone around her knows who is top dog. She feels that being popular is the most important thing and as a cheerleader, she constantly goes out of her way to demean those who she doesn't like - willing to do whatever she can to demonstrate her superiority. Furthermore, as president of the Celibacy Club, Quinn is originally an extreme borderline Bible-thumper, preaching her faith at random periods.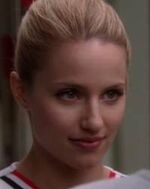 Aside from being cold and judgmental, Quinn is also extremely manipulative. She views anyone and everyone as a potential enemy or pawn to be used. Willing to lie and cheat, Quinn will do anything and everything she can to make sure that things worked out in her favor, no matter how they affected others - she went so far as to convince Finn that he was the father of her baby. Quinn is also very petty and easily angered by jealousy, and would do anything she can to exact revenge.
At home, meanwhile, Quinn plays the role of "Daddy's Little Girl," always being as sweet and polite as possible, and doing everything she could to hide from her WASP parents all the 'sinful' things she might be doing. After discovering that she is pregnant, however, Quinn begins her transformation, thanks, in large part, to the support from the Glee Club. Initially unwilling to trust them, she sees this as an opportunity to abuse their open and loving nature. She admits to loving the glee club; however her obsession with popularity almost forces her to leave glee in order to be with the Cheerios. However, she spends more and more time with glee and for the first time deservedly faces struggles of her own as when she finds herself a social outcast due to her pregnancy.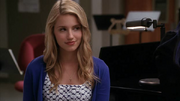 It is also shown that Quinn used to be the same type of person she regularly teases. Before eighth grade, she went by Lucy, was overweight, and a brunette. The other children called her Lucy Caboosey. Quinn takes up ballet, gymnastics, and cheerleading to help lose weight. When her father was transferred to Lima and got a raise, Quinn asked her father for a nose job, and then dyed her hair blonde, and asked her parents to refer to her by h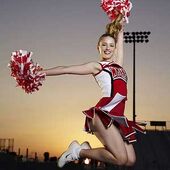 er middle name; Quinn. She still seems to enjoy bullying Rachel, but she does not seem to go out of her way to bully anyone else. In fact, she seems more empathic towards those who are bullied such as Sam, due to the fact she remembers vividly how it feels. She seems more intent on coming to terms with her prior life, and wants to rebuild herself. This has caused her to be reluctant to start a relationship with Sam, for fear for falling back into old habits regarding men. Quinn is forced to act more aggressively than before, due to her continued rivalry with Santana. Her personality has become meaner after her transformation. In the last episode of Season 2, Quinn has a breakdown, crying that she just wanted someone to love her.
Between the summer of 11 and 12th grade, Quinn begins to spend time with an all-girl group of delinquent girls called "The Skanks." As she joins "The Skanks," Quinn starts smoking and changes her image by dying her hair hot pink, getting a tramp-stamp of Ryan Seacrest's face and piercing her nose. She also starts dating a 40-year-old skateboard dude and quits New Directions. When Santana, Brittany, and later Rachel talk to her about it, she explains that she's hated being "under pressure" and also reveals in a voice-over she is "never going back." However, in the last scene of The Purple Piano Project, she sadly watches from the shadows as the Glee Club perform. In I Am Unicorn, she returns to her normal appearance because she wants to get Beth back. After she tricks Shelby by making her look like an unfit mother, she realizes that Beth is better protected with her Shelby. When she gets into a car crash in On My Way, she becomes paralyzed and uses a wheelchair for a period of short term. She recovers throughout the season and can walk again in Prom-asaurus, but she deceives everyone by telling them that she is still in the wheelchair, so she can get more votes to be the prom queen. When she discovers that she won the election, she changes the votes and makes Rachel win prom queen, because she thinks that she has to do something good before she graduates. She stands up of the wheelchair, when she sings Take My Breath Away with Santana in the same episode. She graduates in Goodbye and goes to the Yale University. In Thanksgiving she seems back to her old manners since she's trying to protect Kitty and slaps Santana in the same episode. During I Do she hooks up with Santana twice. In 100 Quinn is shown to be lying about her past in order to to present herself in a certain way to her new boyfriend, Biff McIntosh. With the help of Puck she learns to accept her past and breaks up wiith Biff to start a relationship with Puck, realizing she still loves him.
Relationships
Main article: Quinn-Puck Relationship (Quick)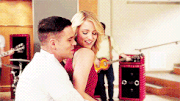 Puck and Quinn's relationship is both extended and complicated. They are originally both popular kids and part of the
Celibacy Club
, which Quinn is the president of. Quinn is the girlfriend of Puck's best friend, Finn, and yet they ended up having a one night stand that gets Quinn pregnant. Although often arrogant and cruel, upon discovering that she is pregnant, Puck is quick to step up, offering to be there for both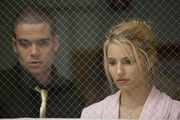 Quinn and the baby. Quinn, however, rejects the offer, stating that he's a 'Lima Loser' and instead lies to everyone, claiming that it is Finn's baby. This causes Puck to lash out and reveal her pregnancy to the rest of the Glee Club, but doesn't reveal that the father of her unborn baby is him.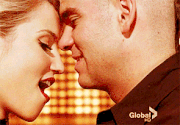 Puck ends up still wanting to help Quinn, and goes so far as to stealing money from the Glee Club bake sale in the hopes of winning her favor by offering to support the baby. Quinn gives Puck a shot and they babysit together. He continues to sext Santana, however, and Quinn chooses Finn over him again. Throughout the first half of the first season they share many glances and smiles with each-other. In Sectionals Finn finds out about the real paternity of Beth and kicks Quinn out. Puck wants to be with her, but she doesn't want his help. She moves in with him though. During Funk she moves out of his house claiming he's an idiot and his mother won't let her eat bacon. At the end of this season Puck tells her he loves her.
After Quinn gives birth, they don't talk much until the third season when Beth and Shelby come back. It causes a lot of tension when Puck and Shelby have an affair because Quinn wants the baby back, but eventually she gives up and tries to make a new one with Puck. He can convince her to drop the idea. At the end of season three, Quinn helps Puck study and they share a kiss. In Season Four, it is revealed that, even though they shared a kiss, they did not start a relationship together. Quinn and Puck start a relationship again in 100, when they found out that they still love each other.
Main article: Quinn-Finn Relationship (Fuinn/Fabson)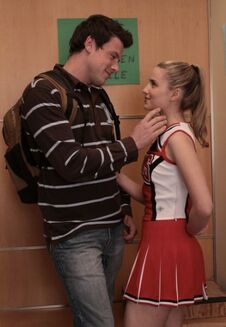 At the beginning of the show, Finn Hudson is Quinn's main love interest. Finn and Quinn both start out as popular and members of the
Celibacy Club
and
Glee Club
. As two of the most popular kids in the school, they began dating sometime prior to the series start. Although their relationship seems shallow and unhealthy at the start of season one, it is clear by Hairography that their relationship is much more than that, and they do love each other. In season one, Quinn has a habit of manipulating the sweet, but somewhat naive, Finn. During most of their relationship, whenever the pair of them begins to get physically intimate, Quinn abruptly stops, and asks that they pray instead. Although Finn very much wanted to sleep with Quinn, she always refused due to her religious beliefs. Ironically, Quinn ends up having sex with Noah Puckerman, who was Finn's best friend, when Puck gets her drunk and seduces her, resulting in her pregnancy. Rather than admit to the truth, Quinn lies to Finn and claims the baby was his, and explains that even though they didn't have sex, when Finn prematurely ejaculated in Quinn's hot tub, the water temperature was "perfect for sperm." Under the false belief that Quinn was carrying his child, Finn attempts to become a good father and better boyfriend. In the episode, Ballad, Finn's mother,
Carole
, learns of Quinn's pregnancy, when she catches Finn singing to Quinn's sonogram on his laptop, and reacts with surprising selflessness. However Quinn is angry as the secret could easily go back to her parents who will "burn her like a witch" if they found out, but Finn assures her everything will be fine. Later on, Quinn's parents,
Russel
and
Judy Fabray
invite Finn to have dinner with them. This quickly ends in disaster as when put under exceeding pressure, Finn looks to Kurt for advice, which is simply to sing about his emotions. Finn begins to sing
(You're) Having My Baby
, which is abruptly cut short as Quinn's father looks on angrily; knowing the choice of song was not accidental. After a tearful argument between her parents, her father throws her out and Finn invites her to live with him, along his mother, Carole. Their relationship officially ends in
Sectionals
when Finn finds out that Puck is the father. Throughout the back nine of season one, Finn and Quinn show subtle hints of not being over each other, despite her dating Puck and Finn chasing after Rachel. However despite this, they stop talking altogether, but during Journey, they smile at each other, alluding that they are back on good terms. When Season 2 begins, it is heavily implied that both Finn and Quinn still have feelings for each other, and Finn even admits to it, yet Finn remains with Rachel and Quinn begins dating Sam, until Finn and Rachel break up. Now single, Finn begins rebuilding somewhat of a relationship with Quinn in The Sue Sylvester Shuffle, and eventually she kisses him, despite still being Sam's girlfriend. They then kiss twice in Silly Love Songs, and both experience "fireworks." As of Sexy, Finn and Quinn are secretly dating, and look truly happy together. Quinn tells Finn she belongs with him and she wishes he'd been the one she lost her virginity to, not Puck. In Original Song, Quinn feels her relationship with Finn is threatened by Rachel after Rachel says that her and Finn are "not over yet." Quinn then tells her that they will never be together and she needs to get it right.
This then leads Rachel to write the song
Get It Right
. Quinn and Finn agree to start campaigning for Prom King and Queen after they announce their relationship after Regionals. In A Night of Neglect, their relationship still seems to be going fine. They are shown multiple times with their arms wrapped around one another. In Born This Way, Quinn and Finn argue about Mr. Schue's lesson of self-acceptance. It is later revealed that Quinn was once overweight, and that she had gotten a nose job after transferring from her previous school. Finn comes up to Quinn after finding this out and shows her the picture of how she used to be, kept in his wallet in place of one of her "better pictures," saying that it is his favorite of her because it is the first time he can actually see her. They share a kiss after this moment and seem to be going strong. In Rumours, Quinn gets in a fight with Rachel after Rachel says of Quinn and Finn's song that they shouldn't sing together, since she still has feelings for Finn and doesn't want Quinn and Finn to be getting to close. In Prom Queen, Finn is shown to still have his feelings for Rachel, as he seemed to get jealous when Rachel and Jesse are together. In Funeral, Finn breaks up with Quinn, saying that he doesn't feel tethered to her, and although he loves her, it can be assumed this was in a non-romantic manner.
Main article: Sam-Quinn Relationship (Quam/Fabrevans)
In Season 2, Quinn had initially decided that she wanted to be independent and alone. After she saw Azimio and Karofsky slushie Sam though, she took him into the girl's washroom and washed the slushie off his face. Sam tried to flirt with Quinn using the Na'vi language from Avatar to say, "You have pretty eyes." After Kurt tells Sam that it would be better if he found another duet partner, Sam decides to pair up with Quinn. In the astronomy lab, Sam and Quinn share an intimate moment as Sam shows Quinn how to play the guitar. As Sam leans in to kiss Quinn, she pulls away and begins to explain to Sam how she wants to be independent and how she is not interested in a romantic relationship. In a fit of anger, Quinn tells Sam she doesn't want to be his partner anymore and storms off. After being convinced by Rachel and Finn, respectively, Quinn and Sam once again decide to sing a duet together. Sam and Quinn perform "Lucky" and win the duet competition. During dinner, Sam's attempts at impressing Quinn fall flat, and he awkwardly tells her that he thinks she is brave for bouncing back from her pregnancy. After Sam confesses to dying his hair blond, Quinn puts away the coupons and tells Sam that he is paying for the dinner because a real gentleman always pays on the first date.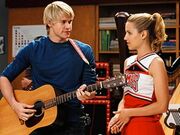 In
Furt
, Sam asks Quinn for some alone time. Sam takes her to the astronomy room again, and says that he wants to be the stars of McKinley with Quinn, and that he loves her. Then, he bends down on one knee, and shows Quinn a ring. Quinn says to get up; she's not ready to be married. Sam says that he wants to be married some day, and that it is a promise ring. A promise that he will be true and never pressure her to do anything but kiss. He says that he will promise to make her feel proud, and do much more. He says that he cares about Quinn, and wants them to be together. Although hesitant at first, at the end of the episode, Quinn is wearing the ring Sam gave her, a sign that they have started dating. In The Sue Sylvester Shuffle, Quinn becomes attracted to Finn again and kisses him. Then in Silly Love Songs, kisses him twice. They both come down with mono, which raises suspicion on whether they got it from making out with each other. Sam tries to win Quinn back by singing "Baby" by Justin Bieber to her. This works for a while until Santana reveals to Sam that Quinn and Finn had made out and that he just wanted to believe the story Quinn had told him. This causes Sam to end their relationship. Quinn still cares about him though because she helps Sam's family when they move into a motel.
They both are known as Ken and Barbie as indicated in Special Education by Rachel Berry.
Main article: Quinn-Joe Relationship (Quoe)
In season three, Joe and Quinn join The God Squad in the same episode (Quinn rejoined). After Joe tells the other members about himself, Quinn calls him "Teen Jesus." Although, Quinn and Joe don't seem to be attracted to each other in Heart, they sing love songs together, Stereo Hearts and Cherish/Cherish, with The God Squad. They show a little bit more friend interaction when Quinn drops her books on the ground and he helps her. They walk together and he says that he prays for her. Later, she tells him that she admires him. She introduces him to New Directions and he ends up joining. Joe accompanies her to physical therapy throughout her time in her wheelchair. In Dance With Somebody they sing Saving All My Love For You in front of New Directions. During the song, while he is helping her stretch, Joe leans in to kiss Quinn, but then he pulls away, concerned because of his faith. They later reveal that they have feelings for each other, and Joe asks Quinn if she wants him to go against his faith to be with her. She says no, because she likes the idea that there's something that can't be lost. They stay platonic friends, and Quinn calls their special connection "something new." It is believed that their relationship has ended as crushes due to the fact that Quinn went to Yale and Joe hasn't mentioned her or their relationship in Season 4.
Yale Professor
In the episode Thanksgiving, it is revealed that Quinn is dating a professor that works at Yale. Quinn has been to Jodie Foster's campaign with the Psych Professor. He is 35 years old and is married. It is known that his wife hasn't touched him for 3 years and he is divorcing her. He also smokes a pipe. In Naked, it was revealed that they broke up (delated scene).
Main article: Quinn-Santana Relationship (Quinntana)
In the
Pilot
, Santana was presented as Quinn's side kick. The two were also painted as frenemies. Throughout Season Two Santana was mad at Quinn for stealing the head-cheerio spot from her, but in
New York
they seem to be back on good terms. In Season Three they became really close friends, and run together for prom queen again. These good terms lasted until
Thanksgiving
, when they slapped each other during an argument. In
I Do
, they ended up sleeping with each other because Quinn had always wondered what it would be like to be with a woman. Afterwards, she first claims that while she enjoyed it and understands why college girls experiment with other girls, it's not something she's likely to do again, but when Santana offers her a second round she accepts without hesitation.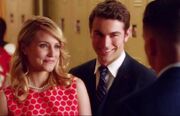 Biff is introduced in 100 as Quinn's new Yale boyfriend, and Puck is jealous because he still has feelings for her. Although they have been dating for 3 months, Biff does not know anything about Quinn's past, which concern her friends. This leads Puck sing Keep Holding On to Quinn. Quinn gets inspired by the song and reveals Biff the truth about her past: that she had a baby and has a tattoo. He reacts incorrectly and insults her, to which Quinn angrily twists his nose and Puck beats Biff and throws him in a trash can. Quinn then asks Puck to help him get Biff out of the trash can but Puck refuses. By the end of the episode, Quinn and Biff break-up, and she and Puck reunite and start a relationship again.
Songs
Trivia

In the early drafts of the pilot episode, Quinn's name was originally Liz Fabray.
Quinn is the only member of New Directions to get pregnant. 
In a deleted scene from Original Song, Quinn tells Finn she was a dancer when she was younger.
Quinn's cold stare and raised eyebrow is said by both Dianna Agron and the show's creator, Ryan Murphy, to be a slight homage to Bette Davis' character, Margot Channing, in All About Eve.
Quinn is the first character to change schools due to bullying, the others being Blaine, Kurt, and Kitty. However, this happened prior Pilot.
Quinn's voice became deeper during the second and third season, because Dianna Agron broke her nose twice.
She will be Blaine and Kurt's future surogate.
Every time Quinn sang in a competition New Directions placed first.
Dianna Agron was the last actor to be cast in the first season, which is why Quinn barely appears in the Pilot.
Quinn and Puck sang the last song in the history of the William McKinley High School's glee club.
Never sang in the opening or finale of a season.
Quinn has sung in every episode she has appeared since Season 4.
Gallery
Quotes
Main article: Quinn's Quotations