Rachel-Blaine Relationship
Comments

342
1,706pages on
this wiki
Rachel-Blaine Relationship
General Information
Nickname:
Blainchel
Raine
Anderberry
Intimacy Level:
Kissed
Friends
Dating History:
Went on one date in Blame It on the Alcohol
Dating Status:
One date
The Rachel-Blaine Relationship, commonly known as Blainchel, Anderberry or Raine, is the friendship and one-time relationship (one date) between Blaine Anderson and Rachel Berry. It began in Blame It on the Alcohol. Blaine later admits that kissing Rachel made him realize that he is "100% gay." However, after this short relationship, they became best friends throughout the rest of the series.
Overview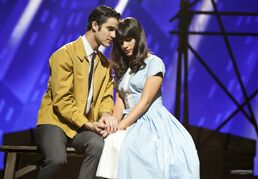 Rachel and Blaine seem to have met before as they are seen talking in the
Season Two
episode,
The Sue Sylvester Shuffle
, as friends. The two share a drunken, sloppy kiss in an imprompt game of spin-the-bottle in
Blame It on the Alcohol
. This is where their relationship sparks, as Rachel claims that she found a new duet partner in Blaine. Afterwards, they sing
Don't You Want Me
, and they seem to have interest in one another. They go on a date, but when Rachel kisses Blaine while he is in line ordering coffee in
The Lima Bean
he confirms that he is "100% gay." They were good friends in Season 3 and starred in
West Side Story
together. In the fourth season, they barely interact due to Rachel moving to New York for college. At McKinley, members of New Directions go head-to-head in the competitive run to be The New Rachel. Blaine eventually wins this role. Rachel is thrilled to see Blaine several times, during Kurt and Blaine's Skype calls, and also when Blaine visits Kurt, Rachel and Finn in
The Break-Up
.
Episodes
Trivia
One of the few relationships to end with no hard feelings on either side, with them both being among each other's closest friends.
They played Maria and Tony in the William McKinley High School's production of West Side Story.
Rachel has a photo of her and Blaine as Maria and Tony on her desk.
Both have cheated on their boyfriends. Rachel cheated on Finn with Puck, and Blaine cheated on Kurt with Eli C.
Were supposedly the "it couple" of talent in New Directions.
Both have referred to someone as the love of their lives on the show. (Blaine about Kurt and Rachel about Finn)
Rachel was Blaine's first on-screen kiss.
Kurt was also in every group number that they both sang in, during Season Four. In Season Three, he was in all of them, but one.
Both are first and second for the most solos. (Rachel - 1st and Blaine - 2nd)
Gallery
v - e - d

Glee Relationships




Character relationship(s) displayed:

Adam

Artie

Becky

Betty

Blaine

Bree

Brittany

Brody

Burt

Cassandra

Chandler

Cooper

Dani

Dave

Elliott

Emma

Finn

Holly

Jake

Joe

Kitty

Kurt

Lauren

Mario

Marley

Mercedes

Mike

Millie

Puck

Quinn

Rachel

Rory

Roz

Ryder

Sam

Santana

Sebastian

Shannon

Shelby

Sue

Sugar

Sunshine

Tina

Terri

Unique

Will