Help!




It seems this article is a stub and needs more information.
Feel free to edit the article and expand it.
Rachel-Brody Relationship
General Information
Nickname:
Brochel, Westberry, Westonberry
Intimacy Level:
Friends, possibly crushes
Dating Status:
Never Dated
The Rachel-Brody Relationship is the relationship between Brody Weston and Rachel Berry, that is also commonly known as Brochel, and other times they are referred to as Westberry or Westonberry.
Episodes
Rachel and Brody meet for the first time when Brody leaves the shower while Rachel is in the bathroom at the same time. They have a chat and realize that they have a few things in common.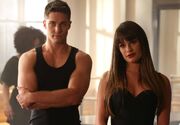 When Rachel is nervous because she has to sing a song in front of the entire university, Brody encourages her so that her rendition of New York State of Mind goes well. Brody is the only one clapping when Rachel finishes her performance, but Carmen Tibideau is also impressed.
Sometime later, while Rachel is looking at a picture of Finn, Brody interferes and tells her that her relationship is doomed, like when he broke up with his girlfriend six weeks after he came to NYADA. Rachel says that she and Finn won't end up like that for she won't turn her back on him. Brody says that nobody says she should, but tells her she shouldn't dwell in the past and should look on shaping her future because she moved to New York and became this new and improved girl. Brody then takes her iPhone and snaps a picture of both of them and tells her to remember what he says. He then offers to walk her to class.
Gallery
v - e - d

Glee Relationships




Character relationship(s) displayed:

Adam

Artie

Becky

Betty

Blaine

Bree

Brittany

Brody

Burt

Cassandra

Chandler

Cooper

Dani

Dave

Elliott

Emma

Finn

Holly

Jake

Joe

Kitty

Kurt

Lauren

Mario

Marley

Mercedes

Mike

Millie

Puck

Quinn

Rachel

Rory

Roz

Ryder

Sam

Santana

Sebastian

Shannon

Shelby

Sue

Sugar

Sunshine

Tina

Terri

Unique

Will