Rory's Quotations
are the quotations made by
Rory Flanagan
, portrayed by
Damian McGinty
.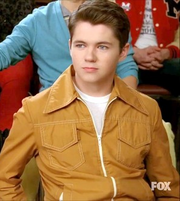 "

Finn Hudson. I've seen you on YouTube, losing glee club Nationals after tongue-kissing your girlfriend for 10 minutes. I'm a big, big fan.

"

—Rory to Finn, Pot o' Gold
"

Rory: Me names Rory Flanagan, and I love everything about America especially NASCAR, your half-black president and Victoria's Secret catalogs.
Finn: Yeah, cool, me too.

"

—Rory and Finn, Pot o' Gold
"

I really wanna snog her.

"

—Rory reffering to kissing Brittany, Pot o' Gold
"

Rory: Finn Hudson, that's Irish, right?
Finn: Uh no, my mom's from Toledo.

"

—Rory and Finn, Pot o' Gold
"

Rick: Say U2 is over rated, say it!
Rory: Never!

"

—Rick and Rory, Pot o' Gold
"

Santana: Ah, trusting with our hearts open.
Tina: With our arms open.
Rory: You came with your mou o-en.
Beiste: We have to work on this kid's diction.

"

—Santana, Tina, Rory and Beiste, The First Time
"

Thanks, Finn, but I don't think I'm ready for that honor just yet.

"

—Rory declining a solo during sectionals, Mash Off
"

Finn: Do you know what trash talk is?
Rory: Is that when you discuss trash?

"
"

You're skinnier than all the failed crops on your family's farm.

"
"

Rory: I've never heard of this game of dodging balls. What are the rules?
Puck: Don't die.

"
"

Sir? Girls smell better than ham and when their dancin' and bouncin' around, you can't help but watch.

"

—Rory to Will, Hold on to Sixteen
"

Sam: What are you doing this year?
Rory: I don't even know, Brittany and her family are going to see a Gay Santa, something about Santa Fe.


"

—Sam and Rory, Extraordinary Merry Christmas
"

Rory: These bells make me homesick
Sam: Like church bells
Rory: No, my brother Seamus gets lost all the time so my dad makes him wear a bell around his neck

"

—Sam and Rory, Extraordinary Merry Christmas
"

I thought that's what the hair was for - catching the dirt.

"
"

Artie: Yeah, as soon as I ask her out and she says yes because no offense, Irish but, no one understands a word you say.
Rory: Baloney, chicks dig accents.
Artie: Sorry, what was that? Couldn't quite make it out.

"

—Artie and Rory arguing over Sugar, Heart
"

Here's a four leaf clover kid. 'Cause you're gonna need all the luck you can get.

"
"

Sugar: If someone posted a picture like that of me online I'd probably kill myself.
Rory: Twice to be sure I was dead.

"
"

Tina: Maybe some other people would like a solo too.
Rory: I wouldn't mind another one before I get deported.
Sugar: I want one too, even though I can't sing.

"
"

Ah I pricked my thumb!

"
"

Turns out- you were the glue of Glee, Artie. The quiet, steady beating heart of the group. No glue, no Glee.

"

—Rory to Artie, Glee, Actually
"

Becky's the school slut now.

"
"

Artie: Well why isn't she in it?
Rory: She died.
Artie: How?!
Rory: ...Of a broken heart.

"

—Rory and Artie, Glee, Actually
Ad blocker interference detected!
Wikia is a free-to-use site that makes money from advertising. We have a modified experience for viewers using ad blockers

Wikia is not accessible if you've made further modifications. Remove the custom ad blocker rule(s) and the page will load as expected.