Rose's Turn from Gypsy is featured in Laryngitis, the eighteenth episode of Season One. It is sung by Kurt with his name in lights at the end of the song.
He becomes frustrated that his father is still spending more time with Finn (in the episode, Kurt dresses like his dad and pretends he's no longer gay while singing John Mellencamps' Pink Houses and dating Brittany) and sings this song to express his acceptance of his personality. He expresses his anger at the way his father seems to ignore him, for the 'son' he always wanted (referring to Finn). Burt overhears his performance, and reassures Kurt that he still loves him.
The song is originally performed by Ethel Merman in the musical Gypsy: A Musical Fable as the finale and it was also performed by Patti Lupone (Kurt's idol) in the 2008 Broadway Revival of the musical. It was written by Stephen Sondheim and Jule Styne.
Lyrics
Kurt:
All that work, and what did it get me?
Why did I do it?
Scrapbooks full of me in the background.
Give 'em love, and what does it get ya?
What does it get you?
One quick look as each of 'em leaves you.

All your life, and what does it get ya?
Thanks a lot, and out with the garbage.
They take bows, and you're battin' zero.

I had a dream.
I dreamed it for you, Dad.
It wasn't for me, Dad.
And if it wasn't for me, then where would you be,
Miss Rachel Berry?

Well, someone, tell me; when is it my turn?
Don't I get a dream for myself?
Starting now, it's gonna be my turn!
Gangway, world, get off of my runway!
Starting now I bat a thousand!
This time, boys, I'm taking the bows and...

Everything's coming up Kurt!
Everything's coming up Hummel!
Everything's coming up Kurt!

This time for me, ha ha ha ha ha!
For me!
For me!
For me!
For me!
For me!
For me! Yeah!
Trivia
Only a small portion of the song is sung in the episode. Some of the lyrics were changed to fit Kurt's storyline:

"Everything's coming up Rose; everything's coming up Rose's" is changed to "Everything's coming up Kurt; everything's coming up Hummel."
"June" and "Herbie" is changed to "Dad."
"Gypsy Rose Lee" is changed to "Rachel Berry" as a possible reference to the Defying Gravity diva-off in Wheels.

Kurt would later sing Some People, also from Gypsy, in Funeral.
After Kurt sings the lines "All that work and what did it get me?," Dominic Barnes, the actor who portrays Trent, is seen walking by.
This is also the first performance that has a background showing (one of) the performer's name in lights. The second one is Human Nature in Michael, which showed Mercedes' name.
Gallery
Videos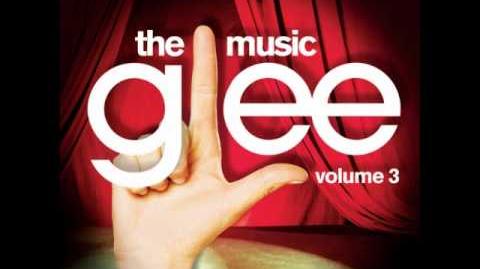 Ad blocker interference detected!
Wikia is a free-to-use site that makes money from advertising. We have a modified experience for viewers using ad blockers

Wikia is not accessible if you've made further modifications. Remove the custom ad blocker rule(s) and the page will load as expected.