Sam Evans
General Information
Gender:
Male
Age:
19
Hair Color:
Brunette (blonde when lightened with lemon juice)
Eye Color:
Green
Birthday:
May 1995
Height:
6'0"
Address:
Lima, Ohio
Occupations:
Assistant coach of William McKinley's Titans
Aliases:
Big Mouth, Biebster (Puck)
Lady Lips (Azimio)
Ken (Rachel)
Macaulay Culkin Stunt Double, Bee Sting, Kentucky-Fried Stripper, Pimp, Samgelina Jolie, Imbecile homeless teendrifter, Nipples the strippin' clown, Stupid trouty mouth strippin hobo (Sue)
The Full Blonde Bieber, Trouty, White Chocolate (himself)
Biebs, Salamander Lips, Sammy Evans, Guppy Lips, Guppy Face, Grouper Mouth, Froggy Lips, Lisa Rinna, Lipsy McChapStick (Santana)
The Epitome of a Leader (Mike)
Sammy (Stacey)
Trouty Mouth (Santana, Jacob, Mike, Bichette, himself)
Hobo McBieber, Big-Lipped Blondie, Hobo Stripper (Jacob)
White Chocolate (Stripper name)
Blonde Chameleon (superhero alter ego)
George (Blaine)
Richie Poor (Kitty)
Cowboy, Midnight Cowboy (Bichette)
Evan Evans (himself as his imaginary twin brother)
A Handsome Idiot (Public Information Film)

Family & Friends
Family:
Dwight Evans (Father)
Mary Evans (Mother)
Stevie Evans (younger brother)
Stacey Evans (younger sister)

Relationships:
Kurt Hummel (former crusher)
Quinn Fabray (ex-girlfriend)
Santana Lopez (ex-girlfriend)
Brittany Pierce (ex-girlfriend)
Blaine Anderson (former crusher)
Penny Owen (ex-girlfriend)
Rachel Berry (Girlfriend, sexual)
Tina Cohen-Chang (one make out session)
Charlie Darling (kissed)
Mercedes Jones (ex-girlfriend)
Friends:
Blaine Anderson
Tina Cohen-Chang
Artie Abrams
Finn Hudson

(best friend)
Noah Puckerman
Mercedes Jones
Becky Jackson
Mike Chang
Quinn Fabray
Kurt Hummel
Lauren Zizes
Rachel Berry
Brittany Pierce
Ryder Lynn
Rory Flanagan
Kitty Wilde
Joe Hart
Sugar Motta
Unique Adams
Marley Rose
Jake Puckerman
Will Schuester
Sheldon Beiste
Santana Lopez
Bichette
Spencer Porter

Pets:
Lady Tubbington (cat)
McConaughey (dog)
Enemies:
Hunter Clarington
Sebastian Smythe
Jean Baptiste
Other Information
Interests:
Comic books
Sports
Avatar
Star Wars
Impressions
Playing Guitar
Dogs
Clique:
Glee Club (formerly)
Swimming Team (formerly)
McKinley Titans
Education:
William McKinley High School (formerly)
Talent:
Singing
Sports
Impressions
Macaroni Art
Vulnerabilities:
Quinn Fabray's eyes (former)
Strengths:
Singing
Sports
Video Games
Weaknesses:
Dyslexia
Self Esteem
Cool Ranch Doritos

Self Confidence
Body Image

Awards:
2011 High School State football championship (shared with the rest of football team)
Series Information
First episode:
Audition
Portrayer:
Chord Overstreet
Mason McNulty (Young Sam)
Damian McGinty (Tina's Dream)
"

The best thing about Glee Club is it's not about labels. If you can sing and you can dance, you belong.

"

—Sam Evans, The New Rachel
Samuel "Sam" Evans is a major character on Glee. He is an alumnus of William McKinley High School. He makes his first appearance as a new sophomore in Audition, the first episode of Season Two, and soon joins the New Directions. After unsuccesful relationships with Quinn and Santana, he ultimately begins dating Mercedes. They break up after Sam moves out of state following Season Two, but after returning to Lima in Hold on to Sixteen, he begins working on trying to rekindle things with her. However, Mercedes ultimately decides against it, due to the guilt of having cheated on her new boyfriend Shane.
In Season Four, Sam starts dating Brittany, which leads to severe tension between him and Brittany's ex-girlfriend Santana. Brittany ultimately breaks up with him as she is about to leave high school. Around the same time, Sam befriends Blaine, who develops a temporary crush on him, and Tina, with whom he shares a single kiss in Trio.
After graduating in New Directions, Sam moves to New York to pursue a career in modelling. At the Big Apple he gets back together with Mercedes for a third time. However, even this relationship fails when Sam struggles to cope with Mercedes' celibacy vows. He moves back to Lima after a successful photo session in The Untitled Rachel Berry Project. As of Loser Like Me, he is now Coach Beiste's assistant football coach at WMHS.
He is a regular recurring character during the second and third season before promoted to main character in Season Four. Sam is portrayed by actor and musician Chord Overstreet.
Biography
Personality
Sam appears to be a nice and self-possessed guy, and sometimes a bit of a dork, with a quirky awkwardness when he speaks, at first never being sure what to say. As the new kid, he tries to find his way within the social networks of his new school, and seems content to make friends. When Finn offers him the chance to join the Glee Club, Sam seems genuinely excited at the idea, and by how welcoming the people he met are. However, like all kids, Sam fears social alienation, embarrassment, and temporarily backed out of joining for fear of being bullied. But even at the risk of being alienated, Sam has shown signs of being very honorable, as he refused to back out of a duet with Kurt, even though Finn warns him that performing a duet with another boy might cause him to be bullied. Sam states that he gave his word to Kurt and that was too important to go back on.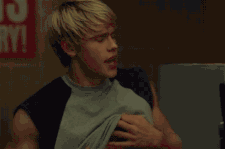 Despite being a nice guy, Sam is rather socially awkward and naive, and is generally oblivious to how much the girls find him attractive. He claims this is because of limited interaction with girls, due to previously attending an all-boys school. This appears to cause him to move a bit more quickly than most would in terms of interacting with girls, such as trying to kiss Quinn. He also appears to be very easygoing and likeable, as Santana declared him as the "new Glee favorite" in Furt. He is very determined to get what he wants, such as popularity or being Quinn Fabray's boyfriend, which has also been shown to have taken a toll on his self-confidence. Despite this, he is shown to care about Quinn and stays committed to her.
Sam loves to play football and to sing, and he is apparently a bit of a nerd when it comes to things like the movie "Avatar." He often does impressions of various celebrities. He was only recently taught how to tie his shoes by Mr. Schuester, which was mentioned in the episode, The Substitute. He struggles with his dyslexia throughout the series, making it hard for him to take tests.
Sam seems to become embarrassed easily by the attention he's given at times. He becomes increasingly self-conscious about his body, particularly when Mr. Schuester replaces him in the role of Rocky in the Rocky Horror Picture Show. Although Will did it for other reasons, Sam assumed it was because he asked to not wear such tight-fitting shorts, and that stated he also felt grotesquely fat, despite Finn assuring him he was in perfect shape. This is also a regular feature in other episodes. 
When he returns in the episode Hold on to Sixteen, he seems to have gained a lot of confidence, perhaps due to his increased seniority and experience within the school.
Relationships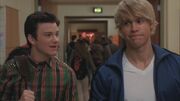 Kurt feels attracted to Sam right when the latter joins the New Directions, and believes him to be gay, due to his lips and his dyed hair. Kurt initially persuades Sam to sing a duet with him, in an effort to get closer to Sam, but is talked out of it by Finn and Burt. They help each other out later in the season: Sam when he helps defend Kurt against David, and Kurt when he gives some of his clothes to Sam while the latter is homeless.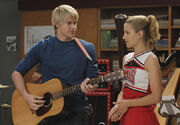 voucher they won, Quinn makes Sam pay the bill instead, since she wants to declare the meal their first date officially. he gives her a promise ring in
Furt
, towards which Quinn acts relucant at first, but ultimately decides to accept. Quinn cheats on with her ex-boyfriend
Finn
in
Silly Love Songs
, which is exposed due to a scheme of Santana's. Encouraged by Santana, Sam then leaves Quinn in favour of her.
When Sam returns to William McKinley High School in Hold on to Sixteen, Quinn tries to win Sam back, since she attempts to raise her daughter with him. He, however, rejects her, since he thinks that Quinn should enjoy the rest of her time at school rather than raising a little child.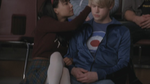 Santana persuades Sam to date her in Comeback, but it becomes evident soon that Santana only wanted to date him to get back at Quinn, and to cover up her feelings for Brittany. When Santana enters a (fake) relationship with David Karofsky in Born This Way, Sam is shown to be indifferent towards it, indicating they had ended things between them off-screen.
Much to Santana's dismay, Sam begins a relationship with her ex-girlfriend Brittany in Season Four. Santana then returns to her former high school to get Sam and Brittany to break up, but Brittany is eventually able to make Santana accept their relationship. Sam eventually gets Santana to help Brittany in All or Nothing, when he himself is unable to do so.
They are shown to be on good terms in Season Five.
Jesse St. James
on a quadruple date to junior-prom in
Prom Queen
. While Rachel is occupied, Sam asks Mercedes to dance with him. It is revealed that they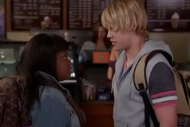 started dating following this in
New York
. They break up after Sam moves to Kentucky following Season Two, and Mercedes subsequently begins dating
Shane Tinsley
. However, when Sam returns to
William McKinley High School
in
Hold on to Sixteen
, he vows to make Mercedes come back to him. After unsuccesful attempts to do so in
Yes/No
, he gets her to sing
Human Nature
with him in
Michael
, after which they share a kiss. After distancing herself from Sam in
The Spanish Teacher
, she ultimatively admits her feelings for him. However, due to the guilt of having cheated on her boyfriend Shane, she ultimatively decides to not get back together with him. Even Sam encouragement that she moves to Los Angeles to pursue her dream of becoming a singer can't change that.
Sam moves into Mercedes' apartment in New New York, causing old feelings between them to return. After slight hesitation from Mercedes' side, they begin a relationship in Bash. Sam is even prepared to respect Mercedes' wishes of remaining celibate. However, when the pressure is shown to be too much for Sam, they agree to break up again in The Untitled Rachel Berry Project.
Britney 2.0
, when Sam helps Brittany to get over a personal crisis. In order to not jeopadize this new friendship, they even agree to run for vice-president against each other
in
Makeover
. They ultimatively admit their feelings for each other in
Swan Song
, and enter after slight hesitation from Brittany's side. They are wed in Glee, Actually, thinking the Mayan apocalypse is near, only to wake up the day after and realizing everyone is alive. Luckily, Coach Beiste didn't actually wed them so they were not married. Sam proves how serious his feelings for Brittany are when he protects his relationship from Santana when she tries to break them apart in
Diva
, and attempts to endanger his life to save her in
Shooting Star
. Brittany cruely breaks up with Sam in
All or Nothing
when her early admission to MIT makes her lose her footing.
Sam and Blaine become friends when they are persuaded to run for Senior Class President together. Following that, Sam helps Blaine deal with the latter's failing relationship with Kurt. It is thanks to Sam that Blaine manages to overcome his guilt regarding Kurt in Dynamic Duets.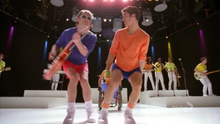 In the weeks that follow, Blaine starts feeling for Sam as more than simply a friend. Blaine even helps Sam deal with his worries regarding the future in
Naked
. After spending a week coaching the glee club together in
Guilty Pleasures
, Blaine comes clean about his feelings for Sam. The latter is shown to be accepting of them, and promises that it won't jeopadize their friendship.
As a proof of their friendship, Blaine even asks Sam to become his best man as he is about to propose Kurt, and although Sam is originally against the engagement, he ultimatively helps Blaine set up the proposal in Love, Love, Love.
Together they move in with Kurt and Rachel following their graduation in New Directions, and move to Mercedes' apartment together in New New York. It is due to Blaine's encouragement, that in this episode Sam gathers the courage to work on his dreams of becoming a model.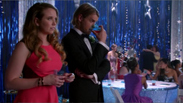 Sam meets Penny when he is forced to get a vaccination by Sue Sylvester in Tina in the Sky with Diamonds. His natural fear of injections is made worse when he realizes that Penny is merely doing an internship, and is not a professional nurse. He doesn't agree to get the injection until a few days later, when he wants to save Penny from getting fired by Sue. They share their first kiss after discussing their musical taste in A Katy or A Gaga. It seems as if things never got serious between them after that, since Blaine remarks Sam about not feeling guilty for kissing Tina a few weeks later.
Sam and Rachel first meet when Sam comes as a new student in McKinley. In Rumours, Rachel buys chapsticks for Sam and she asks him to go out with her to prom but he rejects her. She later finds out it's because he cannot pay for it; so, she pays for her own ticket but ends up bailing for Jesse. After Jesse and Finn are kicked out of the prom, Sam and Rachel dance together during Dancing Queen. During Hold on to Sixteen, Rachel and Finn go to Kentucky to bring him back to Mckinley but both of them are really surprised when they see him working as a stripper, Rachel gets a dollar from Finn to get Sam's attention and he finally recognizes her. Later Rachel, along with Finn, talks with his parents to let Sam returns to Lima. In Movin' Out, Rachel finds out Sam wants to be a model so she helps him by introducing him the photographer from Funny Girl for a photoshoot, later during Just the Way You Are, both of them share several glances and dance together. In The Hurt Locker, Part One, Sam is hypnotized by Sue in an attempt to mess with Rachel's head and destroy the Glee Club, making him to believe he's love with her to finally kiss her, later Rachel asks him out but Sam rejects her saying he is still in love with Mercedes. In What the World Needs Now, It was revealed that Sam and Rachel have feeling for each other but Rachel has to think about the New Directions more and Sam is still confused about his relationship with Mercedes. But when Mercedes tells Sam she's dating someone, Sam moves on and begins to get stronger feelings for Rachel. Mercedes gave Rachel her blessing that she should go out with Sam. At the end of the episode they are seen talking at Will's house in a Flirty way. In Transitioning Rachel was talking to Sam in a corner at her Good-Bye house party, they later went in her room. Sam was talking with Rachel about letting go and start new memories. Sam kisses Rachel for a second, then Rachel stares at Sam and Starts making out with him. Later in the episode they are seen holding hands confirming they are officially a couple.
Songs
Trivia
Gallery