Santana Lopez
General Information
Gender:
Female
Age:
20
Hair Color:
Black
Eye Color:
Dark Brown
Birthday:
November 17, 1994
Height:
5'5"
Address:
Lima Heights Adjacent
Aliases:
Auntie Tana, Snixx, Auntie Snixx, Rosario Cruz
Family & Friends
Family:
Maribel Lopez (mother)
Unnamed father
Alma Lopez (grandmother)
Brittany Pierce (wife)
Whitney Pierce (mother-in-law)
Pierce Pierce (father-in-law)
Unnamed sister-in-law
Relationships:
Brittany Pierce (wife, in love with)
Noah Puckerman (ex-boyfriend)
Sam Evans (ex-boyfriend)
Finn Hudson (one date, one night stand)
Dave Karofsky (beard)
Elaine (fake girlfriend)
Quinn Fabray (one night stand)
Dani (ex-girlfriend)
Friends:
Quinn Fabray
Kurt Hummel
Rachel Berry
Finn Hudson
Sam Evans
Blaine Anderson
Artie Abrams
Mercedes Jones
Dani
Elliott Gilbert
Tina Cohen-Chang
Mike Chang
Matt Rutherford
Noah Puckerman
Sugar Motta
Rory Flanagan
Joe Hart
Will Schuester
Marley Rose
Employer:
Gunther (former)
Other Information
Interests:
Social status, Dancing, Singing, Acting, Fame
Clique:
Cheerios (former)
New Directions (former)
The Troubletones (former)
Cardinals (former)
Education:
William McKinley High School (graduated)
University of Louisville (dropped out)
Talent:
Singing, Dancing, Acting and Cheerleading
Vulnerabilities:
Fear of Judgement
Strengths:
Dancing
Vocals
Manipulation
Perception
Popularity
Fighting
Weaknesses:
Being Lost, Temperament, Impatient
Series Information
First episode:
Pilot
Last episode:
A Wedding
Portrayer:
Naya Rivera
Alexys Alonzo (Toddler Santana, The Substitute)
Kevin McHale (Tina's Dream)
Dior Goodjohn (Young Santana, Lights Out)
"

The only thing that can keep you from freezing to death is to have good friends around you to keep you warm.

"

—Santana Lopez, The Back-Up Plan
Santana Lopez is a major character on Glee. Santana is an alumna of William McKinley High School as of Goodbye. She served as the co-captain of the Cheerios, as a member of the school's Glee Club, the New Directions and was previously a member of the all-girls second Glee Club, The Troubletones.
In Season Four, she starts as a student at The University of Louisville where she has been given a scholarship in cheerleading. However, in Diva, it is revealed that she dropped out because she didn't enjoy what she was doing there. In the same episode, she moves to New York and becomes roommates with Kurt Hummel, Rachel Berry, and Brody Weston, who is living there with them at the time. She gets kicked out in Feud, but moves back in at the end of Guilty Pleasures.
As of Lights Out, Santana attends a NYADA extension class for dance, something she has enjoyed doing ever since she was a child. She has many side jobs such as being a waitress at the Spotlight Diner, and an actress; starring in a commercial for Yeast I Stat. In Frenemies, she is cast as Rachel's understudy in Funny Girl, starting a feud between them that gets both Rachel and Santana kicked out of Kurt's band, previously named Pamela Lansbury, now called One Three Hill. In New Directions she resigned as the understudy of Rachel in Funny Girl.
In The Back-Up Plan Mercedes tries to help get Santana in her recording deal. As of Old Dog, New Tricks, she becomes the publicist of Rachel. She was currently on tour with Mercedes and Brittany. She proposed to Brittany in Jagged Little Tapestry. They got married in A Wedding.
She was initially a major recurring character and the teen antagonist (along with Quinn) in Season One, but was promoted to a main character in Season Two until she got demoted again for Season Six, due to Naya's own request.
She is portrayed by Naya Rivera.
Biography
Personality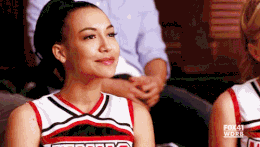 Santana, like Quinn, has been primarily shown to be something of a cheerleading stereotype. Quick to pass judgment, and insult and even bully other people. She views her bitchy behavior as honesty. Santana seems to find no issue flaunting her spot on the social ladder that is High School or to be promiscuous to remain on top.  At the beginning of series, she acts more like a sidekick to Quinn, following her orders and usually letting her do all the talking. This changes when Quinn is kicked off the Cheerios by Sue due to being pregnant, thus making Santana the head cheerleader.
Santana also demonstrates occasional signs of kindness, usually with the Glee Club after a good performance or in her interactions with Brittany. Deep down Santana is less concieted than she appears to be. She has admitted that she loves being in Glee Club, and that it is the best part of her day. She follows up this confession with instructions that if anyone asks, they are to say that she hates it, showing that she cares a lot about her image. Santana has grown to be a better person through Glee, she actively admits to hating the people in the club before joining, but now views them as her equals, closest friends, and even considers them her family (whom she is highly protective of). Now she is more caring and compassionate toward others, for instance, comforting Rachel, her former enemy when Rachel had her pregnancy scare. Still, she can be seen as an antagonist because of her mean streak which is mainly displayed in the show.
She is extremely emotional at certain times for ridiculous reasons (losing tanning privileges or missing out on the Breadstix passes), and is often comforted by Brittany. Santana gets jealous quite easily, especially when it concerns her sexual partners. She has displayed hostility towards Rachel, Quinn, Mercedes, Lauren, Artie, Rory and Sam when they are seen to be in a relationship with Puck or Brittany. It is very possible that she does this because she is simply lonely, which is why she wants to show off her image and reputation.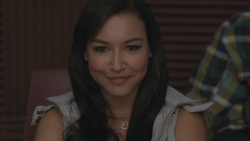 Santana is also known to be manipulative and persuasive. For example, when Brittany chose Artie over her she lied to Brittany about cheating so she and Brittany could continue to intimate. Santana tries to get what she wants through scheming, always making plans that would have results in her favor, but most times it backfires. For example, In Born This Way, she made a plan to get more votes for Prom Queen that includes: Using Karofsky's sexually to blackmail him to being her 'Beard' and to stop being a bully so she could get Kurt to enroll be in Mckinley. However, Kurt ended up winning the crown.
Santana can be considered the most perceptive character on the show. she is always finding out others secrets just by observing. For instance, when she found out Quinn was cheating on Sam with Finn just by noticing the changes, small changes in Quinn and Finn's behavior. She uses this ability to her advantage. When it comes to friendships and romantic relationships she takes them very seriously. Whenever someones try to her those she cares for she is becomes very defensive, examples including confronting Sebastain and the Warblers, alone, when he slushied Blaine resulting in Blaine having eye surgery.
Santana acts confident, but it has been proven on few occasions she's actually insecure, like when she got a boob job over the summer so people would notice her more. She gets incredibly hostile when her weaknesses are exposed, examples including attacking Quinn in the hall for telling Sue about her "summer surgery" and having Santana knocked down to the bottom of the pyramid. It's also been shown that while she has no problem insulting and putting down others, she can "dish it out, but can't take it," and gets upset when the glee club members turn on her, showing she cares a lot about what people think of her.
Sexuality
Santana describes herself as a "closeted lesbian" in Born This Way. She is seen to be something of a nymphet in the first two seasons. She has dated and slept with many guys, although she didn't have any deep feeling for them, most of the time she was with boys only in exchange for popularity, and has also had sex with Brittany on what is implied to have been multiple occasions as shown in the episode Duets she said to Brittany that making out was a "nice break from all that scissoring." It seems, however, that she is either afraid or embarrassed by her same-sex attractions, when she tells Brittany that she isn't making out with her because she is in love with her, even though Brittany said nothing of the sort. It would make sense in the context, though, because Brittany had proposed a duet by famous out singer Melissa Etheridge.
In addition to her relationship with Brittany, Santana's sexuality is addressed in the fifteenth episode of season Two, Sexy, after Holly Holliday returns to McKinley as a Sex Ed teacher. She says she "doesn't know" when she is asked if she thinks she might be a lesbian, but admits having been attracted to both men and women in the past.  Santana, after asking Holly Holliday help to express her feelings through a song (Landslide), finally admits to being in love with Brittany, and though Brittany admits to loving her back, she can't bring herself to break up with Artie - who she also loves - to be with Santana. After the song, and deeply considering her feelings for Brittany, she explicitly compared her situation with Kurt's, tells Brittany "I don't want to be with Sam, or Finn, or any of those other guys; I just want you!," refers to Artie as "just a stupid boy," and makes a disparaging remark about Brittany's evident sexual fluidity, leading some fans and commentators to believe she is a lesbian which was later confirmed at Paley Fest 2011.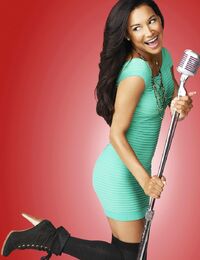 Brad Falchuk was quoted as saying in upcoming episodes regarding Brittana, they want "Santana to come to grips with being a lesbian and how she deals with it." They will "explore Brittana as individuals, but it will definitely come back to Brittana." Falchuk added. "We want to make sure everybody is included. Santana is a lesbian. She might not be ready to come out yet, but she is." In
Born This Way
during a voiceover Santana admits that she is a closeted lesbian, and later tells
Dave Karofsky
that they play on the same team. When Brittany gave her a shirt she made her for the Born This Way number that said "Lebanese"(supposed to say lesbian), Santana tells Brittany that she can't tell anyone about it and doesn't perform in the number. But, she is later seen in the audience wearing the "Lebanese" shirt. The "lesbian" storyline continues into the third season, and leads to Santana being pushed out of the closet by Finn. She fully admits to it and even tells her parents that she is a lesbian.
Relationships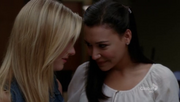 Santana and
Brittany
are both members of the
Cheerios
and best friends. They are considered just friends until
Sectionals
, when it is revealed that they had slept together. This was confirmed during a promo on the Fox website; "Glee-wind: Season One Relationships," where they are labeled as
best friends with benefits
. There are many hints in episodes that gives the indication that they are more than friends and in 
Duets
, it contains the first scene of them as a couple, in which they make out on Brittany's bed. It is obvious that they have been together before as in response to Brittany saying that she loves 'sweet lady kisses', Santana says 'it's a nice break from all that scissoring'. Santana also remarks that she only with Brittany just because Puck is in juvy, and that she is like a lizard and needs something warm beneath her or she can't digest her food adn that she doesn't loves her. Brittany then starts a relationship with Artie to make Santana jealous and bans Santana from having sex with her.
In Sexy, Santana admits to Brittany that she loves her and wants to be with her. Brittany says that she loves her too, but has feelings for Artie too. Santana leaves, angry and upset. In Original Song, Brittany approches Santana outside her locker asking if she did anything wrong. Santana still upset from being rejected by her, is hostile and says 'I don't know. Did you? All I know is that you blew me off, to be Stubbles McCripple Pants. Its fines, Its your loss cause now I get the chance to write an awesome heterosexual song about Sam that we're gonna sing at regionals.' In Born This Way, Santana hatches a plan to win Brittany back which involves getting Kurt to come back to McKinely. Brittany also tries to help Santana come to term with her being a lesbian and makes her a mispelt shirt saying 'Lebanese' instead of leasbian for their Glee Club task. Brittany storms off saying that ' I do love you, clearly you don't love you as much as I do or you'd put the shirt on and dance with me.' Santana doesn't join in the dance, but is seen sitting in the auditorium seats wearing her Lebanese shirt. In Rumours, Brittany, on her internet talkshow, says that Santana plays for another team meaning that she now plays for New Direction and not the Cheerios. Mad, Santana approaches Brittany arguing that she could've phrased it differently. After Brittany breaks up with Artie, Santana brings Brittany to the choir room and sings Songbirds  to her to cheer her up. Brittany wants her to come on Fondue for Two, so she can tell Santana how she feels, and then ask her to prom. Santana agrees. However, Santana doesn't show for the Fondue for Two episode. Afterwards, Jacob grills Santana about her relationship with Karofsky, while Brittany sadly watches. Santana assures him their relationship is going strong.
In Season Three, they officially start dating in Pot o' Gold over dinner at Breadstix. Santana asks if they can 'talk about the thing that they never talk about'. Asking whether they are dating or not, Brittany says that she thought they were on a date, just like last week when they were sharing a bath together. She also stated that last year she said 'If I'm single and you're single, we'd mingle'. In Mash Off  Santana finally makes her relationship with Brittany public after being outed by Finn, and reveals to her family that she is a lesbian. Their relationship continues for the rest of the season
In Season Four, Santana ends their relationship in The Break-Up, stating that their long distance relationship isn't working and that she'll always love her the most. By that time Santana is attending the University of Louisville and Brittany is repeating her senior year. In Diva, she makes an attempt to win Brittany back after hearing about Brittany dating Sam, but eventually gives up. 
In Season Five, They share a kiss in 100, but Santana backs away saying that it isn't a good idea. In New Directions they get back together, planning to take a holiday to Lesbos Island so they can spend time with each other, and then move in together. Finding out that Lesbos Island wasn't full of lesbians, Santana buys them plane tickets to New York and asks Brittany to come with her to NY, to which she agrees.
In Season Six episode Jagged Little Tapestry Santana asks Brittany to marry her and she says yes making them engaged. In episode A Wedding they got married.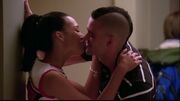 They date in early episodes, but Santana breaks up with him because of his bad credit score and says that she needs someone who can support her. However, she still has some sort of attachment to him and becomes extremely jealous when Rachel, Quinn, Mercedes and Lauren show interest in Puck. They have slept together in the past and have often sexted, but they were never an official couple. Even though they haven't showed many signs of love they have sung as partners in many group number performances. 
When Santana came out of the closet, Puck dedicates the song I'm The Only One to her.
Finn and Santana had a frienemy type of relationship. It starts with Sue ordering Santana and Brittany to go after Finn and take him from Rachel, so that she will quit the Glee Club. Sue later wants the Cheerios to date younger men, Santana has her mind set on taking Finn's virginity (since Brittany pointed out Finn was a few days younger than Santana) and she succeeds. After they were never romantic with each other and had many arguments.
In Season Four, it seems that they are good friends and help each other out when they need it, Finn asks Santana for help with the musical and Santana calls him when she finds out about Brody's job.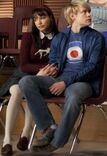 In
The Rocky Horror Glee Show
, Santana is shown to be interested in Sam's abs. However, things get more serious when in
Silly Love Songs
, as the Warblers put on a performance at Breadstix, Santana is seen to turn around to look at Sam and wave at him, while he smiles back. In
Comeback
, Santana convinces Sam that Quinn cheated on him with Finn, which thus ended Quinn and Sam's relationship and they started dating. However, in
Sexy
, she told Brittany she didn't want to be with Sam nor any other guy, she just wants to be with her. They officially broke up in
Born This Way
, Santana got with Karofsky because she didn't think Sam was popular enough to help her win Prom Queen.
In A Night of Neglect, Santana finds out there's a secret between Kurt and Karofsky. In Born This Way, Santana makes a deal with Dave; they know that they're both gay, so they pretend to have a relationship, calling each other their "beards," so that no one will find out their true sexualities. They enter the contest at prom for Prom King and Queen, so Santana will make Brittany fall in love with her, however in Prom Queen, Dave wins Prom King, but Santana loses to Kurt for Prom Queen. They ended their relationship.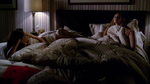 Santana was presented as more or less a side-kick to Quinn in Pilot. Since then, they've maintained a frenemy-relationship. In Season Two, Santana is mad at Quinn for stealing the head-cheerio spot, but in Season Three, they seem to be quite close again. In I Do, they ended up sleeping with each other at Will and Emma's failed wedding after getting drunk.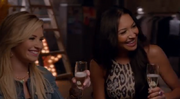 They met in the second episode of
Season Five
,
Tina in the Sky with Diamonds
, while they were refilling ketchup bottles at the
Spotlight Diner
. Both are seen to be interested in the other and later in the episode they share a small kiss. Later on, Santana mentions to Rachel and Kurt that the two are officially girlfriends. Later in
A Katy or A Gaga
, they both join Kurt's Band. They break-up prior to New Directions
Songs
Trivia
Santana is the first openly lesbian character on the show.
In I Kissed a Girl, Santana mentions she has an alter-ego named "Snixx." This is a reference to one of Naya Rivera's nicknames.
Santana is the only Hispanic main character on the show.
Alongside with Rachel and Tina, they were the only characters to ever have a solo on a competition.

In both cases they all have solos in Sectionals, but Rachel also has solos in Regionals and Nationals.

Her favorite song is "You Oughta Know" by Alanis Morissette.
She is left handed.
She doesn't like the color pink.
Her name on her fake ID is 'Rosario Cruz'.
Though she was named Rachel's publicist in Old Dog, New Tricks, it is seen that before Loser Like Me, she either resigned or couldn't keep the job as she went on tour with Mercedes and Brittany.
She's had at least one solo per season, except during season one.
She's cried on screen more than any other character, in total sixteen times.
She has been the most slapped character.
Gallery