Sheldon Beiste
General Information
Gender:
Male
Age:
43/44
Hair Color:
Dark Brown
Eye Color:
Blue
Birthday:
1970
Occupations:
Football Coach
Faculty Advisor
Aliases:
Shannon (birth name)
The Beiste
(Quinn, Finn)
The Panther (Himself)
Ms. Beiste, Another Woman's Name
(Quinn)
My Football Coach, Sir
(Sam)
Beiste, She Hulk, You, Bluto, Home Perm, Michael Chiklis in a wig, Brian Dennehy, John Goodman, Dick Butkus, Newly Boobless
(Sue)
Baby (Cooter)
Shannon the Cannon (owner of Rosalina's Roadhouse)
My Gal
(Will)
Mrs. Beiste
(Santana)
The Beiste Master (superhero alter ego)
Family & Friends
Family:
Denise Beiste (sister)
Relationships:
Will Schuester (first kiss/former crush)
Cooter Menkins (ex-husband)
Friends:
Will Schuester
Emma Pillsbury
Artie Abrams
Noah Puckerman
Sue Sylvester
Shelby Corcoran
Finn Hudson (Deceased)
New Directions
Roz Washington
Sam Evans
Spencer Porter
Unique Adams
Pets:
Kim (donkey, sold), Khloe (donkey)
Employer:
Principal Figgins (former)
Sue Sylvester (currently)
Other Information
Interests:
Sports
Vulnerabilities:
Insecure about his looks
Strengths:
Coaching, being a leader, listening to others when they come to him with their problems, singing
Series Information
First episode:
Audition
Portrayer:
Dot-Marie Jones
"

This isn't about who I want to go to bed with, it's about who I want to go to bed as.

"

—Sheldon Beiste, Jagged Little Tapestry
Sheldon Beiste, previously Shannon Beiste, is a major character on Glee. He was a recurring character since his introduction in the second season through the sixth season. He is the current football coach at William McKinley High School who replaced Ken Tanaka. He was married to Cooter Menkins. However, Beiste leaves Cooter in Props after Cooter continues to physically and emotionally abuse him. In Jagged Little Tapestry, Beiste comes out as transgender and announces he is going to transition to male, thereby changing his name from Shannon to Sheldon. He is played by Dot-Marie Jones.
Biography
Personality
Sheldon appears to be a very intense and driven man, who wants to do whatever he can to train his players into being a formidable football team. However, he has also shown to be very sensitive because of being bullied as a child due to her large size, deep voice, and somewhat masculine appearance. Although Sheldon's coaching style can be stern at times, he is an incredibly gentle and loving person, even becoming a mother figure to Puck, and for the rest of New Directions to a lesser extent. He has French heritage, as mentioned when he spells out his name. He also seems to enjoy music quite a bit, as he can be seen singing along to Need You Now and TiK ToK.
Relationships
Main article: Shannon-Will Relationship (Willbeiste)
In
Audition
, Will initially teams up with Sue in an attempt to run Shannon out of the school, fearing that his successful coaching strategies may have unfortunate consequences for the New Directions. Will later apologizes for treating Shannon badly and they become good friends. They are occasionally seen eating lunch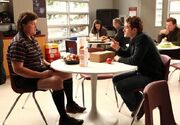 together in the faculty lounge, and they have worked together to teach lessons to their students and to counter Sue's scheming. In
Never Been Kissed
, Will gave Shannon her first kiss, though their relationship is strictly platonic. In
Shooting Star
 Shannon did confess that she had romantic feelings for Will, (he thought that Will and
Emma
were broken up at the time). Although Shannon was upset at first when Will did not return the feelings and explained that he and Emma had made up, it did not negatively effect their friendship. In
Previously Unaired Christmas
Shannon and Will oversee auditions for the living nativity scene with
Artie
and take parts as Shepards.
Main article: Cooter-Shannon Relationship (Shooter)
In The First Time, Shannon mentions that he has feelings for Cooter, viewing him as the one "who brings out her girl." Unbeknownst to Shannon, Cooter returns his feelings. Later in the episode, Cooter is persuaded to ask out Shannon by Artie. Shannon questions why he would want to go on a date with him, as he is the kind of man who can "have any pretty girl [he] points at." Cooter stresses that his feelings for Shannon are genuine and they end up going on a date to the opening performance of "West Side Story." By the events of I Kissed a Girl, Shannon and Cooter's relationship is in trouble, with Cooter opting to date Sue over Shannon due to a lack of romantic connection with Shannon. Shannon is devastated, but vows to fight for Cooter's love, and sings Jolene. He succeeds in getting him back, and reveals in Yes/No that they got married.
In Choke, Shannon reveals to Sue and Roz that Cooter hit him when he forgot to wash the dishes. Roz and Sue then tell Shannon to move out as soon as possible, with Sue offering to let Shannon live with her.
In Props, Shannon leaves Cooter, realizing he should have never gone back to him.
Songs
Solos
Duets
Back-up singing
Solos (In a Group Number)
Trivia
His favorite kind of pizza is Hawaiian. (Props)
His favorite food is everything and his favourite Beatle is George. (Shooting Star)
He has a sister named Denise.
In college, he was in a production of A Funny Thing Happened On the Way to the Forum. He was the forum.
He had two prized donkeys named Kim and Khloe, though he ended up selling Kim. Their names are a possible reference to Kim and Khloe Kardashian.
He is often seen eating a whole chicken whenever he had a scene eating.
His first kiss was Will Schuester. (Never Been Kissed)
Unlike Ken, Sheldon actually loves football and is very committed to it.
He has a "little bit" of Jamaican in him. (Previously Unaired Christmas)
He has only sung country songs in the show so far.
Beiste is one of two transgender characters on the show. The other is Unique Adams.

He is the only female-to-male transgender character.
Gallery
Quotes
"

Do not get up in The Panther's business, lady. You're all coffee and no omelette.

"
"

The Glee Club?! You came in third last year and you're asking for more money? That's a steer with six teats and no oink! [makes squealing noise]

"
"

My name's Shannon Beiste, I'm the new football coach. Spelled B-E-I-S-T-E. It's French.

"

—Sheldon Beiste, Audition
"

Hand them out, Wayne Newton.

"
"

All right boys its a pizza party. Dig in. Everyone has to eat four slices. Let's go! And when you're done, full pads out on the field. We're doing wind sprints. First 10 to puke are off the team.

"

—Sheldon Beiste to Football Team, Audition
"

I run the S.S Kick-ass, not the S.S Backtalk

"

—Sheldon Beiste, Audition
"

Watch your tone with me missy! You crap on my leg, I'll cut it off!

"

—Sheldon Beiste to Quinn, Never Been Kissed
"

You guys have got to find a way to come together or we're gonna get our asses kicked from here until Tuesday finds a saddleback full of buckwheat!

"

—Sheldon Beiste to the Football Team, The Sue Sylvester Shuffle
"

Cooter: Who's gonna love you now?
Sheldon: Me.

"
"

Sheldon: He's dead. And all we've got left is his voice in our head. I'm sorry, but it's time. You've gotta be your own quarterback.
Puck: Do you think we could retire his number. Kurt has his letterman jacket. Maybe we could frame it or something. Put it up in here. Other kids should know who he was years from now.

"

—Sheldon Beiste to Puck, The Quarterback