Shelby-Will Relationship
Comments

39
1,713pages on
this wiki
Shelby-Will Relationship
General Information
Nickname:
Willby
Welby
Shell
Corcoster
Intimacy Level:
Friends
Kissed
Dating Status:
Never dated
The Shelby-Will Relationship, most commonly known as Willby, Welby, Shell, or Corcoster, is the previously romantic relationship and friendship between Shelby Corcoran and Will Schuester.
They have had some rivalry between coaching for their respective show choirs, the New Directions and Vocal Adrenaline, but they have, since then, maintained a stable friendship.
Episodes
Will and Emma try to begin dating, but many things stand in their way of their relationship, including Shelby Corcoran. Will goes to talk to Shelby because he is suspicious about one of her students, Jesse St. James, who has started dating Rachel. The episode jumps to Will and Shelby heatedly making out on a couch. Shelby decides to pull back when she finds out he was just recently divorced and having girlfriend issues, claiming he needs to focus on himself being single, not with other women. Shelby asked Will if he was gay, since most of the show choir directors she makes out with turn out to be gay. She tells him to give her a call when he's sorted everything out and calls their make-out session "hot." Once it's revealed that Shelby is Rachel's mother, Shelby confides to him that when Rachel had shared the story of how she gets thirsty when she is sad, she missed out on so much with Rachel. She says that she wants her little girl back. Will tells her that if she really cares about Rachel, that she has to tell Rachel what she just told him. (Hell-O)
They competed against one another in the end of Season One, and Shelby and Vocal Adrenaline walk off with 1st place while Will and the New Directions go home with 3rd place. (Journey)
Shelby gets hired at McKinley, starting up another Glee Club called The Troubletones, and tells him that she won't take any of the New Directions away from him. (I Am Unicorn)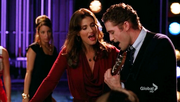 The two decided that their Glee Clubs should compete against each other, getting them prepared for Sectionals. They sing a duet of You and I/You and I to show them that putting two great things together can make them even better, no matter how different they are, trying to send a message to both Glee Clubs. (Mash Off)
Will's glee club, New Directions and Shelby's glee club, The Troubletones, face off at sectionals. New Directions performs a Jackson Medley (ABC, Control and Man in the Mirror) while The Troubletones perform a mash-up, Survivor/I Will Survive. In the end, New Directions triumphs, winning Sectionals, leaving Shelby and The Troubletones unhappy. Mercedes, Sugar, Santana, and Brittany all return to New Directions. (Hold on to Sixteen)
Songs
Trivia
A student has had a crush/close-relationship with/on each of them. (Puck had a crush on Shelby and Rachel on Will).
Both have worked as teachers at William McKinley High School and respectively, both Glee Club directors. 
Both have coached Glee Clubs.
Both have had at least a duet with Rachel.
Both thought they'd be parents of Beth at some point. 
Gallery
v - e - d

Glee Relationships




Character relationship(s) displayed:

Adam

Artie

Becky

Betty

Blaine

Bree

Brittany

Brody

Burt

Cassandra

Chandler

Cooper

Dani

Dave

Elliott

Emma

Finn

Holly

Jake

Joe

Kitty

Kurt

Lauren

Mario

Marley

Mercedes

Mike

Millie

Puck

Quinn

Rachel

Rory

Roz

Ryder

Sam

Santana

Sebastian

Shannon

Shelby

Sue

Sugar

Sunshine

Tina

Terri

Unique

Will