| | |
| --- | --- |
| |   This article is a stub. You can help by expanding it. |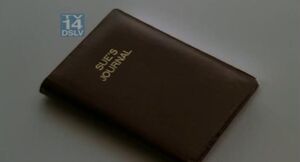 Sue's Journal is the secret journal of Sue Sylvester. It has been seen in many episodes, such as Vitamin D, Mattress, The Power of Madonna, The Substitute, Comeback, and Glee, Actually, the sixth, twelfth and fifteenth episode of Season One, the seventh and thirteenth episode of Season Two and the tenth episode of Season Four, respectively. It is shown in The Power of Madonna that the front page has the word "Madonna" on it, all capital and even with designs. She was also shown drawing the words "Victory" on one page.
In the episode I Kissed a Girl, Sue writes about how she's falling in the congressional campaign. She writes about how she needs to think of something. She then decides to look upon her Booty Call list because Reggie Salazar, someone running against Sue in the campaign, has accused Sue of being a lesbian with an ad that outed Santana. Sue finds Cooter Menkins in the booty call list, Beiste's love interest, which ends up adding another twist to the bizarre story.
The episode Glee, Actually started with Sue writing about Christmas. She writes about how parents allow children to sit on Santa's lap. She also writes about separate storylines on television being separated by commercial breaks and seems to havce tied together in the end. She then relates this to the movie Love, Actually, which she thinks nobody cares for but is always shown in cable.
Entries
"

Glee Club. Every time I try to destroy that clutch of scab-eating mouth-breathers, it only comes back stronger, like some sexually ambiguous horror movie villain. Here I am, about to turn 30, and I've sacrificed everything, only to be shanghaied by the bi-curious machinations of a cabal of doughy, misshapen teens. Am I missing something, Journal? Is it me? Of course it's not me. It's Will Schuester! What is it about him, Journal? Is it the arrogant smirk? Is it the store-bought home perm? It's coming clear to me now. If I can't destroy the club, I will have to destroy the man.

"

—Sue, writing in her journal.
"

"I don't know how much longer I can take the humiliation. The video has just surpassed three million hits -- is my misery some kind of karmic retribution for the way I've treated people?"

"

—Sue, writing in her journal
"

"Dear Journal, it's Christmas again...that time of year when parents aren't arrested for forcing their children to sit on an old man's weirdly hot lap. That magical season when five seemingly separate storylines are cleverly sandwiched between commercial breaks,and then tied together at the end like a beautiful bow. Like that movie, 'Love, Actually'. Which I don't think anyone really cares for, and yet it is constantly on cable."

"

—Sue, writing in her journal
Trivia
Sue and Brittany are the only known people to own a journal.
Sue seems to solve and start many dilemma's by writing in her journal.