Sue-Rod Relationship
Comments

14
1,704pages on
this wiki
Sue-Rod Relationship
General Information
Intimacy Level:
One Date
Dating History:
Started dating in Mash-Up


Ended in Mash-Up

Dating Status:
Broken Up
The Sue-Rod Relationship is the formerly romantic relationship between Sue Sylvester and Rod Remington.
Episodes
Sue seems to be falling for Rod, and fast. Sue and Rod go on a date in which he sinks her battleship, and Sue says, "You sunk my battleship, Rod, and you sunk it hard. Pow!"
She later says to Will when talking about Rod, "You know, you're right. I... oh gosh I don't know how else to say it, but... I'm in love. After one date, Sue Sylvester is in love." She even goes so far as to ask Will to give her dance lessons for an upcoming "Swingers" contest Rod invited her to. The relationships turns out to be very short lived, however, when Sue finds out she and Rod aren't exclusively together, as Rod "cannot be tied down to one woman" and is cheating on her with Andrea Carmichael. Rod seems unperturbed by Sue discovering his activities and perplexed that Sue had thought their relationship was meaningful.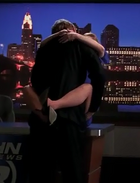 It can be interpreted that Sue was jealous when she found out that Rod was getting married to Andrea. Rod announces, on the air, that he is getting married and assures everyone that it would be an open-marriage. Sue confronts Rod about his very public announcement saying that everyone knows they dated. The pain she feels from this seems to encourage Sue to marry herself.
Gallery
v - e - d

Glee Relationships




Character relationship(s) displayed:

Adam

Artie

Becky

Betty

Blaine

Bree

Brittany

Brody

Burt

Cassandra

Chandler

Cooper

Dani

Dave

Elliott

Emma

Finn

Holly

Jake

Joe

Kitty

Kurt

Lauren

Mario

Marley

Mercedes

Mike

Millie

Puck

Quinn

Rachel

Rory

Roz

Ryder

Sam

Santana

Sebastian

Shannon

Shelby

Sue

Sugar

Sunshine

Tina

Terri

Unique

Will