Rory-Sugar Relationship
Comments

53
1,716pages on
this wiki
This article has been nominated for deletion.




Please share your thoughts on the matter in the talk section below. For more information, visit candidates for deletion. Feel free to edit the article, but do not blank the article or remove this notice until the discussion is closed.
Rory-Sugar Relationship
General Information
Nickname:
Sugary
Flamotta
Sugory
Intimacy Level:
Ex-Boyfriend and Girlfriend
Dating History:
Starting dating in Heart
Ended prior to The New Rachel
Dating Status:
Broken Up
The Rory-Sugar Relationship, commonly known as Sugary, Sugory, or Flamotta, it is the short-term relationship between Rory Flanagan and Sugar Motta. They began dating in Heart, after Rory manages to win Sugar's sympathy about having to leave America at the end of the school year. Since Rory has left the country, and Sugar has been shown to be dating Artie, they are confirmed to have broken up.
Episodes
During the final lesson of "Lady Music Week," they can be seen sitting next to each other and appear to be friends. When it is time for the New Directions and The Troubletones to cheer for each other, they above all share a hug. (I Kissed a Girl)
Rory
makes his intention clear to take
Sugar
as his date to the "Sugar Shack," clashing with
Artie
who had intended to do the same. Sugar herself can't decide which one to date, so Rory (just as
Artie
) tries to win her for himself. He gives her several presents over the course of the next day (including a puppy), slowly but surely winning her affection. He, however, seems to lose her when
Artie
dedicates a song to Sugar. Rory decides to fight back in the same manner. He sings
Home
for Sugar, playing on his heart strings how his visa won't be extended and that he'll have to leave at the end of the year, and also how much he misses his family. Sugar then says she feels more sorry for Rory than Artie and asks if he would be her date for Valentine's Day. All through the week, Artie and Rory buy her gifts so Sugar could have guessed they both liked her.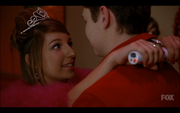 Sugar and Rory both appear emotional during Mercedes' I Will Always Love You. They can be seen tightly embraced at Sugar's party on Valentine's Day. Sugar expresses that she is going to miss Rory once he is deported. Rory awkwardly asks Sugar not to worry (implying he may have lied to win her heart). To this, she suggests that her father could "buy" Ireland so he could stay. (Heart)
Rory and Sugar are seen sitting together in the choir room. When talking about Sebastian's blackmail photo of Finn, Sugar comments that if someone was doing it to her she'd kill herself, which Rory afterwards agrees with. She then puts her arm around him and plays with his hair. (On My Way)
Rory and Sugar are seen sitting next to each other during Quinn and Artie's duet I'm Still Standing. He also had his hand around her. Later she had her hand around Rory, making it mutual. This probably implies they are dating. They also went to the Masterclass hosted by Cooper Anderson. (Big Brother)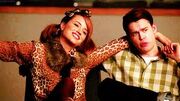 They are confirmed to still be a couple during this episode, since they have their arms around each other during several occasions and sit next to each other on the bus that takes them to Chicago for Nationals. During Tina's Dream, they appear as Sam and Quinn. "Sugar" puts her arm round  "Rory," but also "Artie." The two boys that fought over her in Heart. (Props)
After the glee-club returns to school after Nationals, during the celebrations, girls pull Rory to a locker and kiss him on the cheeks while Sugar looks on sadly. Later, Sugar can be seen shooting champagne at Rory playfully. (Nationals)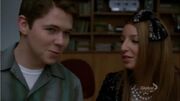 They are seen arm in arm singing to each other once more while the juniors and sophomores of New Directions perform In My Life for the seniors. When the camera comes around to them, they are sitting next to each other singing, they are facing each other and look like they are singing to each other. While saying goodbye to Rachel at the train station, Rory has his hand resting on Sugar's back. The relationship level is unknown as Rory did mention in Heart that he would have to go back to Ireland to his family as a lie to let Sugar choose him to go to her party instead of Artie. However it isn't certain if this was a lie. (Goodbye)
Songs
Sang Together (In a Group Number)
Song
Episode

Solos with

Summer Nights
Yes/No
Sam, Tina, Finn, Santana, Kurt, Puck, and Mercedes
In My Life
Goodbye
Sam, Tina, Joe, Blaine, and Artie
Related Songs
Trivia
Shippers are called the "Sweet Potatoes."

The shipper fandom has declared February 14 "Sugary Day" because that was the air date of the episode "Heart," when the couple went canon.
The "Sweet Potatoes" all decided that the couple's official colors are pink and green.

Some often-seen names of the "Sugary puppy" (a gift to Sugar from Rory when he was trying to win her affection) are Lucky and Marshmallow.
Three out of four gift competitions were won by Rory.

Artie gives her a "Hug me" heart. Rory gives her a "Kiss me" heart and a big bag of heart shaped candy.
Rory gives her a big "Be Mine" heart. Artie puts confetti in her locker.
Artie gives her a toy dog. Rory gives her a real dog, that the fandom called Lucky and Marshmellow.
Artie sings Let Me Love You for her with the New Direction Boys. Rory sings Home after telling the Glee Club that he is getting deported, then Sugar asks him out for Valentine's Day.
Gallery
v - e - d

Glee Relationships




Character relationship(s) displayed:

Adam

Artie

Becky

Betty

Blaine

Bree

Brittany

Brody

Burt

Cassandra

Chandler

Cooper

Dani

Dave

Elliott

Emma

Finn

Holly

Jake

Joe

Kitty

Kurt

Lauren

Mario

Marley

Mercedes

Mike

Millie

Puck

Quinn

Rachel

Rory

Roz

Ryder

Sam

Santana

Sebastian

Shannon

Shelby

Sue

Sugar

Sunshine

Tina

Terri

Unique

Will