The Choir Room, also known as The Music Room (being The Becky Jackson Memorial Computer Lab between New Directions and Loser Like Me), is the classroom at McKinley where the New Directions rehearse every day after school. All their meetings (with the exception of Sadie Hawkins, due to the Glee Club being disbanded) have taken place there and so have most of the show. Many musical numbers have also been performed in the Choir Room along with classes.
In City of Angels, it is revealed by Sue that The Choir Room will be turned into two computer rooms, since New Directions have lost at Nationals and have to be disbanded due to budget costs. As of the episode New Directions, the changes had been finalized; The Choir Room was defunct. As first shown in The Untitled Rachel Berry Project, it became a computer lab.
Since the Glee Club is reinstated at the beginning of the sixth season, the computer lab now has turned into the Choir Room again.
Notable Appearances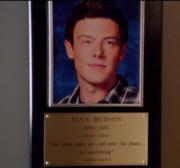 The choir room is occupied by Cheerios while they practice for their French-Canadian inspired circus.
After the Dalton Academy Warblers are banned from competing, the New Directions are reinstated and effectively regain control of the choir room again.
During Artie's dream, it becomes Sue's Craft Room in the alternative timeline.
After Finn's death, Rachel makes a special plaque that says: "The show must go...all over the place...or something.," a quote from him made during A Night of Neglect. The plaque hangs on a wall of the choir room ever since.
Quinn and Puck perform the last song ever sung in the Choir Room, Just Give Me a Reason.
Sam
lea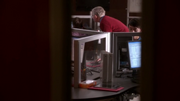 ves New York and returns home, to Lima, during the performance of
Pompeii
. He is seen looking into the choir room, now turned into a computer room. The reason behind this is left ambiguous.
Sue, during her voiceover, is shown walking through the computer lab while Rachel looks disgustedly from the door. It is later seen being returned to a music room, courtesy of Rachel going to the Superintendent and using her own money to revive the glee club. Rachel, Kurt, and the AV club are seen moving out the computer equipment and moving back in the piano, much to the utter dismay of Sue.
Songs per Episode
Season Two
Song
Episode
Sung by
Billionaire
Audition
Artie, Puck, and Sam with New Directions Boys
The Only Exception
Britney/Brittany
Rachel with New Direction Girls
Only the Good Die Young
Grilled Cheesus
Puck
I Look to You
Mercedes with Quinn and Tina
Losing My Religion
Finn 
Don't Go Breaking My Heart
Duets
Finn and Rachel
River Deep, Mountain High
Mercedes and Santana
Sing!
Mike and Tina
With You I'm Born Again
Finn and Rachel
Lucky
Quinn and Sam
Happy Days Are Here Again/Get Happy
Kurt and Rachel
Damn It, Janet
The Rocky Horror Glee Show
Finn and Rachel with Kurt, Mercedes, and Quinn
Whatever Happened to Saturday Night?
Carl with New Directions
Start Me Up/Livin' on a Prayer
Never Been Kissed
New Directions Girls
Stop! In the Name of Love/Free Your Mind
New Directions Boys
Forget You
The Substitute
Artie, Holly, Mercedes, and Santana with New Directions
The Most Wonderful Day of the Year
A Very Glee Christmas
Artie, Brittany, Quinn, Sam and Tina with New Directions
Merry Christmas Darling
Rachel
Need You Now
The Sue Sylvester Shuffle
Puck and Rachel
Fat Bottomed Girls
Silly Love Songs
Puck with New Directions Boys
P.Y.T (Pretty Young Thing)
Artie with New Directions
My Funny Valentine
Tina
Firework
Rachel with New Directions Girls
Baby
Comeback
Sam
Take Me or Leave Me
Mercedes and Rachel
I Know What Boys Like
Lauren with Brittany and Tina
My Headband
Blame It on the Alcohol
Rachel
Do You Wanna Touch Me (Oh Yeah)
Sexy
Holly with New Directions
Kiss
Holly and Will
Landslide
Holly with Brittany and Santana
Only Child
Original Song
Rachel
Trouty Mouth
Santana
Big Ass Heart
Puck
Hell to the No
Mercedes
I Feel Pretty/Unpretty
Born This Way
Quinn and Rachel
I've Gotta Be Me
Finn
As If We Never Said Goodbye
Kurt
Dreams
Rumours
April and Will
Songbird
Santana
I Don't Want to Know
Finn and Quinn
Go Your Own Way
Rachel
Season Five
Song
Episode
Sung by
Help!
Love Love Love
Blaine and Sam with New Directions
Revolution
Tina in the Sky with Diamonds
Tina
Hey Jude
Blaine, Kitty, Sam, and Tina with New Directions
I'll Stand by You
The Quarterback
Mercedes with New Directions
If I Die Young
Santana with New Directions
No Surrender
Puck
Make You Feel My Love
Rachel
Roar
A Katy or A Gaga
Kitty, Tina and Unique
If I Were a Boy
The End of Twerk
Unique
Movin' Out (Anthony's Song)
Movin' Out
Blaine and Sam
My Life
Jake 
Nasty/Rhythm Nation
Puppet Master
Jake and Marley
You're My Best Friend
Blaine with New Directions (puppets)
Rockin' Around the Christmas Tree
Previously Unaired Christmas
Will and New Directions
Whenever I Call You Friend
Frenemies
Artie and Tina with New Directions
My Lovin' (You're Never Gonna Get It)
Jumpin' Jumpin'
Trio
Blaine, Sam, and Tina
Raise Your Glass
100
April and Will with New Directions and alumni
Toxic
Brittany, Quinn, and Santana
Defying Gravity
Kurt, Mercedes, and Rachel
Valerie
Brittany and Santana with alumni, and New Directions
Happy
April, Holly, Will, alumni, and New Directions
New Directions
Artie, Blaine, Sam, and Tina
Be Okay
Rachel and Santana
Just Give Me a Reason
Puck and Quinn
Trivia
The First Time and Sadie Hawkins are the only episodes prior to New New York not to feature any scenes in The Choir Room at all.
The Choir Room looks different in the Pilot than it does in the rest of the episodes. This is because the Pilot was filmed at an actual high school. When the show was picked up for thirteen episodes, producers decided to build a replica set.
In Season One, Sue continually tells Will that, once the glee club is cancelled, she'll use the room as her personal trophy annex.
Gallery