The Choir Room, also known as The Music Room (being The Becky Jackson Memorial Computer Lab between New Directions and Loser Like Me), is the classroom at McKinley where the New Directions rehearse every day after school. All their meetings (with the exception of Sadie Hawkins, due to the Glee Club being disbanded) have taken place there and so have most of the show. Many musical numbers have also been performed in the Choir Room along with classes.
In City of Angels, it is revealed by Sue that The Choir Room will be turned into two computer rooms, since New Directions have lost at Nationals and have to be disbanded due to budget costs. As of the episode New Directions, the changes had been finalized; The Choir Room was defunct. As first shown in The Untitled Rachel Berry Project, it became a computer lab.
Since the Glee Club is reinstated at the beginning of the sixth season, the computer lab now has turned into the Choir Room again.
Notable Appearances
The choir room is occupied by Cheerios while they practice for their French-Canadian inspired circus.
After the Dalton Academy Warblers are banned from competing, the New Directions are reinstated and effectively regain control of the choir room again.
During Artie's dream, it becomes Sue's Craft Room in the alternative timeline.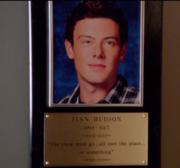 After Finn's death, Rachel makes a special plaque that says: "The show must go...all over the place...or something.," a quote from him made during A Night of Neglect. The plaque hangs on a wall of the choir room ever since.
Quinn and Puck perform the last song ever sung in the Choir Room, Just Give Me a Reason.
The Untitled Rachel Berry Project
Sam leaves New York and returns home, to Lima, during the performance of Pompeii. He is seen looking into the choir room, now turned into a computer room. The reason behind this is left ambiguous.
Sue, during her voiceover, is shown walking through the computer lab while Rachel looks disgustedly from the door. It is later seen being returned to a music room, courtesy of Rachel going to the Superintendent and using her own money to revive the glee club. Rachel, Kurt, and the AV club are seen moving out the computer equipment and moving back in the piano, much to the utter dismay of Sue.
Songs per Episode
Trivia
The First Time and Sadie Hawkins are the only episodes prior to New New York not to feature any scenes in The Choir Room at all.
The Choir Room looks different in the Pilot than it does in the rest of the episodes. This is because the Pilot was filmed at an actual high school. When the show was picked up for thirteen episodes, producers decided to build a replica set.
In Season One, Sue continually tells Will that, once the glee club is cancelled, she'll use the room as her personal trophy annex.
Gallery