The Choir Room, also known as The Music Room, is the classroom at McKinley where the New Directions have rehearsal every day after school. All their meetings take place there and so does most of the show. Many musical numbers have also been performed in the Choir Room along with classes.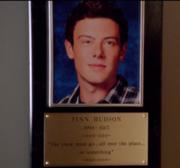 During Swan Song, the choir room was occupied by Cheerios while they practice for their French-Canadian inspired circus. In Naked, after the Dalton Academy Warblers were banned from competing, the New Directions were reinstated and effectively regained control of the choir room again.
In The Quarterback, after Finn's death, Rachel made a special plaque that says: "The show must go...all over the place...or something.", a quote from him made during A Night of Neglect.
Episodes
Season One
Season One
Song
Episode
Sung by
Sit Down, You're Rockin' the Boat
Pilot

Artie Abrams, Kurt Hummel and Tina Cohen-Chang with New Directions

Can't Fight This Feeling - Alternate Version
Finn Hudson
Le Freak
Showmance
New Directions
Gold Digger
Will Schuester and New Directions
I Say a Little Prayer
Quinn Fabray with Santana Lopez and Brittany Pierce
Maybe This Time
The Rhodes Not Taken
April Rhodes
It's My Life/Confessions Part II
Vitamin D
New Directions Boys
Halo/Walking on Sunshine
New Directions Girls
Hate on Me
Throwdown
Mercedes Jones with Sue's Kids
Ride wit Me
New Directions
No Air
Rachel Berry and Finn Hudson with Will's Group
Bust a Move
Mash-Up
Will with New Directions
Sweet Caroline
Noah Puckerman
Sing, Sing, Sing (With a Swing)
Will and Sue Sylvester
Defying Gravity
Wheels
Rachel and Kurt Hummel
Endless Love
Ballad
Will and Rachel
Don't Stand So Close to Me/Young Girl
Will Schuester
Lean on Me
Mercedes and Artie with New Directions
Hair/Crazy in Love
Hairography
Artie and Mercedes with New Directions
Imagine
Haverbrook School for the Deaf and New Directions
Smile
Mattress
Rachel and Finn
When You're Smiling
Rachel Berry
And I Am Telling You I'm Not Going
Sectionals
Mercedes Jones
My Life Would Suck Without You
Rachel, Finn, and Tina Cohen-Chang with New Directions
Hello, I Love You
Hell-O
Finn Hudson
Gives You Hell
Rachel and New Directions
Borderline/Open Your Heart
The Power of Madonna
Rachel and Finn
What It Feels Like For a Girl
New Directions Boys with Will
A House Is Not a Home
Home
Kurt and Finn
Ice Ice Baby
Bad Reputation
Will Schuester with New Directions
Total Eclipse of the Heart
Rachel, Finn, Puck, Jesse with New Directions
The Climb Kurt Hummel
Laryngitis
Rachel Berry
Lady Is a Tramp
Puck and Mercedes
Jessie's Girl
Finn Hudson
The Boy is Mine
Mercedes and Santana with New Directions Girls
Bad Romance
Theatricality
New Directions Girls and Kurt Hummel
Beth
Puck and Finn with New Directions Boys
It's a Man's Man's Man's World
Funk
Quinn Fabray
Good Vibrations
Puck, Finn and Mercedes
Over the Rainbow
Journey
Will and Puck
Season Two
Season Two
Song
Episode
Sung by
Billionaire
Audition
Sam, Puck, and Artie with the New Directions Boys
The Only Exception
Britney/Brittany
Rachel with Mercedes, Quinn, and Santana
Only the Good Die Young
Grilled Cheesus
Noah Puckerman
I Look to You
Mercedes Jones with Tina and Quinn
Losing My Religion
Finn Hudson
Don't Go Breaking My Heart
Duets
Finn and Rachel
River Deep, Mountain High
Mercedes and Santana
Sing!
Tina and Mike
With You I'm Born Again
Finn and Rachel
Lucky
Sam and Quinn
Happy Days Are Here Again/Get Happy
Kurt and Rachel
Damn It, Janet
The Rocky Horror Glee Show
Finn and Rachel with Mercedes, Kurt, and Quinn
Whatever Happened to Saturday Night?
Carl Howell with New Directions
Start Me Up/Livin' on a Prayer
Never Been Kissed
New Directions Girls
Stop! In the Name of Love/Free Your Mind
New Directions Boys
Forget You
The Substitute
Holly Holliday, Artie, Mercedes, with New Directions
The Most Wonderful Day of the Year
A Very Glee Christmas
Artie, Sam, Tina, Brittany, and Quinn with New Directions
Need You Now
The Sue Sylvester Shuffle
Rachel and Puck
Fat Bottomed Girls
Silly Love Songs
Puck with New Directions Boys
P.Y.T (Pretty Young Thing)
Artie with New Directions
My Funny Valentine
Tina Cohen-Chang
Firework
Rachel Berry with New Directions Girls
Baby
Comeback
Sam
Take Me or Leave Me
Rachel and Mercedes
I Know What Boys Like
Lauren Zizes with Brittany and Tina
My Headband
Blame It on the Alcohol
Rachel
Do You Wanna Touch Me (Oh Yeah)
Sexy
Holly Holiday with New Directions
Kiss
Will and Holly Holliday
Landslide
Holly Holliday with Brittany and Santana
Only Child
Original Song
Rachel
Trouty Mouth
Santana
Big Ass Heart
Puck
Hell to the No
Mercedes
I Feel Pretty/Unpretty
Born This Way
Rachel and Quinn
I've Gotta Be Me
Finn
As If We Never Said Goodbye
Kurt
Dreams
Rumours
April and Will
Songbird
Santana
I Don't Want to Know
Quinn and Finn
Go Your Own Way
Rachel
Season Three
Season Four
Season Five
Trivia
The First Time and Sadie Hawkins are the only episodes not to feature any scenes at all in The Choir Room.
The Choir Room looks different in the Pilot then it does in the rest of the episodes. This is because it was filmed at a different location.
During Artie's dream in Glee, Actually, it became Sue's Craft Room in the alternative timeline.
Gallery