The Human Garbage
Comments

14
1,510pages on
this wiki
| | |
| --- | --- |
| |   This article is a stub. You can help by expanding it. |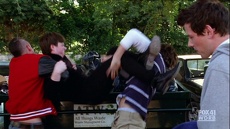 The Human Garbage is a name given to Puck's bullying technique. He and the other Titans take the kids they don't like, tease them a little and throw them in the dumpster in the school parking lot.
Episode appearances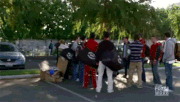 Season One
Kurt is thrown in the dumpster by Puck and the Titans, while Finn holds his designer jacket.
Kurt is thrown in the dumpster again by Puck, but Finn is not a part of it.
Puck is thrown into the garbage by Jacob Ben Israel and his friends, because Puck is no longer cool without his mohawk. This is where Puck says it is called "The Human Garbage."
Season Three
Puck arranges with Rick Nelson to meet him in front of the garbage container to brawl with him. After they fight and Puck loses, ironically, he is thrown into the container himself, but he crawls out with a fake prop (Knife) from the West Side Story play and attempts to scare Rick, when Coach Beiste comes to stop the both of them.
Gallery
Videos