Ad blocker interference detected!
Wikia is a free-to-use site that makes money from advertising. We have a modified experience for viewers using ad blockers

Wikia is not accessible if you've made further modifications. Remove the custom ad blocker rule(s) and the page will load as expected.
0pxp/PLoPUqukI-dHc_xoxZJlT_oGhT4OP9NBq71
Introduction
Jitty is the relationship between Jake and Kitty.  We Jittians welcome all our brothers and sisters with open arms.
Reasons to ship Jitty
They had a relationship.

Jake serenaded Kitty on the football field whilst Marley was singing Everytime.

When Jake broke things off with Kitty, Kitty looked hurt and disheartened.

They get each others banter.

They sang Everybody Talks together and sounded so amazing that the song even won as the best female/male duet at the Glee Wiki Awards 2013.

They have a lot of sexual chemistry together.

They're dance partners.

They're both great dancers.

Kitty gets jealous when Jake is with Marley during Born to Hand Jive.

When Kitty is about to swing for Marley Jake shakes his head knowing what's coming and quickly moves her out of the way.

When Kitty said that he ruined Hand Jive and Jake replied with "No, I didn't, we were great it, just didn't work out", Kitty said that she'd been hearing that a lot from him lately and her face looked heartbroken.
During Holding Out for a Hero Kitty whips aside all chairs to make a path towards Jake and sings a part of the song towards him.
She made Marley have an eating disorder just so she could get Jake back.
Because Jake said to Marley: "Kitty's funny and hot and yeah a little crazy, but you know what? She likes me and when I'm next to her, no one makes fun of me, for once."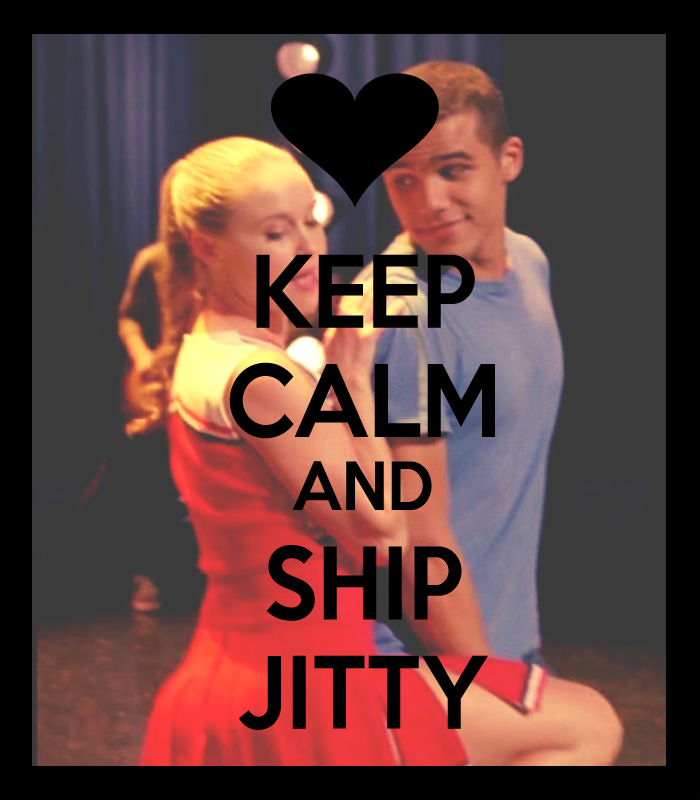 Signatures
• 1, 2, 3 • |

• Not only you and me •

|

• Got one-eighty degrees •

|

• and I'm caught in between. •



Jitty Templates
{{Jittyfan}}


| | |
| --- | --- |
| | This user is a huge Jitty fan. |

{{Jittyduet}}


This user loves

Jitty

duets.

{{LovesJitty}}

{{Jittyotp}}

Jitty Gallery
Teams We Support