The Troubletones were the second glee club based in William McKinley High School. The club later became a subsidiary of New Directions. The club was started when Al Motta privately donated enough money to Principal Figgins to allow for the continuation of an additional show choir which heavily featured his daughter, Sugar. In Al Motta's request, Principal Figgins summoned Shelby Corcoran from New York to direct the group. Later, Mercedes convinced fellow glee clubbers Santana and Brittany to join The Troubletones alongside her, which forced Sugar into the background of all the group performances. The Troubletones were never seen again after Season 3. However, the three lead singers, Mercedes, Santana and Brittany are currently on tour together.
Club History
In I Am Unicorn, it is revealed that Shelby Corcoran has been summoned to McKinley High at the request of Al Motta, who offered Principal Figgins a presumably very sizable sum of money to make it happen. Naturally, Sugar immediately joins the group, and takes advantage of private singing lessons with Shelby.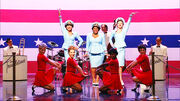 In Asian F, Mercedes joins after becoming tired of Will's blatant favoritism of Rachel, and realizing that The Troubletones could offer her several opportunities that New Directions kept her from achieving.
In Pot o' Gold, Mercedes attempts to persuade Santana and Brittany to defect with her. Blaine's solo of Last Friday Night in New Directions irritates Santana, and she immediately comes to understand Mercedes' reasons for leaving. Following this, Santana quickly joins Mercedes and Sugar in The Troubletones, and makes it her mission to convince Brittany to do the same.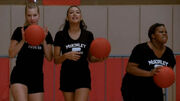 In Mash Off, in an attempt to make a safe competition for the both teams Will and Shelby make the first Annual Mash Off. While this Santana with her trash-talk makes Finn invites her and The Troubletones for a dodgeball game. During the game The Troubletones and New Directions sing Hit Me with Your Best Shot/One Way or Another, at the end of the game The Troubletones win and viciously assault Rory Flanagan.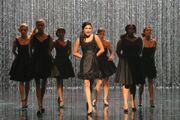 Quinn, in an attempt to be closer to Shelby, therefore closer to Beth, asks if she can join. Shelby say's she'll consider, and later Puck tells Shelby about Quinn's deceit. Shelby tells Quinn that she cannot join and she can not see Beth.
Mercedes gives the idea for an Adele Mash-up for the competition and calls herself the captain of the team for what Santana shows to be against. At the end of the episode The Troubletones sing Rumour Has It/Someone Like You and Santana slaps Finn because she believes he outed her.
In I Kissed a Girl, Figgins decides to punish Santana because of the slap, but Finn says that the slap was fake and so this way she couldn't be suspended. Out of the office Finn invites Santana and The Troubletones for a week with the New Directions. In the choir room Finn says that this week's assignment will be "Lady Music Week", and The Troubletones along with the New Directions should sing "songs made by girls for girls" in a way to help Santana to come out. The Troubletones along with the New Directions Girls sing Katy Perry's I Kissed a Girl.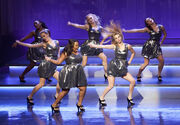 In Hold on to Sixteen, The Troubletones face off against New Directions and The Unitards at Sectionals by performing Survivor/I Will Survive. Ultimately, they are unable to beat New Directions and are awarded second place.
In On My Way, Will followed with his promise of letting The Troubletones perform a number at Regionals. Five previous members of the Troubletones join Santana, Brittany, Mercedes, and Sugar and put on a performance of What Doesn't Kill You (Stronger). This helps to secure New Directions the 1st place trophy and a ticket to Nationals. They outperform a common rival, the Warblers, and the not so well-known Golden Goblets.
In
Props
, Will and Sue are discussing the New Directions' Nationals Set-list which will feature the Troubletones performing
Lady Gaga'
s
Edge of Glory
. In the opening scene of
Nationals
, Mercedes is showed to have gotten food poisoning while in Chicago. She is put on bed rest while Will has
Quinn Fabray
and
Tina Cohen-Chang
take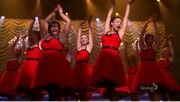 her place in
Edge of Glory
. Just before New Directions begins their performance Mercedes is shown to have recovered and is ready to perform, relieving Quinn who feels unable to perform well, but Mercedes tell that she and Tina will be performing with the Troubletones. Following this, the Troubletones open the New Directions set by performing
Edge of Glory
with Santana, Mercedes, Quinn, and Tina having solos and Brittany, Sugar, and 6 other Troubletones member performing with them. It is this performance and the rest of the New Directions set that allows New Directions to finally beat their long-time rival show-choir
Vocal Adrenaline
and win first place at Nationals.
In Season Four, the group of The Troubletones is no longer integrated in New Directions as the majority of the group had graduated. 
Known Members
Former Members
Temporary Members
Member List
Director
Current members
(Arranged in the chronological order of joining)
No.
Name
Status
Solos
Position
1
Sugar Motta
Quit
2
Creator, Member, Back-up Singer
2
Mercedes Jones
5
President, Lead Singer, Costume Designer
3
Santana Lopez
7
Member, Lead Singer, Choreographer
4
Brittany Pierce
4
Member, Lead Singer, Choreographer
13
Quinn Fabray
Temporary
1
Temporary lead singer, dancer
14
Tina Cohen-Chang
1
Temporary lead singer, dancer
Attendance
Complete Table
Note: Only known members are listed.
Season 3
Episode
1
2
3
4
5
6
7
8
9
10
11
12
13
14
15
16
17
18
19
20
21
22
Sugar Motta
Joined
Active
Quit
Regionals

Nationals

Mercedes Jones
Joined
Active
Quit
Regionals

Nationals

Graduated
Santana Lopez
Joined
Active
Quit
Regionals

Nationals

Graduated
Brittany Pierce
Joined
Active
Quit
Regionals

Nationals

Quinn Fabray
Rejected

Nationals

Graduated
Tina Cohen-Chang

Nationals
Songs
Season One
Song
Episode
Solos
Candyman
Pot o' Gold
Brittany, Mercedes, Santana, and Sugar
Hit Me with Your Best Shot/One Way or Another
Mash Off
Finn and Santana
Rumour Has It/Someone Like You
Brittany, Mercedes, and Santana
I Kissed a Girl
I Kissed a Girl
Rachel and Santana
Survivor/I Will Survive
Hold on to Sixteen
Brittany, Mercedes, Santana, and Sugar
What Doesn't Kill You (Stronger)
On My Way
Brittany, Mercedes, and Santana
Edge of Glory
Nationals
Mercedes, Quinn, Santana, and Tina
Setlist of Competitions
Sectionals 2011
Regionals 2012
Nationals 2012
Competition Costumes
2011/2012
Cast
Credited Troubletones
Uncredited Troubletones
Comfort Fedoke
Jaimie Goodwin
Athena Perample
Courtney Galiano
Brittany Parks
Hannah Douglass
Glenda Morales
Janelle Ginestra
Trivia
Originally believed to be called "Pot of Sugar," although Pot o' Gold confirmed the club's actual name as being "The Troubletones."
In all Troubletones' competition numbers, Santana is the first to sing.
Rachel is the only girl from New Directions, prior to Season Four, who hasn't been part of The Troubletones at one point in the series.
Gallery