Ad blocker interference detected!
Wikia is a free-to-use site that makes money from advertising. We have a modified experience for viewers using ad blockers

Wikia is not accessible if you've made further modifications. Remove the custom ad blocker rule(s) and the page will load as expected.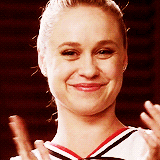 The Rules


Don't go around spamming or disrespecting other ships' pages.
Don't delete anything that isn't yours.
Respect other people's point of view.
No spamming or inserting false information.
If you don't ship Wildehart, please don't bash or vandalize this page.
You can't sign more than once.
No inappropriate pictures.
Any registered user that ships Wildehart, must be allowed to sign..
Any other rules must be approved by an admin.
Introducing Wildehart
Welcome to the Wildehart Team, which consists of formerly-homeschooled dreadlocked teen Joe Hart and snarky, blonde Cheerio Kitty Wilde. We bring these two devoted Christians together because their undeniable personalities would benefit each other improving on themselves as they move forward on our beloved TV show, Glee. At first, we see the season four newbie Kitty fall down the wrong path when insulting characters like Marley Rose to further proportions. Along the way, she throws insults to Joe, which doesn't cause much of an effect on him. Whatever insult Kitty throws, Joe doesn't take it hard and he gets more used to them. If they ever have a chance, Joe could possibly bring the sweet, adorable Kitty out as much as he can.
Reasons Why They Belong Together

They are both Christian and they love Jesus.
The Wildehartians believe Kitty thinks she wants to be with other guys, but still thinks about Joe.
Joe isn't afraid of Kitty, but wouldn't insult her.
Joe reaching out for Kitty's hand during Don't Dream It's Over.
Kitty glancing over to Joe during Have Yourself a Merry Little Christmas.
They share looks during HYaMLC, and Joe swings her around in his arms.
They have a lot of sexual tension.
Joe could bring the sweetness out of Kitty, and Kitty could bring out the fearlessness/coolness out of Joe.
Prior to the Sadie Hawkins episode, a spoiler had gone up that says Kitty would have a new flavor in terms of boys. Most people predicted it would be Joe.
There were many Wildehart moments during the leaked video for The New Year.
They sat next to each other during the choir room scene in Naked; Kitty told Joe that he shouldn't sell his hair (mainly because there wouldn't be much people to sell it to except for Jamacian kids with cancer). Joe didn't take the insult that seriously/just nodded it off.
Joe and Kitty were dance partners for Footloose.
Wildehartians

Previous Signatures: 1 - 100
101. Dano1163
102. Rychelamtana
103. Mykurtanchelforever
104. Chickenjoy
105. SweetSophie
106. Matt-V-4
107. Avahart
108. Theyellowbrickroad
109. ArpickgLeeker
110. Ameso2
111. MrBlaineHummel
112. GleeQuickFanatic8
113. JamieLandis
114. UnHoly Trinity
115. PaulaCriss
116. Love4kitty
117. MusicLover3889
118. Myers1978
119. GleekFabrevans
120. ♥ ♥ IJustLoveKlaine ♥ ♥
121. Asian Persuasion ;D
122. Shippy1452
123. Gleefan4-ever
124.    danieltravel

Wildehart Wish List

• If you have any requests for what Kitty and Joe should sing, feel free to comment the song, artist, and reason behind the song you chose in the comment box below. •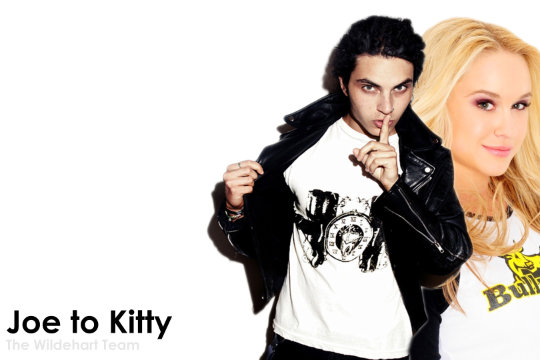 Cooler Than Me by Mike Posner (with New Directions boys). Joe has assumption that Kitty doesn't want to be with him because she thinks she's cooler than him; proves this by getting a little loose (removing cardigan) and performs for her in front of New Directions. - Requested by: @GinaSays16
You're Beautiful by James Blunt. Joe falls in love with Kitty. - Requested by: @Quinnfan96
You Found Me by The Fray. Joe expresses his feelings for Kitty. - Requested by: @Quinnfan96
Secrets by One Republic. Sung as an assignment for Glee club, but dedicated to Kitty. - Requested by: @Quinnfan96
Your Song by Elton John. Joe sings this song for Kitty on Valentine's Day. - Requested by: @Quinnfan96
El Tango de Roxanne from Moulin Rouge. Joe sings this because Kitty, while pursuing Jake, gets lamented by him. - Requested by: @Raybelle
DNA by Little Mix. Either for fun or for a Glee club assignment. - Requested by: @DrewlovesKuinn
Meteor Shower by Owl City. Joe is afraid that Kitty will leave him for someone more popular. - Requested by: @Andrew Garfield's Biggest Fan
Just the Girl by The Click Five. Joe is in love with Kitty, who is tough-guarded and crewl, but doesn't really know why he's into her. He sings this as a glee club assignment; then Kitty realizes that she has a crush on him. - Requested by: @IAmRumbleRoar
Hallelujah by The Fray. Kitty agreed to meet with him, and Joe sings it for her. Requested by - @Fer trevino
Heartbeat by The Fray (acoustic version). Requested by - @JessSayin
Wicked Game by Chris Isaak. Requested by - @JessSayin
Sunshine of Your Love by Cream. Requested by - @JessSayin
Use Me by Bill Withers. Requested by - @JessSayin
I Just Wanna Be With You by N'Sync. Requested by - @JessSayin
As Long As You Love Me by The Backstreet Boys (with New Directions boys). Joe and the boys sing it as an assignment for the glee club, and all realize that Joe has feelings for Kitty. Requested by - @Fer trevino
You're Still The One by Shania Twain. Joe likes Kitty, but Kitty doesn't want to reveal that she likes Joe yet. So Joe sings it to her even though he thinks she doesn't like him; he wants her anyway. Requested by - @MrBlaineHummel
Troublemaker by Olly Murs feat. Flo Rida (with Artie and New Directions Boys). Joe observes Kitty's bitchy attitude, and is attracted to it. He ends up singing the number to grab her attention. Requested by - @GinaSays16
---
Give Me All Your Luvin' by Madonna feat. MIA and Nicki Minaj (with Brittany and Sugar). Kitty doesn't want to hold back from Joe, and she reminds him what kind of girl she really is; Cheerios' performance included. - Requested by: @GinaSays16
A Real Hero by College. Kitty loves Joe, but she doesn't think he's interested in him. - Requested by: @Quinnfan96
You Belong With Me by Taylor Swift. Kitty realizes that she loves Joe. - Requested by: @Quinnfan96
Girlfriend by Avril Lavigne. Kitty thinks Tina is Joe's girlfriend because they are good friends, and Kitty expresses her thoughts through song. - Requested by: @Quinnfan96
A Thousand Miles by Vanessa Carlton. Kitty expresses her feelings for Joe. - Requested by: @Quinnfan96
Criminal by Fiona Apple. Kitty's fall from grace finally happens and her complexity/humanity is finally revealed, with a Wildehart angle. - Requested by: @Raybelle
Who You Are by Jessie J (with Tina and Marley on back-up). She sings this at the Sadie Hawkins dance to confess her love for him. - Requested by: @DrewlovesKuinn
The One That Got Away by Katy Perry. She sings this after being rejected by the other boys for the Sadie Hawkins dance; at the end of the song, Joe comforts her and asks her to the dance. - Requested by: @DrewlovesKuinn
It's A Man's World (Reprise) by Cher (with Quinn). Kitty sings it to Joe, and Quinn sings it for the general Glee club. - Requested by: @DrewlovesKuinn
Gypsy by Shakira (with Marley and Unique as back-up); Kitty sings this for an assignment in Glee Club, but is dedicated to Joe. - Requested by @Quinnfan96
God Gave Me You by Blake Shelton. Kitty expresses how she's feels in terms of what she is now, and how she needs Joe to bring the nice out of her. - Requested by @Death of Cuteness
Son of a Preacher Man. She explains why she has fallen for Joe; sings this in the choir room, letting everyone know she has feelings for him. Requested by - @JessSayin
How Do You Love Someone by Ashley Tisdale. Kitty and Joe fall in love, but Kitty doesn't want a relationship so Joe gets mad. She later explains to him via this song that she doesn't know how to love because her parents have been fighting a lot, but that she does love him. - Requested by @Pamela Angela Malfoy
---
Sing Together In A Duet
I Wanna Know What Love Is by Foreigner. They sing it as an assignment for Glee club. They don't know about each other's feelings yet, but they get hints based on gazes and smiles. - Requested by: @GinaSays16
Just A Kiss by Lady Antebellum. Sung on their first date. - Requested by: @Quinnfan96
I'm Yours by Jason Mraz. Sung at Wemma wedding. - Requested by: @Quinnfan96
We Belong Together by Gavin Degraw. They realize that they belong together. - Requested by: @Quinnfan96
Burning For You by Oyster Cult. Their introduction, with Kitty originally using it to make Jake jealous, but then she realizes her chemistry with Joe. - Requested by: @Raybelle
Faith by George Michaels. Just for fun, or an assignment for Glee club (and the awesomeness and irony). - Requested by: @Raybelle
Take A Chance on Me by ABBA (Joe on lead, Kitty on back-up). Kitty gets rejected by Jake and Ryder for the Sadie Hawkins dance. Joe, in his way, steps up so he can make her feel better. - Requested by: @Raybelle
More Than Words by Extreme. They sing this during their date. Requested by - @Fer trevino
Hips Don't Lie by Shakira. Requested by - @Poolaalaa
Love Interruption by Jack White with Ruby Amanfu. Brings out their somewhat mixed relationship. Requested by - @JessSayin
The Way You Make Me Feel by Michael Jackson (version with Britney Spears). Duet for a possible Michael week assignment. Requested by - @JessSayin
Something He Can Feel from Sparkle (with Brittany, Marley, Ryder, and Jake). Joe doesn't see how Kitty doesn't like him still after he offered being a good friend to her. What he doesn't know is that Kitty actually has feelings for him, but is ashamed to let them out; so she sings with and for him in the auditorium. Requested by - @GinaSays16

Wildehart Gallery

Featured Artwork</font>

Source
Wildehart Fan Fiction


Featured Fan Fiction
Title: You've Got A Friend In Me
Rating: K+
Summary: Glee club decides to spend a week doing duets and an unlikely duet forms with some unlikely results.
Author:  shumitallup
Status: Incomplete
Excerpt:
As Joe sat there waiting for kitty to arrive he thought to himself how in the world he was going to be able to talk to her for a whole night. Joe is never one to judge people or anything but when you're as mean as Kitty you don't have to pass judgment because the attitude says it all. As he was thinking Kitty came in.
"Let's just get this over with and don't even think about leaving here without buying me some dinner first," said kitty.
"You're pretty rude, you know" said Joe.
"I'm not always like this," said kitty. "Sometimes I'm only mildly bitchy or rude," Kitty said sarcastically.
"Yeah, why is that?" asked Joe.
"Why is what?" Kitty asked nervously.
"Why are you always so mean" Joe said. "I have a feeling that there's more than just being the mean girl."
"Well there isn't." Kitty said angrily.
"Why won't you just tell me?" Joe questioned. "If you want I can tell you about my story."
"Fine" Kitty said. "Tell me about your story"
"Well", said Joe, "As you know I'm homeschooled and that's because back in Middle School I was bullied for always being the good, Christian boy, who wouldn't give into peer pressure."
"Don't you regret it though?" Kitty asked.
"Sometimes I do but I also realized that being a Christian guy is what sort of made me different." Joe said, "Whether those kids wanted to admit it or not being different was a good thing and they just couldn't stand seeing it."
At that moment as Joe finished saying that, some spark in kitty just ignited for Joe. Something about being able to relate with Joe and Joe knowing who he was and being so proud of who he was sparked some kind of emotion in her. She may not have realized it at the moment but she was slowly falling for him.
"I know what that's like." Kitty sighed. "While I was in 8th grade I was bullied by these three girls who always called me harassing me for being so different as a Christian kid. It got to the point where the all the kids in class were making fun of me too which is why once I came to High School I decided never again would I be the victim. Even if it means being the bully."
"Oh yeah, How's that working out for you?" Joe asked.
"It was fun before but now it is honestly very lonely." Kitty said
"Well then you should stop, obviously." Said Joe.
"That's easy for you to say." Kitty said "You haven't been to this point in High School where everyone hates you. At least in my case everyone's hatred is clouded by their respect for me. I may not have friends but at least everyone notices me and respects me."
"They don't respect you, their terrified of you." Joe said. "You'll never get friends if you keep on being this mean to everyone."
"Well, who in the world would want to be friends with me if I am nicer?" Kitty question.
"Well I would." Joe said. "In fact I've just thought of the perfect duet for us."
Read more of this fan fiction here!
Featured Wildehart Templates
{ { Wildehart } }
{ { WildehartOTP } }

{ { WildehartDuet } }

{ { LovesWildehart } }

{ { Wildehartfan } }
{ { TeenJesusFemmeFatale } }