Thong Song by Sisqó is featured in Mash-Up, the eighth episode of Season One. It is sung by Will to Emma.
It was Ken's song choice for his and Emma's first dance at their wedding – in Ken's words, a song he could "shake his money maker to." Since Ken wanted this song and Emma wanted I Could Have Danced All Night, they asked Will if he could incorporate both songs into a mash-up.
Emma decides to wear a wedding dress (belonging to Emma's cousin), Her cousin didn't wear her dress to the dance rehearsals and her husband kept stepping on the train, (apparently they had a fight and were divorced three months later). So Emma borrows the dress to prevent this from happening to her and Ken.
Lyrics
Will:
This thing right here
Is lettin' all the ladies know
What guys talk about
You know, the finer things in life hehehe
Check it out

Ooh that dress so scandalous
And you know another guy couldn't handle it
See you shaking that thing like who's da ish
With a look in your eye so devilish

Uh ya like to dance at all the hip-hop spots
Then you cruise through the crews like connect the dots
Not just urban, she likes the pop
Cause she was living la vida loca

She had dumps like a truck, truck, truck
Thighs like what? What? What?
Baby, move your butt, butt, butt
I think I'll sing it again

She had dumps like a truck, truck, truck
Thighs like what? What? What?
All night long
Let me see that thong
(I like it when the beat goes da na da na)
(Baby make your booty go da na da na) Baby
(Girl I know you wanna show da na da na)
That thong thong thong thong thong

I like it when the beat goes (da na da na)
Baby make your booty go (da na da na)
(Girl I know you wanna show da na da na)
That thong thong thong thong thong

Listen, that girl so scandalous
And I know another guy couldn't handle it
And she's shaking that thing like who's the ish
With a look in her eyes so devilish

Ah She like to dance on the hip-hop spots
And She cruise through the crews like connect da dots
Not just urban she likes her pop
Cause she was living la vida loca

She had dumps like a truck, truck, truck
Thighs like what? What? What?
Baby, move your butt, butt, butt
I think I'll sing it again

She had dumps like a truck, truck, truck
Thighs like what? What? What?
All night long
Let me see that thong
(I like it when the beat goes da na da na)
(Baby make your booty go da na da na) Baby
(Girl I know you wanna show da na da na)
That thong thong thong thong thong

I like it when the beat goes (da na da na)
Baby make your booty go (da na da na)
(Girl I know you wanna show da na da na)
That thong thong thong thong thong

Babe (I like it when the beat goes da na da na)
C'mon (Baby make your booty go da na da na) Baby
(Girl I know you wanna show da na da na)
That thong thong thong thong thong

Tonight (I like it when the beat goes da na da na)
(Baby make your booty go da na da na) Alright yeah!
(Girl I know you wanna show da na da na)
That thong (thong thong thong thong)

(Ooh) that girl so scandalous
And I know another guy couldn't handle it
And she's shaking that thing like who's the ish (Ooh)
With a look in her eyes so devilish
(Ooh) Ah She like to dance on the hip-hop spots
And She cruise through the crews like connect da dots
Not just urban she likes her pop
Cause she was living la vida loca (Ooh)

(Ooh) She had dumps like a truck, truck, truck
Thighs like what? What? What?
Baby, move your butt, butt, butt
(Ooh) I'll make ya sing it again

She had dumps like a truck, truck, truck
Thighs like what? What? What?
Baby, move your butt, butt, butt
Ah Ah I'll sing it again
Come on, Come on
Come on, Come on

Yeeaah...
(I like it when the beat goes da na da na)
(Baby make your booty go da na da na)
(Girl I know you wanna show da na da na) Baby
That thong (thong thong thong thong)

Said I like the way (I like it when the beat goes da na da na) Hey
(Baby make your booty go da na da na) Baby
(Girl I know you wanna show da na da na)
(That thong thong thong thong thong) Listen!

Said I like the way (I like it when the beat goes da na da na)
(Baby make your booty go da na da na)
(Girl I know you wanna show da na da na) I don't think you heard me
(That thong thong thong thong thong)

Said I like the way (I like it when the beat goes da na da na) Oh oh oooh
(Baby make your booty go da na da na)
(Girl I know you wanna show da na da na)
(That thong thong thong thong thong)
Gallery
Videos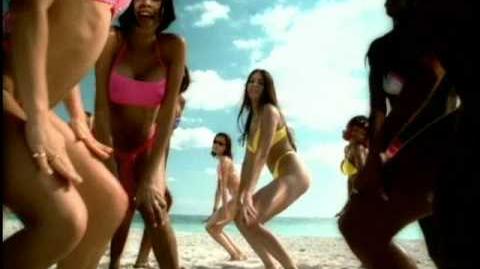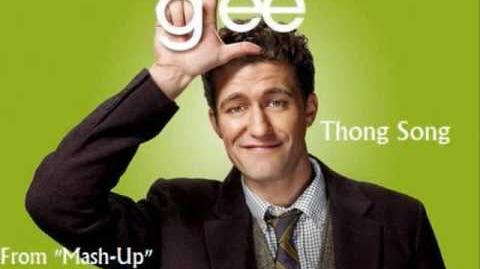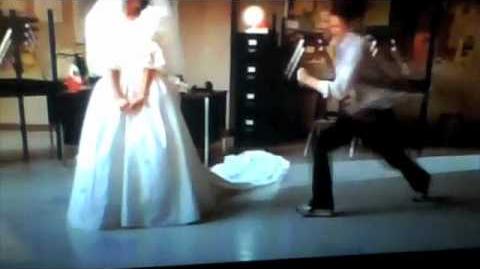 v - e - d
Season One Songs
Pilot
Where Is Love? • Respect • Mr. Cellophane • I Kissed a Girl • On My Own • Sit Down, You're Rockin' the Boat • One • Can't Fight This Feeling • Lovin', Touchin', Squeezin' • You're the One That I Want • Rehab • Leaving on a Jet Plane • That's the Way (I Like It)/(Shake, Shake, Shake) Shake Your Booty • Don't Stop Believin'
Showmance
Le Freak • Gold Digger • All by Myself • Push It • I Say a Little Prayer • Take a Bow
Acafellas
For He's a Jolly Good Fellow • This Is How We Do It • Poison • Mercy • Bust Your Windows • I Wanna Sex You Up
Preggers
Single Ladies (Put A Ring On It) • Taking Chances • Tonight
The Rhodes Not Taken
Don't Stop Believin' • Maybe This Time • Cabaret • Alone • Last Name • Somebody to Love
Vitamin D
It's My Life/Confessions Part II • Halo/Walking on Sunshine
Throwdown
Hate on Me • Ride wit Me • No Air • You Keep Me Hangin' On • Keep Holding On
Mash-Up
Bust a Move • Thong Song • What a Girl Wants • Sweet Caroline • I Could Have Danced All Night • Sing, Sing, Sing (With a Swing)
Wheels
Dancing with Myself • Defying Gravity • Proud Mary
Ballad
Endless Love • I'll Stand by You • Don't Stand So Close To Me/Young Girl • Crush • (You're) Having My Baby • Lean on Me
Hairography
Bootylicious • Don't Make Me Over • Papa Don't Preach • Hair/Crazy in Love • Imagine • True Colors
Mattress
Smile • When You're Smiling • Jump • Smile
Sectionals
And I Am Telling You I'm Not Going • Don't Rain on My Parade • You Can't Always Get What You Want • My Life Would Suck Without You
Hell-O
Gives You Hell • Hello Again • Hello, I Love You • Highway to Hell • Hello Goodbye • Hello Twelve, Hello Thirteen, Hello Love
The Power of Madonna
Ray of Light • Express Yourself • Borderline/Open Your Heart • Vogue • Like a Virgin • 4 Minutes • What It Feels Like For A Girl • Like a Prayer • Burning Up
Home
Fire • A House Is Not a Home • One Less Bell to Answer/A House Is Not a Home • Beautiful • Home • Fergalicious • Xanadu
Bad Reputation
Ice Ice Baby • U Can't Touch This • Physical • Run Joey Run • Total Eclipse of the Heart
Laryngitis
The Climb • Jessie's Girl • Lady Is a Tramp • Pink Houses • The Boy Is Mine • Rose's Turn • One
Dream On
Daydream Believer • Piano Man • Dream On • Safety Dance • I Dreamed a Dream • Dream a Little Dream
Theatricality
Funny Girl • Bad Romance • Shout It out Loud • Beth • Poker Face
Funk
Another One Bites the Dust • Tell Me Something Good • Loser • It's a Man's Man's Man's World • Good Vibrations • Give up the Funk
Journey
Magic/You Raise Me Up • Faithfully • Any Way You Want It/Lovin' Touchin' Squeezin' • Don't Stop Believin' • Bohemian Rhapsody • To Sir with Love • Over the Rainbow