Throwdown
Season One, Episode Seven

First Aired
October 14, 2009
Episode Guide
previous
"Vitamin D"
next
"Mash-Up"
Throwdown is the seventh episode of Glee's first season and the seventh episode overall. It premiered on October 14, 2009.
To cause dissertion among the Glee Club members, new co-director Sue Sylvester forces the students to compete against each other, but the real showdown happens when she and Will get called into the principal's office. Meanwhile, the Glee kids rally to support Quinn after some shocking news is revealed and Terri must deal with Will's desire to see their unborn baby as she is not really pregnant.
The episode was directed by Ryan Murphy and written by Brad Falchuk.
Plot
The episode opens with Will and Sue in a heated slow-mo argument. Through voiceovers it is revealed that the origin of this "throwdown" came several days ago when the two co-directors had a meeting in Figgins' office.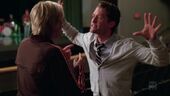 They report to Principal Figgins that the new arrangement at the top of Glee couldn't be going better. Some members of Glee are upset Will isn't selecting more modern, urban music. The Cheerios report this to Sue, who sees this as an opportunity to split the club. Will and Sue are each going to direct a song for the upcoming sectional competition. When Figgins makes them "hug out" the meeting, the two still can't stand each other.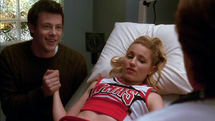 Quinn
has an ultrasound and learns she is having a girl. Quinn is still planning to give the child up for adoption, and
Finn
is upset he has no real control over a stressful situation. Still he agrees, he is fine with whatever Quinn wants. 
When Jacob threatens to run a blog post about Quinn being pregnant, Rachel offers to do whatever she can to stop it.
Intending to paint Will as racially insensitive, Sue takes all she considers the minority members of Glee: Artie, Tina, Kurt, Mercedes, Santana, Mike, and Matt; leaving Will with Finn, Rachel, Quinn, Puck, and Brittany.
Will tells Terri he's tired of not having any involvement in their unborn son. He demands to be taken to the next OB appointment.
Rachel tells Finn about protecting him and Quinn. She had to give Jacob a pair of underpants, and Jacob wants a pair that doesn't have a price tag on it.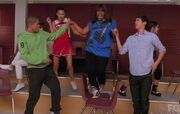 Sue lets her group sing Jill Scott's Hate on Me. After the rehearsal, Will confronts Sue in the hallway about sabotaging his practices (removing the piano, destroying sheet music). Sue confesses that she is trying to destroy him and Glee.
At home, Terri suggests that Will get nasty in his battle with Sue. The next day Sue learns that most of her Cheerios are now academically ineligible after flunking Will's Spanish class. In another meeting with Figgins, Will reveals that most of the Cheerios are all terrible students and should have been failing Spanish for years. Figgins sides with Will.
Finn suggests to Quinn that they name their baby Drizzle. Quinn thinks it's insensitive that he is even talking about naming a child they will give up. He says he wishes she were more like Rachel and tells her about how Rachel tried to prevent Jacob from going public with the story. Quinn questions Rachel intentions and warns Finn to not cheat on her. 
The entire club gets together on the sly and sings Ride wit Me by Nelly before their group meetings start. During Will's time, he gives them their new song: No Air, to contrast Sue's Hate on Me. Will plans for it to be a duet for Rachel and Finn. Under Sue's instruction, Quinn complains that the rest of their half is relegated to back-up duty in the number. This causes Brittany and Puck to leave Will's group and move to Sue's.
Sue tells Will she will give him back his singers if he passes her Cheerios. He says no. Will tells Terri he has made an appointment for that Friday with her obstetrician, Dr. Wu. Kendra and Terri threaten Dr. Wu with a frivolous lawsuit (to sue him for Kendra's triplets' problems) if he doesn't help Terri fake her upcoming appointment.
Quinn tells Rachel to stay away from Finn. Rachel confronts Quinn about working on the side for Sue and warns her that Sue won't be there for her once her pregnancy is revealed. Quinn turns around and performs You Keep Me Hangin' On with the Cheerios.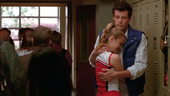 Rachel, Finn and Quinn rehearse in front of Sue and the rest of Glee. When Sue starts to walk out, and tells her group to walk out on them too, Will and Sue have the "throwdown" shown at the show's opening. The result is that all of the kids walk out of the room. At the fake ultrasound, Dr. Wu pretends Will and Terri are actually having a girl because Terri learns that Quinn's baby is a girl through Will. Will gets emotional seeing images of his child. Terri pulls Will in for a kiss: "No matter what happens," she says. "I want you to remember at this moment that we love each other."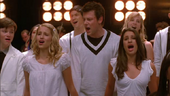 Sue agrees to give control of Glee back to Will. Will tells Glee that they are all minorities of some kind. Sue walks in and interrupts him, saying that Quinn is pregnant. Sue forced Jacob to go public with the story after finding Rachel's underwear in his locker. Quinn is surprised and very upset that Sue found out.
At the end, the Glee Club performs Avril Lavigne's Keep Holding On to show support for Quinn. During the song, Finn holds both Rachel and Quinn's hands.
Songs
† denotes an unreleased song
Background Songs
Carmina Burana by Carl Orff. Will and Sue shout at each other in slow motion, Sue marches through the school with her sunglasses on as Will chases her and argues, Sue finds out the Will flunked the some of the cheerios, Sue storms out of Principal Figgin's office and Will approaches Sue reading the paper.
Guest Cast
Guest Stars
Co-Stars
Ethan, Aidan and Ben Freedman as Giardi Triplets
Jennifer Jean Snyder as Reporter
Absent Cast Member
Trivia
This is the first time in the whole series, that a main cast member doesn't appear in an episode.
This was the first time the series broke the fourth wall. During the voice-overs in the slow-motion throwdown at the beginning of the episode, Will acknowledges that his voice is a voice-over.
Chris Colfer has said that Hate on Me was one of his least favorite performances to do because of the outfit he wore. He stated it was big and hot and hard to move around in.
This episode shows one of many Sue Sylvester tantrums.
Ride wit Me was actually not a written in the script. The cast was singing it between scenes and Murphy liked it so much he added it in, but it never got recorded.
This episode was watched by 7.65 million viewers.
Even though Brittany is known for not being very smart, she still managed to pass Spanish and stay in the Cheerios. This is most likely because she is in Glee Club as well and Will wouldn't purposely fail a Glee member, like he did with the Cheerios.
Gwyneth Paltrow is mentioned by Finn in the episode. Coincidentally, Paltrow guest starred in three episodes of the second season as substitute teacher, Holly Holliday.
At the beginning of No Air you can clearly see Lea Michele's (Rachel) wrist tattoo under her stage makeup.
According to Will, most of the Cheerios should have been flunking Spanish since 1992. That would have been 17 years before the storyline, so Sue would have been only 13 if she is 30 as she claims. So it's likely the coach has changed throughout the years- although her age claim is an obvious lie so it could be possible that Sue has been the coach since 1992.
Mentions the early stages of paranoid schizophrenia, which incidentally is a mental illness Jane Lynch's character in Criminal Minds (Diana Reid) suffers from.
This is the first episode (followed by Home, Duets, Rumours, The First Time, Big Brother, Love Love Love, and Frenemies) in which two duets are sung by the same two people.
Errors
After all the Cheerios besides Quinn, Santana, and Brittany were cut, Cheerios can still be seen in the background constantly, and in practice whilst Quinn is performing You Keep Me Hanging On. Despite Will never passing any Cheerios besides those three.
During Rachel and Quinn's conversation at Quinn's locker, you can see that the angel with a hook has moved during the scene. 
Quinn and Finn attend a doctor's appointment regarding Quinn's pregnancy. She is said to be at 10 weeks, and yet the doctor can tell through a routine ultrasound that the sex of the baby is female. It is virtually impossible to tell the gender at 10 weeks, since the genitals don't even begin to form until week 14 at the earliest.
Quotes
"

Will: Who's to say everything I do is 100% on the ball?
Sue: No one would say that.

"
"

I can't stand the sight of kids getting emotional, unless it's from physical exhaustion.

"

—Sue
"

Fellow glee clubbers, it would be an honor to show you how a real storm out is done. I encourage you to follow my lead.

"
"

Will: I can't do a song with three people.
Sue: Not with that attitude.

"
"

Shut up, Sue. Look at us, we're even fighting in our voice-overs!

"

—Will
Gallery
Videos