| | |
| --- | --- |
| |   This article is a stub. You can help by expanding it. |
William McKinley High Thunderclap

Status:

McKinley High's Annual Yearbook

First Introduced:

Current Issue:

2011 Edition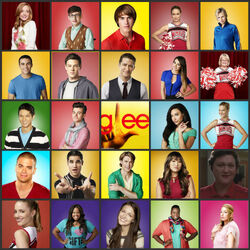 The Thunderclap
is the name of
William McKinley High School's
yearbook. Each one can be found in the library and it is also certain that nearly every Glee club photo in the yearbooks has been vandalized.
Biography
Mattress: It's time for the pictures to be taken for the 2009 Thunderclap, and Sue convinces Principal Figgins that Glee club shouldn't have a photo.
The Glee Club hold a meeting looking at past Thunderclaps and seeing how horrific the vandalism is on the glee club photos the decide to not to fight the ruling.
Will however decides to fight and writes a $300 for advertisment space, which will give space for two photo's.
Rachel isn't unnerved by the vandalism, and goes to look at the 2008 Thunderclap where she appears in nearly all the club photos. Also in the libarary are Santana and Brittany who vandalise the Mock United Nations Club photo. Quinn watches them and after reflecting over the previous years Cheerios photos makes up her mind to be in the 2009 thunderclap Cheerios photo.
Quinn goes to Sue and bribes Sue into giving the Glee Club one of the Cheerios six pages. Sue reluctantly agrees.
The photos for the Thunderclap are taken by
Dennis Halberstadt who
photographs, Rachel, Will, Sue,
Emma
,
Ken
and eventually the entire glee club.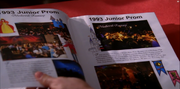 Hell-O: Terri tells Emma to look up the Junior Prom page (page 42) in the 1993 Thunderclap to prove to her that Hello Again was her and Will's prom song.
Nationals: During Tongue Tied a girl comes up to Rachel and gestures for Rachel to sign her copy of the Thunderclap.
Goodbye: Will writes in Finn's yearbook ("Dear Finn, great knowing you, Will Schuester") and Finn is a bit takem aback by the lack of emotion, Will admits he couldn't write an emotional message without falling apart.