This article is about the version sung by Blaine and Rachel. You may be looking for the version sung by Tina.
Tonight from West Side Story is featured in The First Time, the fifth episode of Season Three. It is sung by Blaine and Rachel as Tony and Maria during rehearsals for West Side Story.
It was previously featured in Preggers, the fourth episode of Season One, when Rachel is upset that Tina has been granted the solo. Unlike the Season One version, this one is released. The episode's version was instrumentally different from the Season One version.
Lyrics
Rachel:
Tonight, tonight
It all began tonight
I saw you and the world went away

Tonight, tonight
There's only you tonight
What you are, what you do, what you say

Blaine:
Today, all day I had the feeling
A miracle would happen
I know now I was right

Blaine and Rachel:
For here you are
And what was just a world is a star
Tonight

Tonight, tonight
The world is full of light
With suns and moons all over the place

Tonight, tonight
The world is wild and bright
Going mad
Shooting sparks into space

Today, the world was just an address
A place for me to live in
No better than all right

But here you are
And what was just a world is a star
Tonight

Good night, good night
Sleep well and when you dream
Dream of me
Tonight
Trivia
This is the second time the song was sung on the show. It was first performed by Tina in the episode Preggers, in Season One.

This is the first of two songs previously sung by Tina that have been re-used. The second being I Kissed a Girl. Ironically, both I Kissed a Girl and Tonight have been duets featuring Rachel in them.
Gallery
Videos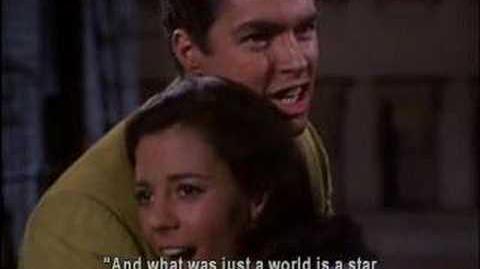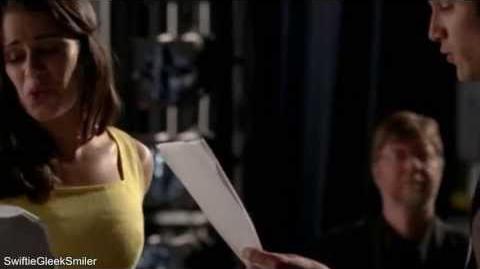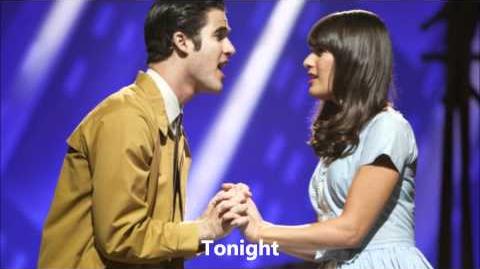 Ad blocker interference detected!
Wikia is a free-to-use site that makes money from advertising. We have a modified experience for viewers using ad blockers

Wikia is not accessible if you've made further modifications. Remove the custom ad blocker rule(s) and the page will load as expected.