Lena
General Information
Gender:
Female
Age:
16
Hair Color:
Brown
Eye Color:
blue, light blue in the evening xD
Birthday:
01.04.
Height:
5"7
Occupation(s):
Student, Singer, Musician
Aliases:
Lenchen (Family, though I hate it)

Porcelina (Medeja) Lena the Arena (Shan) Lee (Molly) Lina (Perry) Elena (Rachel) Lean (Sis) The Drunk Lila Pasta Lena (Lexi) Lenzie (Tiff)

Family & Friends
Family:
Mother & Father

Brother (Philipp) Sister (Julia)

Other Information
Talent:
Being a dork, making people laugh, not getting Physics, TALKING
Awards:
Too many to count xD
Series Information
First appearance:
04/01/1996
Last appearance:
The day HeYa ends, because I will go down with this ship!
Portrayer:
ME!
About moi
Edit
There´s not a whole lot to tell... I´m Lena, 16 and from Germany. My dream is to get outta here and move to the US or Canada xD
Some random facts about me:
I´m a dork
I enjoy making people laugh
I can cry on cue and I´m pretty emotional xD
Mah hobbies: taaaalking, playing my guitar, snowboarding, listening to music and sleeping ♥
I get waaaay too easily obsessed with stuff
You will NEVER see me wearing a dress
I HATE taking pictures of myself
I´m a good cook, which is something my friends are using me for xD
I suck at throwing things away
I´m so obsessed and in love with my cellphone that my friends gave it a nickname
I cry every time I watch Spring Awakening <3
That´s basically all I can come up with right now :P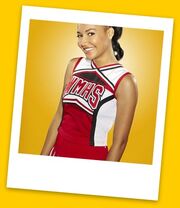 Glee Wiki Friends

Edit
These are just a few of my special people on here <3
I love my Molls to pieces <3 She is so awesome, hilarious and sweet, plus, she makes the most adorable typos EVER! :) We have so much in common, it´s freaky sometimes. Molly makes me smile and brightens my day every time we talk. She´s basically one of the best people on the planet. If you don´t know her, introduce yourself! I promise, you won´t regret it :) My wifey and BFFOTOSOTW ♥
OMG I don´t even know how to describe the awesomeness that is mah Perreh :) We started off haaating each other (Can ya blame me, she gives me the WORST nicknames!), but one speeeecial troll made us bond. I started adoring her right away, she´s just so amazing ♥ She may act all tough, but don´t let her fool you: She always has the right thing to say, she cares so much and is a real sweetheart (Yeah Pepperoni, I said it xD)
I love you and support you with all I have ♥
And P.S.: I´M the lucky one xD
J4D3, I wish I would´ve met you sooner... You are amazing! The first time we talked, we instantly clicked! Our skype-talks are "awesomest" and so are you <3 Our skyping might get me in trouble with my teachers, but it´s totally worth it :33
Oh, Minni, my sweet kiddo :) I´m so happy I adopted you, because you are an amazing kid :) Can´t wait for you to take me with you on the trip, I hope your backpack is comfy xD I love ya and your accent my kiddo :)
Catherine, I love being your momma! You´re almost as obsessed with hugs as I am :P Your sense of humor is hilarious, I hope you get it from your mommy xD
Talking to Hayley always makes my day! She is my sweet kid (who is 3 years older than me xD ) and I love her! Plus, she is so artistically talented! Thank you for being awesome! :D
Another one of my AMAZING kids! I am the luckiest mom alive because I have the best kids ever, and this girl is one of them <3 When I found out she is my daughter, I realized that I had NEVER talked to her ;O But then I introduced myself, and it was one of the best decisons I ever made :3
Alright... This girl is pure awesomeness! I mean, she loves the Beatles (!!!!) and musicals! She´s really great to talk to, and I might just have to get rid of Jade so I can be with her *wink wink* I´m so glad we started bonding, otherwise I´d probably still be scared of her :P Love you, Nads! Lediah-flirtship FTW ♥
Renz is the sweetest guy in the entire world! He always makes me smile and I can´t wait till we have time to chat again. His compliments make me blush and whenever he´s online, my day is saved. He loves me for who I am, and for that, I will always be grateful to him <3
Lex, your Lemon of Life LOVES you! <3 You are so funny and a great singer :) I´m so glad you didn´t leave the chat after all, because I wouldn´t know what to do without you... Who would I gossip with?! xD Just kidding :) I love our chats on the wiki and on skype... They make my day <3