BackToTheStart/Favorite characters
Talk

0
1,511pages on
this wiki
In Order :)
Santana: Do i really need to say why i love her? i mean who wouldn't??¡ She's freakin' hilarious, is the only one who tells the true to Rachel Berry in her face! Ialso love her cause i can actually relate to her and no, i'm not gay, i can relate due to the fact that maybe i seem strong outside but inside i'm pretty vulnerable and that's why people can hurt so easily. However, i think the part i love the most in Santana is her vulnerable,even if i adore S1 & S2 Santana, the one i adore the most is the S3 Santana cause i look to past seasons and i see how much she has changed for good, now she's just proud of lovin' and having Britt, she's not scared of the talks and the looks she just want to be with the person she loves and gives a sh*t of what the others say :')
Quinn: I honestly love her, though i know some people don't like her for thing she has done in the past and think she's kinda crazy, but honestly she's the one who has get through the most crap from all the glee character and i'm pretty those quinn haters couldn't take just an half of all Quinn's pain, but what did she do? Sure, she screwed up sometimes, but she's a human who is learning and her life isn't exactly easy at all but that just made her strong and a better person. I mean she went to the girl who insult every geek, threw them slushies and didn't care about anything but her reputation to the person who lost Prom Queen so that way Rachel would get the crown . Sincerely i'm truly proud of this girl because of how far she has come.
Mike: I started to love him ever since i watched "Asian F", he's just so sweet, talented and such a great guy and son; i mean, he wanted to give up on his dreams so that way his father would be happy and accept him as his son again. I know he has only had one real storyline on Glee, so i actually hope he gets atleast one more in Season 4, so that way we can have more Mike's amazingness (lol? is than even a word? Well i don't care) cause i think his character has so much potential and should not be wasted.
Kurt: I love this guy, he's by far the most adorable character on Glee, so hilarious and with an amazing fashion sense; also such a good friend without mentioning all the courage he has getting through his coming out and never regret of being himself even though other people didn't agree with it.
Artie: I love this guy! He's really sweet and funny, also he's such an talented person, i wish he would sing more this season though :(. However it's really inspiring how this character shows that being in a wheelchair doesn't stop you from being happy and that instead of keep saying how bad life treats you can choose to face everything with a smile. :D And even though i am on a break with Glee, i am gonna watch his scenes on Tumblr from Glee, Actually because it honestly looks too awesome!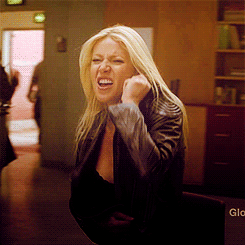 Holly Holliday: Coolest teacher ever!, i wish my teacher could randomly break into songs just like her!...Also she ships Brittana like a boss and get them together! :D
Honorable mentions have a... ♥
Sue Sylvester
Cassandra July
Jake Puckerman (but mostly...meh)
Characters I Don't 
Enjoy Watching