QUICK! :)
Basic Info
Hello!
My names Katherine!
Age: 16
Country:Canada
My birthday is May 13th
Just like the rest of you people ima gleek! I LOVE GLEE!
My favorite colour is red
I'm somewhat a tomboy
I'M A HUGE QUICK SHIPPER
I'm a music addict
I LOVE GLEE its one of my two favorite tv show.But my all time favorite #1 tv show is CSI:NY....as you can see from my user name
Puck is soo hot,he's my favorite character....the am-badass-er!
I love coffee
My 3 favorite couples on GLEE!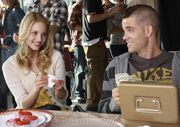 Quick-Puck and Quinn
Blaine and Kurt
Mr.Schue and Emma
My 5 favorite characters on GLEE!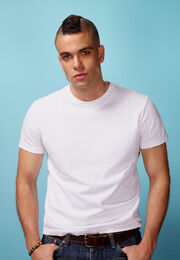 Puck!
Quinn
Kurt
Mercedes
Santana
Couples I really hate or hated:
Puckleberry-Puck and Rachel
Quam-Sam and Quinn

Quam is a horrible pairing.

Added by

CSI:NY-SWAC fan
Glee songs that I love listening to
Deep river mountin high

Added by

BeatlesgLee Fan

Lucky
Time warp

Added by

Babyjabba

Faithfully
Listen

Added by

Gleeful

Beth
Valerie
Gives you hell
Anyway you want it
Telephone
The only Exception

Added by

BeatlesgLee Fan

Marry you
Ice Ice baby
Just the way you are
Quotes of Glee that I reallly love
"I have to say she kind of rocked my world"-Puck
"More like it's am-BAD-ASS-ador"-Puck
"I'm a total Jew for Jesus.He's my number one Heb"-Puck
"Can I be shirtless under this apron?"-Puck
"Kissing my armpits is a really big turn-on for me-Brittany
"Before our duet we're going to do it"-Brittany
"I don't brush my teeth,I rinse my mouth out with soda after I eat.I was pretty sure Dr.Pepper was some sort of a dentist"-Brittany
Are you questioning my badassness?Have you seen my guns"-Puck
"Your arms are lovely"-Rachel
"Rachel was a hot jew and the good lord wanted me to get into her pants"-Puck
"Whenever I pray I fall asleep"-Bittany
"Did you know that dolphins are just gay sharks?"-Brittany
"These guns are fully loaded"-Mini Puck
My favorite episodes of Glee
Journey
Duets
Grilled cheezus
Wheels
Funk
Bad reputation
Furt
The rocky horror glee show
Never been kissed
Special education
Britney/brittany
My favorite pages
Quinn-Puck Relationship
Noah Puckerman