My Faves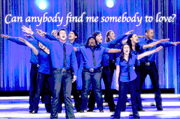 Episode: Hold on to Sixteen
Character: Artie
Musical Number: Thriller/Heads Will Roll
Song: Moves Like Jagger/Jumpin' Jack Flash
Ship(s): Brittana, Faberry, Klaine, Quick, and Samcedes
I also love iCarly, Friends, Mean Girls, Harry Potter, That 70's Show, and gymnastics.
BrittanaKlaine25 is my bestest buddy on here. :)
DRACO, YOU GODDAMN LITTLE POOFER, WHY DON'T YOU STOP YOUR WHINING AND LEARN TO USE THE POTTY LIKE A NORMAL HUMAN?
If they ever did anything from AVPM or AVPS, my life would be complete. It would be even more complete if Chris played Malfoy.
If I Were On Glee...
My character would be Anna Franklin, former member of Vocal Adrenaline who transfers to McKinley in season two. The glee club wouldn't trust her at first, after what happened with Jesse, but Anna would convince them that she is not returning to Vocal Adrenaline, and transferring to McKinley was her own decision. She has a legitimate reason for transferring, but says it's too personal to share, and would rather wait until she knows the glee club better.
She becomes friends with Artie, sympathizing with him when he tells her about Tina. She fills Brittany's role in season two, but uses a different approach to do it. She helps him get over Tina, they date (and, spoiler alert, break up before the end of the school year), and he finds out why she transferred to McKinley: to escape an abusive ex.
(I know, I can be dramatic.)
Videos