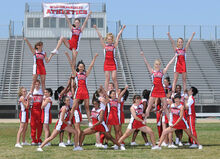 Favourite Pages
Edit
Top Ten Glee Songs Ever
Top Ten Reasons Why Quinn And Finn Should Be Together Again
Quinn Fabray
Rachel Berry
Santana Lopez
Brittany S. Pierce
Bad Romance
Hey, my name is Pip and I am a huge Gleek (no surprise there!). I love the Cheerios, as you can see from my username. I love Brittany, I look kinda like a mix between her and Quinn, well, a mini version. here's some stuff about me:
Pip
General Information
Gender:
Female
Hair Color:
Sandy Blonde
Eye Color:
Blue
Birthday:
29th of January
Occupation(s):
Student
Aliases:
Pippa, Phillippa, Flip, Brit, Brittany, CheeriosWMHS
Family & Friends
Family:
Mum, Dad, Brother, Two Dogs
Relationships:
None
Friends:
Too many (joking)!
Pet(s):
Riley and Rosie
Enemies:
Bullies and Haters of Glee
Other Information
Interests:
Glee, Dancing, Singing, Acting, Playing netball, Swimming, Baking
Clique:
Semi Popular, Gleeks, Glee Club
Education:
Senior School
Talent:
Dancing, Singing, Acting, Swimming, Baking
Vulnerabilities:
Chocolate, Cupcakes
Strengths:
Dancing, Singing, Acting, Swimming, Baking
Weaknesses:
Chocolate and my bed
Awards:
School Captain of Junior School
Series Information
First appearance:
When I was born
Last appearance:
TBA
Portrayer:
ME!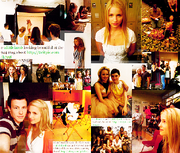 Shout Out To Sky Splits
Edit
I'd like to give a shout out to Sky Splits, my friend in real life as well as on this wiki. She super nice, a huge gleek and a big Quinn Fabray/Dianna Agron fan! She's new to this wiki so go and say hi! I swear, she will be one of the nicest people you will ever meet!