BLAINE WARBLER, I'M GONNA ROCK YOUR WORLD.
Warblette. Klainer.
I WATCH THE SHOW FOR:

Edit
"You smell homeless, Brett. Homeless."
"Sandy, we voted. When you're in the group, it's creepy."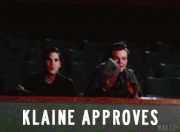 "Mr. Schue, is he your son?"
"Oh, Bambi. I cried so hard when those hunters shot your mommy."
"That's all I have left after I bought dip, and nunchucks."
"You can now choose between Porcelein and Tickle-Me-Doughface."
"Why is a t-rex eating that jew?"
"I think I like Blaine's version of the song more than the original." "Yes, but it's not in his natural key!" "HOW DARE YOU!"