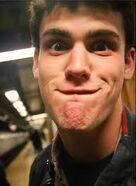 hey guys, i am a gay teen. My name is Sirus, i am very pleased to meet you all. My fav color is purple, i have light brown hair, hazel-blue, green (yeah, i know, weird color, but it looks cool) i have no idea how tall i am, weigh 130 pounds. I get, (a lot like Kurt and Blaine) VERY emotional......
Everyone in my family calls me stupid, says i was just a mistake, i was dropped on my head, and that i should be more risk-taking... Even the people at my school says that i shouldn't have been born. And when i leave places, i think people talk behind my back...
Never Been Kissed
Kissed a Girl
Big Brother
Dance With Somebody
Original Song
Blame it on the Alcohol
Dynamic Duets
Shooting Star
Movin Out
Puppet Master.
And episodes that involve Blaine with a major plot.
My Favorite Songs
Perfect
Keep Holding On
Candles
We Found Love
Everybody Hurts (rem and Avril's)
I'm Yours
Price Tag
SkyScraper
True Colors
Cough Syrup
Get It Right
Already Gone
Because of You
It's Time
Give Your Heart A Break
Sober (Pink)
Keep Holding On
It's All Coming Back To Me Now
Klaine
Tartie
Brittana
Blina
Blam
Blamina
Blinn
Kartie
Blarley
Seblaine
Blunter