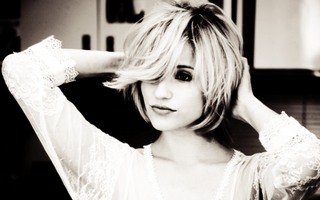 Hi there. Just in case you're wondering, my user name is inspired by both a tweet from Dianna and an awesome tumblr.
I will omit the minute details about myself and break it down to:
I am legal
I live in NZ
I am just a tad TOO addicted to Glee
I am bi-lingual and also speak some German
I have many obsessions: music, movies, good books, TV shows, my laptop, TV and iPad, arguing, games, my hair, clothes, neatness, a certain number of celebs, perfect grammar etc.
I can relate to Quinn and Santana on Glee the most - I share a lot of the insecurities and that egotistical facade that Quinn has; I find it difficult to restrain my streak of bitchiness and not to criticise people like Santana.
But really I'm very bubbly and friendly when you get to know me.
Humour is something I attempt at every day =P
And there you go. Talk to me, I won't bite.
My Favorite Characters
Edit
I have a lot of love for the whole Glee Cast however not so much with all the characters...
Quinn
Sam
Santana
Jesse
Puck
Mike
My Favorite Songs
Edit
Performed on Glee. If I had to include ALL of my favourite songs this list would not end. This was still difficult to determine as Glee has wonderfully covered so many beautiful songs, so I've narrowed it down to these in alphabetical order:
Any Way You Want It / Lovin', Touchin', Squeezin'
Bella Notte
Billionaire
BOHEMIAN RHAPSODY - epic, glorious, magnificient, just FFJLDASJFDJF
Don't Stop
Don't Stop Believin'
Faithfully
For Good
Get It Right
God Rest Ye Merry, Gentlemen
Hello
I Feel Pretty / Unpretty
Isn't She Lovely
Last Christmas
Lucky
One of Us
Rehab
Somebody To Love - YES I AM A FAN OF QUEEN
Songbird
Sweet Caroline
The Boy Is Mine
Time Warp
True Colors
What I Did For Love
Couples that I like
Edit
Fabrevans FTW
Brittana
Klaine
Luck
St. Berry
Quick
Puckleberry
Chang-Chang
Totcedes
Now onto the random ones that haven't really happened:
QUINNTANA
Fabang
Fabrittana
Kurtovsky
St. Fabray
Artcedes
Quill
Sack - yes I'm talking Sam and Puck
More to come in S3