Hello, folks. This is the The Official User Page, for ME, the one, the only, the SPECTACULAR DAFFY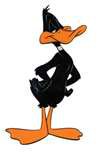 DUCK! Please, don't crowd. I will allow all of you get a chance to wittness the greatness, of me, Daffy Duck.
Hello, fans of me and this so called "Glee". I have created my account here so i can make blogs to share my thoughts, and anwer your questions you have for me...and charge 100 bucks for anyone who asks me a question......WHAT?? Porky just told me that i can't charge anyone to ask me a question! Ughh. That is Despicable!

Anyways, I do blogs to share my thoughts. But when it is needed, I can edit a page. Now, leave a message on my talk page if you need anything from me. And remember, IT'S RABBIT SEASON!!!!
Things I like
Edit
Being rich
Being a Star
Having adoring fans
Being rich
Pizza
Devising ways to get more popular than a certain rabbit.
Did I mention I like being rich(I'm a greedy slob, what do you expect?)
Things I hate
Edit
Being upstaged by that RABBIT!