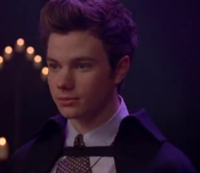 My name's Victoria, I'm Sixteen and Lives in Boston. The place is not what it's all fussed out to be, once winter hits, you'll wish you lived in Florida. I discovered Glee about 10 months ago, accidently and loved it ever since. I just got lazy so I'm gonna just make a list of infos about myself instead of continuing this wonderful paragraph.
Favorite color: Blue
Pet peeve: Homophobic people, Loud noices(ouch)
Height: 5'7, yes I'm tall and If you make fun of me, I'll step on you.
Favorite actors: Chris Colfer and Darren Criss (duh)
Kurt
Blaine
Pretty much it.
Original songs
Dance with somebody
The First Time
I have nothing
Dancing queen
Somewhere Only We Know
I Kinda care about only Klaine and Don't give a damn about anything else if you haven't noticed by now. No, I'm not a crazy Klainer.