Playlist:
1) Good Vibrations - Finn, Puck and Mercedes
2) Defying Gravity - Kurt/Rachel
3) Proud Mary - New Directions
4) Bohemian Rhapsody - Vocal Adrenaline
5) Don't Stop Believing (Regionals Version) - New Directions
6) Bad Romance - Kurt, Rachel, Mercedes, Tina, Quinn, Brittany, Santana
7) Beautiful - Mercedes
8) Rose's Turn - Kurt
9) Somebody To Love - New Directions
10) Don't Rain On My Parade - Rachel

Gleekinesstothemaxx 20:51, July 30, 2010 (UTC)
Episode Ideas:
1) Michael Jackson Tribute

2) Episode about the Glee Club's families
3) Sue and Will have to switch jobs
4) Sue gets replaced by a meaner coach
5) Will and Emma start dating
6) Charice and Rachel have a diva competition
7) Tina tries to lose her virginity to Mike, but realizes she loves Artie
Gleekinesstothemaxx 20:51, July 30, 2010 (UTC)
Brittany (My Favourite Character):
This vi deo pretty much sums up why she's my favourite.
Theatricality (Favourite Episode)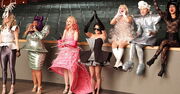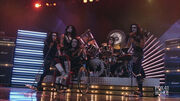 "Asian Vampires are the worst vampires of them all."
- Tina
"Little Monsters, take a bow."
- Will
" You look terrible. I look awesome."
- Brittany