You know you are a Gleek when you: love the sound of applause, even if you have to buy it.
Welcome to my Wiki Page!
I consider myself as a very recent Gleek. Glee came into my life on October 2011, when I literally fell in love with it. Since then, for me, it's the greatest TV show I've ever seen, and, even if I try, I can't stop watching i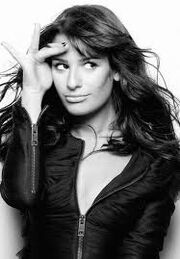 t.
I joined this Wiki in the beginning of 2012, and it has soon became my addiction. I come here everyday to know the news about the cast, episodes, songs, etc.
I don't have any friends here, because, since English is not my first language, I find it kinda hard to express my opinions and my thoughts. So, I'm already sorry if I get someone angry or make someone laugh about my bad English.
Anyway, it's a pleasure to come here everyday to see what's up with this world. And I don't regret any minute spend here.
Soooo, let's start my show!
P.S.: My dad is not in the mafia.
Follow me on twitter: @SugarSalgada
Male:
Female:
Season One:
Season Two:
Season Three:
Season Four: