<3<3<3
Hey Gleeks, I'm Izzy!
Edit
A few things about my views on Glee:
I LOVE Glee.
I don't fuss about Brittana kisses or Klaine moments.
I find Season 2 Will really annoying, I miss him from Season 1! (but Seas
on 3 Will is getting better) *I like really weird and odd characters that usually aren't usually around or liked.
I freaking love this website...
I'm a Tumblr girl- save yourself! x)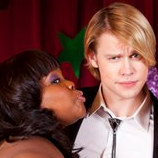 Sam Evans
Rory Flanagan
Jesse St. James
Season 1: Vitiman D
Season 2: Blame it on the Alcohol
Season 3: Yes/No
Season 1: To Sir, With Love
Season 2: Pure Imagination
Season 3: EVERY SINGLE ONE except Hot For A Teacher.
Finchel
Samcedes
Rory and Happiness (whoever that may be...)