Hi! My name is Sydney and I am the biggest GLEEK alive! I also love to perform! I have been in numerous plays and I can't get enough! When I get older I want to be a Broadway Star!!! I was very afraid to perform on a stage before I started watching Glee. I know it's silly but Glee has inspired me in so many ways. GLEEKS OF THE WORLD, UNITE!!!!Edit

JuniorGleek 23:01, October 2, 2011 (UTC)SydneyTAYLORJuniorGleek 23:01, October 2, 2011 (UTC)
Rachel Berry
Finn Hudson
Brittany S. Pierce
Santana Lopez

Baby Beth and Daddy Puck <3

Added by

Kate.moon

Holly Holliday
Sam Evans
Artie Abrams
Harmony
Mercedes Jones
Noah Puckerman
Quinn Fabray
Lauren Zizes

Loving the look on Rach's face :)

Added by

GleeGirl

(Basically Everyone)
Journey to Regionals
The Substitute
Blame it on the Alcohol
Original Song
New York
I am Unicorn
The First Time
Asian F
Mash-Off
Landslide sung by Santana, Ms.Holliday, and Brittany

Santana, Holly and Brittany performing Landslide.

Added by

Ashtoneverett

Don't Stop Believing sung by The New Directions
My Man sung by Rachel
Pretending sung by Finn and Rachel
Someone Like You sung by The TroubleTones
Candy Man sung by The TroubleTones
For Good sung by Rachel and Kurt
Truthfully....... I love them ALL!!!!
Finchel (Finn + Rachel)
Wemma (Will + Emma)
Quam (Quinn + Sam)
PuckleBerry (Puck and Rachel)
Why I Love Glee
Edit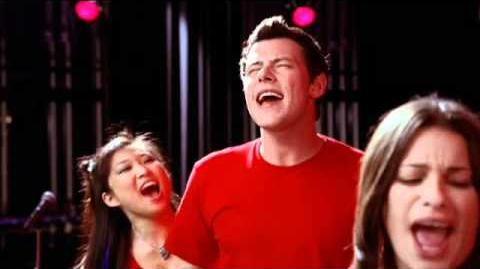 Glee is so inspiring. Ever since the Pilot, I knew that this show would change some people's lifes forever. Before Glee, I was shy and kept my voice to myself. Now I'm not afraid to sing it out! Ever since the Pilot, I have been through a million more auditions and wasn't afraid. Rachel has taught me that everyone is a star. Thank you Glee :)
My Show Credits
Edit
Alice in Wonderland- White Rabbit
Rhythm City- Theresa
Showcases
Godspell- Servant, Rich Man
Roles I would LOVE to play
Edit
Wicked- Elphaba
Rent- Maureen
Hairspray- Tracy
Grease- Frenchy
Thouroughly Modern Millie- Millie
My Favorite Plays
Edit
Wicked
Le Miserables
Hairspray
Rent
AND OTHERS!!!!!