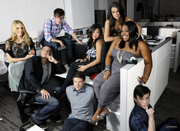 Glee is by far the best show ever to air on television. Some people hate it, but how can you hate Glee? I mean, how can you relate to Jersey Shore but not Glee? Basically everyone can relate to Glee. Their characters mean something to people, they are all rolemodels, and a lot of people can turn on the TV to Glee and find a character that is like them most.
Glee gives courage to people. I'm no longer afraid of high school because Glee has taught me that I shoudn't care what others say about me. I am who I am and I can't change that. And to stick up for yourself.
Glee gives me hope, courage, power, and strength.
I can't sing or dance but I wish I could. I never knew what show choir really was before Glee but it used to make me wish I could be as talented as them because show choir seems so fun! But I don't wish that anymore, because I've realized that not everyone can sing really pretty and dance really well. There's something out there for me, and I think I already know what it is....
I love all the characters on Glee. Some I find extremely annoying or I hate them, but I respect that they are all importnant to the show and they mean something to someone. The people who play the characters all work extremely hard and are very talented singers, dancers, actors, etc. and just amazing people in general. But I have to say my favorite are...
Kurt Hummel - I just love him. He is so cute and sexy and hot.
Blaine Anderson
Quinn Fabray
Santana Lopez
Nationals (3x21)
On My Way
Big Brother
Hold on to Sixteen
But really..like all episodes of Glee rock.
Paraside by the Dashboard Light
Tongue Tied
Not The Boy Next Door
Glad You Came
Take My Breath Away
Like episodes and characters..I love them all!
Klaine is my OTP.
Faberry. I know it's not real (yet) but just wait.