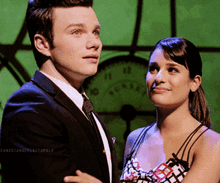 Super obsessed Gleek!! I recently joined because i'm on here so often I thought why not!
Fairly easy going (I like to believe), loves musicals (hence my Glee addiction). Lea Michele is my idol! =) Peace and Love! <3
"While the boys chose a selection of songs that cast an eye inward on the irresponsible life choices and sexual hunger of today's modern teens, we have chosen a selection of songs that speaks to the nation as a whole during these troubling times of economic uncertainty and unbridled social woe, because if there's two things America needs right now it's sunshine and optimism. Also angels ."
- The legend that is Ms. Rachel Berry :D
Rachel
Puck
Finn
Kurt
Rory
Santana (though she's on a very thin thread at the moment)
Quinn
Sam
LOVE all of them though =)
Laryngitis
The Power of Madonna
Journey
Grilled Cheesus
Silly Love Songs
Original Songs
Born this Way
Prom Queen
Funeral
Pot O' Gold
The First Time
Mash Off
Hold On To Sixteen (Epic episode! ND killed it! :D)
Though I love every episode those stand out =D
Added by

LMC18

Journey Medley
My Man
Unpretty/ I Feel Pretty
Fat Bottomed Girls
Jessie's Girl
Happy Days Are Here Again/ Get Happy
America
Light up the World
Ain't No Way
Good Vibrations
One of Us
Landslide
Trouty Mouth
Soooo many more though!! =)
Finchel <3333
Puckleberry
Quick
Brittana (sometimes...when they're not bullying people =P)
Quam
Faberry (as a friendship )
Tike
Samcedes (Once Mercedes becomes nice again)