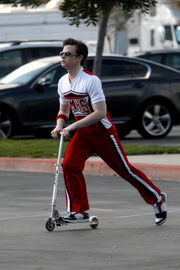 About me
I love Glee (obviously=P)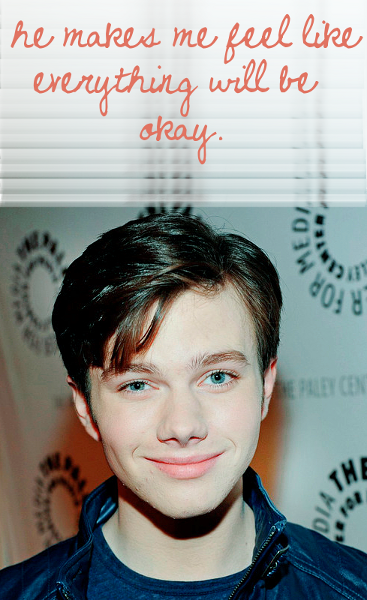 I'm obsessed with Kurt. I don't care that he's gay. I think he's one of, if not, the greatest character ever. I love Chris Colfer too. He's a great actor and really makes Kurt Kurt. My favorite is Theatricality. I love Lady GaGa, but the scene with Burt kicks Finn out for using the word "fag"...That was epic. I think he should have been nominated for an Emmy for that scene as opposed to Wheels...They were great there too but...
Grilled Cheesus was amazing! I love how the were able to talk about religion on that show without offending anyone in particular. Most shows that try would get every random group mad at them, but Glee has this amazing way of having something for everybody and giving an opinion without a "this is how it is" air. I spend most of the episode in tears,especially during I Want to Hold Your Hand. That kid who played young Kurt was great. It's hard to believe they're really two different people.
Glee has given me a new love for Rocky Horror. Today at school, I dressed up as Columbia for Halloween. <3
My Favorite Songs by Episode
SEASON 1
Pilot:Don't Stop Believin'
Showmance: Push It
Acafellas: Bust your Windows
Preggers: Single Ladies (Does that count;))
The Rhodes Not Taken: Alone
Vitamin D: It's My Life/Confessions Pt II
Throwdown: Hate On Me
Mash-up: Sweet Caroline
Wheels: Defying Gravity
Ballads: Lean On Me
Hairography: Imagine
Matresses: Jump
Sectionals: Don't Rain On My Parade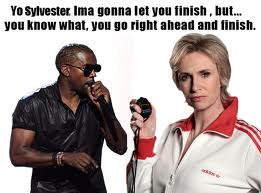 Hell-O: Hello, Goodbye
Power of Madonna: 4 Minutes
Home: Beautiful
Bad Reputation: Physical
Laryngitis: Rose's Turn
Dream On: Dream a Little Dream
Theatricality: Bad Romance
Funk: Give up the Funk
Journey to Regionals: Anyway You Want It/Lovin' Touchin' Squeezin'
SEASON 2
Audition: Telephone
Britney/Brittany: Me Against the Music
Grilled Cheesus: I Want to Hold Your Hand
Duets: Le Jazz Hot
The Rocky Horror Glee Show: Time Warp
Never Been Kissed: Stop! In the Name of Love/Free Your Mind
The Substitute: Forget You (Kurt's dancing! But, eh, the music wasn't that great in this episode...)
Furt: Marry You
Special Education: Don't Cry For Me Argentina (Kurt)
Sue the Grinch: Baby, It's Cold Outside
The Sue Sylvester Bowl Shuffle:
Silly Love Songs: When I Get You Alone
Comeback: Take Me Or Leave Me
Blame It on the Alcohol: My Headband (=P but honestly. This episode really left me uninspired.)
Sexy: Landslide (It made me cry. Honestly, this is the first Glee performance in a while to make me do so...I think this is the only time a non-Kurt song has won in an episode where Kurt sang =P)
Original Song: Blackbird...or Candles...I'm not sure which one was more adorable =D
OVERALL TOP 10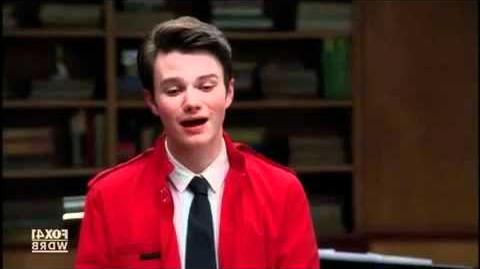 1. I Want to Hold Your Hand
2. Rose's Turn
3. Baby, It's Cold Outside
4. Le Jazz Hot
5. I Look to You
6. Bad Romance
7. Papa Can You Hear Me
8. Bust You Windows
9. 4 Minutes
10. Me Against the Music
I love basically anything with a lot of Kurt and especially Burt. I still haven't gotten over my obsession to the point of squealing and having eyegasms when he comes on the screen...
Favorite (Non-Glee) Music and Randomness
Despite opposing beliefs that I may or may not bring upon myself, I do have a life beyond Glee and Chris Colfer... I FINALLY SAW RENT!!!! EPICNESSSS!!!!
Artists:
Adam Lambert (Love him with the same burning passion the I've given to Chris Colfer), Alanis Morrisette, Allison Iraheta, Anna Nalick, Anouk (You have to hear her version of Losing My Religion. It's better than Glee and the original), Beyonce (All the single ladies...), Carrie Underwood (I DO have this thing for country music...), David Cook, Evanescence, Heart (I might be a teen, but I still know good rock music!), Idina Menzel (Even before Glee I loved her), Katy Perry (The music video for Firework is one of my favorites ever), Kelly Clarkson',' Lady Antebellum (What did I say about country music?), 'Lady Gaga (How could I not?), Maroon 5', Miranda Lambert (Nothing like good revenge music right?), Muse, P!nk, Sara Bareilles, Sugarland, Tina Parol, 3 Doors Down, and a lot more that I'm not thinking of at the moment...
10 Favorite Music Videos
These are in no order...They were but I changed things and to be honest, it's hard to pick a favorite*
1. Firework- Katy Perry (Such a beautiful message and powerful video. I don't care what people say about Katy. She's talented and sends out good messages (with SOME Ke$ha-esque fun involved...) but always keeps it real. It's not all what you see. Doesn't mean it can't be beautiful.)
2. Raise Your Glass- P!nk (Just like Firework, it's such a strong statement. Why do we take milk from other animals. We're the only ones who do. Basically, don't dish out the crap you won't take. Chances are, others won't either.)
3. Single Ladies- Beyonce (EPICNESS!!!! It's so simple, and that's want makes it great. It's not some questionably dressed singer dancing "sexy" with crazy and distracting effects. It's pure Beyonce =))
4. Whataya Want From Me- Adam Lambert (I love his vulnerable side so much. It's kind of like "I'm sticking to who I am. Isn't that what you wanted?" People are so hard on others. They say "be yourself", but really mean "Be yourself as long as it's what I want".)
5. For Your Entertainment- Adam Lambert (SEXY!!! Sorry...fangirl-gasm)
6. F**kin' Perfect- P!nk (Another great video by P!nk with a similar message to Raise Your Glass. It was done so beautifully and sends out a common message in a different way. I love how P!nk touches on a very controversial but common and relevant topic without caring about what the people who want her to keep her mouth shut think)
7. Alejandro- Lady Gaga (It's hard to not love something that she's done=D She's is one of the few artists who can make a video that sends a powerful message that only those who look deeper into it can see. It's perfect for today's "see it or it doesn't exist" society...)
8. In the Rough- Anna Nalick (I know it's not a very popular video, but it's such a great message for girls everywhere about not being a victim. As Blaine would say, COURAGE...sorry that was really lame =D)
9. Beautiful- Christina Aguilera (I love Mercedes singing this song, but nothing beats Xtina. She takes an already powerful song to an entirely new level)
10. Bohemian Rhapsody- Queen& The Muppets (LOLZZZ!!!!!!...that's all I can say..)
11. (Cauz I can't count) Born This Way- GAGA OOH LALA!!!
My favorite pages