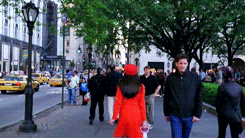 As time passes, it's only natural for paths to cross again.
It's never going to be a goodbye, more like a "see you soon".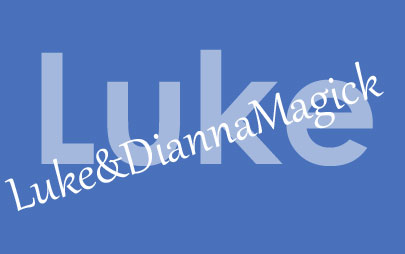 Luke&DiannaMagick

General Information
Gender:
Male
Age:
16
Hair Color:
Brown
Eye Color:
Brown & Green
Birthday:
April 12, 1997
Height:
5'9/10
Aliases:
Lukey, Lucas, Lukas, Sl*t, Lukeh, Lukarse, Liam, Luke Pontmercy, Ms. Rachel Barbra Berry, Barbrapoo, Hamster
Family & Friends
Family:
Glee Wiki Chat
Other Information
Series Information
First episode:
July 26, 2011
Welcome to my silly life~
Hello! I'm Luke. I'm sixteen, british, and I have a crazy obsession with celebrities; particularly Blake Jenner and Dianna Agron. Just casually waiting on the day one of them wants to marry me. Oh, and since January 4th 2013, I used to be admin here on this wikia so feel free to come to me with any questions or queries. I don't bite! Expect a lot of obsessive fangirling on my behalf when it comes to things such as Ryder Lynn, Quinn Fabray, Blake Jenner, Dianna Agron, Brittana, Ryley, St.Berry, Fabrevans etc. As well as Glee, i'm a huge fan of The Walking Dead, Doctor Who and Grimm. Musicals are my thing, nothing can beat A Little Fall of Rain from Les Miserables. I'm an avid reader and I love to sing and dance despite my non existent talent in both areas. I guess you could describe me as full of rainbows and stuff, I don't think so but others beg to differ. I love positivism and optimism, it really is the most attractive quality in a person. Anyway, I ramble. Enjoy my profile! ♥
"Fashion your life as a garland of beautiful deeds". - Buddha. "Happiness can be found in even the darkest of times, if only one remembers to turn on the light." - Dumbledore.

0p/j4KndYfWm8gpphni65SE6DlcM2eeEitN1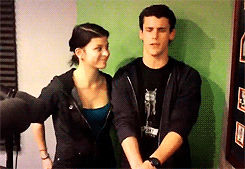 In no particular order!
Allison
Jade "You're at the same stage of your life as me, so we're kinda going through it together."
Sasha "I love having the privilege to know you."
Perry "Besides babe you and I are something else. We stuck by each other for over 400 days."
Sarah
Daniel "Twin!"
Nadiah "You are one of the few people here who treats me like I SHOULD be treated. You are exceptional."
Max "I love you Lukey."
Oorna "Eagles!"
Sarah "Love you Lukeh and keep being yourself because that's the absolute best thing about you."
Jas "You're awesome and I love that I can go to you for advice and you're not going to judge me."
Jess "You're the guy that no matter if I want to talk about it or not, you still make me want to choose you to talk to about things. Because I feel me and you relate to each other in a way which is awesome, and a reason to why I love you."
William "Luke you are just a gorgeous, perfect person, who I want to know forever, never let anyone tell you otherwise."
Emma "I love how nice you are to people and you are an amazing friend to have, I love you Luke."
Pedo!Cass "Thank you for being my friend and sticking up for me and appreciating my kindness, you are amazing."
Beaky "Jonathan Groff is mine!"
Trae
Sis "I know that behind all that fog and rain that makes it damn freaking hard to understand you, you truly care for your friends and love them."
Jackie
Kyler
Hinton
Tae "Infinite GayBerry love."
Happy "Chippergay."
Ashton
Gauri "You're my hamster."
Gina
Drew
Skyler
Juan
Jon
Easy!Kerwin "I'm happy to be your friend. And Liam, all ferrets aside, I'm lucky to have you as a part of my life."
Britt
Bitch!Hayley "I love you so much Luke, you are like the younger brother I never had and I know I can always talk to you."
Laney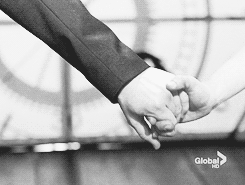 Season One:
Pilot: On My Own.
Showmance: I Say A Little Prayer.
Acafellas: Bust Your Windows.
Preggers: Taking Chances.
The Rhodes Not Taken: Maybe This Time.
Vitamin D: It's My Life/Confessions Part 2.
Throwdown: You Keep Me Hangin' On.
Mash-Up: Sweet Caroline.
Wheels: Defying Gravity.
Ballad: Lean On Me.
Hairography:' Papa Don't Preach.
Mattress: Smile. (Lily Allen)
Sectionals: My Life Would Suck Without You.
Hell-O: Hello.
The Power Of Madonna: 4 Minutes.
Home: Beautiful.
Bad Reputation: Total Eclipse Of The Heart.
Laryngitis: One.
Dream On: I Dreamed A Dream.
Theatricality: Bad Romance.
Funk: It's A Man's Man's Man's World.
Journey: To Sir With Love.
Season Two:
Audition: Listen.
Britney/Brittany: Me Against The Music.
Grilled Cheesus: I Want To Hold Your Hand.
Duets: Lucky.
The Rocky Horror Glee Show: Time Warp.
Never Been Kissed: Start Me Up/Livin' On A Prayer.
The Substitute: Singin' In The Rain/Umbrella.
Furt: Marry You.
Special Education: Dog Days Are Over.
A Very Glee Christmas: Last Christmas.
The Sue Sylvester Shuffle: Need You Now.
Silly Love Songs: Firework.
Comeback: Take Me Or Leave Me.
Blame It On The Alcohol: Don't You Want Me.
Sexy: Landslide.
Original Song: Get It Right.
A Night Of Neglect: Turning Tables.
Born This Way: I Feel Pretty/Unpretty.
Rumours: Songbird.
Prom Queen: Rolling In The Deep.
Funeral: Back To Black.
New York: For Good.
Season Three:
The Purple Piano Project: You Can't Stop The Beat.
I Am Unicorn: Somewhere.
Asian F: Spotlight.
Pot O' Gold: Candyman.
The First Time: Uptown Girl.
Mash Off: Rumour Has It/Someone Like You.
I Kissed A Girl: Constant Craving.
Hold On To Sixteen: We Are Young.
Extraordinary Merry Christmas: Do They Know It's Christmas? (Feed The World).
Yes/No: Without You.
Michael: Never Can Say Goodbye.
The Spanish Teacher: La Isla Bonita.
Heart: Cherish/Cherish.
On My Way: Cough Syrup.
Big Brother: I'm Still Standing.
Saturday Night Glee-ver: If I Can't Have You.
Dance With Somebody: I Have Nothing.
Choke: Shake It Out.
Prom-asaurus: Take My Breath Away.
Props: Mean.
Nationals: It's All Coming Back To Me Now.
Goodbye: You Get What You Give.
Season Four:
The New Rachel: Chasing Pavements.
Britney 2.0: Everytime.
Makeover: A Change Would Do You Good.
The Break Up: Mine.
The Role You Were Born To Play: Everybody Talks.
Glease: There Are Worst Things I Could Do.
Dynamic Duets: Some Nights.
Thanksgiving: Come See About Me.
Swan Song: Being Alive.
Glee, Actually: The First Noel.
Sadie Hawkins: I Don't Know How To Love Him.
Naked: Love Song.
Diva: Girl On Fire.
I Do: (Not) Getting Married Today.
Girls (And Boys) On Film: In Your Eyes.
Feud: Closer.
Guilty Pleasures: Creep.
Shooting Star: Your Song.
Sweet Dreams: Outcast.
Lights Out: Everybody Hurts.
Wonder-ful: You Are the Sunshine of My Life.
All or Nothing: All or Nothing.
http://ask.fm/ItsLuke -Ask.fm
http://www.facebook.com/LukezxD -Facebook
http://www.twitter.com/LukeShakespeare -Twitter
http://thevoicesoftheunderground.tumblr.com -Tumblr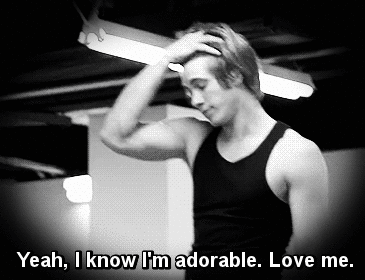 and rain, will make the flowers, grow. ♥.
How wonderful life is, now you're in the world. ♥.
I'd rather be a rainbow than just some shade of grey. ♥