As my name suggests, I'm a Starkid fan who loves Joe Walker. But I'm not nearly as obsessive as I used to be.
My OTP is Finchel...
but I still completely adore Jesse St. James / Jonathan Groff!
I have been playing the clarinet for five years and piano for ten.
I also love to travel and hate being stuck in one place for an extended period of time. I am studying abroad this summer in Europe and can hardly wait:)
(in no particular order)
I guess I'm strange because I like both Finchel and St. Berry, but I honestly don't see the big deal with liking those two at the same time. Both of these ships' voices sound superb together (I still like most St. Berry duets better, only because Jonathan Groff's voice is heaven to me). Nonetheless, I ship Finchel far more than I ship St. Berry because their personalities compliment each other perfectly, they look so amazing together, they are both so in love and you can see it in their eyes, and they help each other overcome their flaws. :)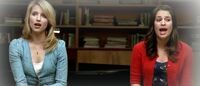 Flevans (Sam-Rory Friendship)