Enjoy

Kurt Hummel: He is so perfect!!! I love him since the Pilot when he hit that high note!!! He's just one of the reasons I'm still watching Glee... Team Kurt!!
Rachel Berry: I love her SO MUCH!! At first I didn't like her because she was very loud but after watching a few episodes I learned how to love her and now every time there's a diva-off involving Rachel I'm so Team Rachel!!! I'm also a the biggest Finchel Fan ever!!!
Brittany S. Pierce: I don't know if anybody hate Brittany. She's the funniest thing I ever saw on TV... She has the best one-line ever(for the exception of Sue) and I love her so much... However, I'm not a Brittana Fan at all. I prefer Brittany with Artie... I think Bartie is so awesome!!
Shelby Corcoran: I don't know why but since Hell-O, i love her so much. I was so happy when I learned that she'll come back in Season 3 I was SO HAPPY!!! I want her to have a storyline with Rachel!!! And I'm a big Shuck and Willby(shelby+will) shipper.
I am Unicorn: So an awesome episode!!! Shelby-Rachel, Finchel and all the unicorn stuff!!
Theatricality: Shelby-Rachel, Kurt in GaGa and Quick!!!
The Purple piano project
Sexy
My Favorite Songs(Per Episode) Edit
Pilot:
My friend on the wiki
Edit
Miss Pottergleek: She's one of my closest friends and she's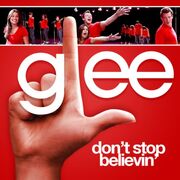 awesome!!! I met her last year(7th grade) at school and we both start talking to each other because we were both harry potter fans and she needed someone to go with her to see the movie. And then, we realized that we were both gleeks and we started to be good friends. And now she's my best friend!!! We do many things together and she's always there for me!! And we are in the same class this year too so it's pretty awesome!!! She made me discovered the Glee Wiki and many others things like Percy jackson and Hunger Games... So thank you for everything chameau and I love you!!! Because I knew i had been change for good... Love You Truax...
Finchel: Finchel is so my OTP. I think they are SO CUTEEEE!!! I love them so much. They are so the best thing on Glee!!! Since the Pilot, I'm a Finchel Shipper and even during their break-up I was still a proud finchelette. I love them so much...And I REALLY want a Finchel proposal and Finchel babies. Here's my Finchel templates:
Klaine: Well, I think it's impossible not to be a Klaine shipper.... Since Never Been kissed, we all know that Kurt and Blaine are meant for each other...So Klaine power 4ever...
Bartie: Look, if you're a Brittana shipper, don't kill me. I just think that santana and Brittana ARE NOT CUTE together...and Santana is SO a bitch that she needs to be alone for a moment. And Brittany and Artie are so freaking cute together...just look at A Very Glee Christmas to see. Even I' pretty sure its over, i'm still a bartie shipper.
Samcedes: OMG Samecedes!!! At first(in prom queen and new york) I thought they were cute, but not that much... But since Hold ON To Sixteen, they kinda became my second OTP!!! I'm waiting for Summer Nights!!!!
My favourite musicals
Edit
The Sound Of Music: OMG favourite musical of all time!!!
West Side Story: I watched it on Halloween night with Miss Pottergleek(so before the first time aired) and it was awesome.
Wicked: I never saw it but I think it's awesome!!! And I just love Idina, so it's impossible no to love Wicked...
My Templates For Couples
Edit
In order: Finchel-Quick-Bartie-Klaine-Tike-Shuck-Hollister-Samcedes
Template:Finchelsex
Template:Finchelbuttgrab
| | |
| --- | --- |
| | This user will forever be a huge Quick fan. |
BARTIE ROCKS
This user thinks that Bartie rocks. He or she says that they, though they are really good characters in the series, can really share they emotions to eachother.
Template:KlaineSexRossi
My Templates For Friendships
Edit
In order: Hummelberry-Faberry-Fabrevans-Puckelberry