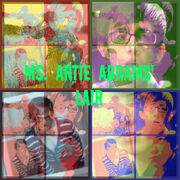 About Me
Ms. Artie Abrams
General Information
Gender:
Female
Age:
13
Hair Color:
Light brown
Eye Color:
Hazel
Birthday:
Nov. 21, 1997
Height:
5'2
Weight:
87.4
Address:
Ain't none of y'alls business!
Occupation(s):
Student, admin (of 3 wikis)
Aliases:
Gabz, Ms. A, Ms. AA, Abrams, Gaby
Family & Friends
Family:
Brother (Mr. SL), mother
Relationships:
Fictional husband Artie Abrams
Friends:
Only on da wiki
Pet(s):
Darth Vader Sirius Black (lives with Gramma)
Employer:
Mom
Enemies:
Tina Cohen-Chang (sometimes), Santana Lopez, Justin Beiber
Other Information
Interests:
Glee, death, UnNatural History, Harry Potter, music, art, singing
Clique:
Emo kids, silent types
Education:
Home-schooled
Talent:
Threatning
Vulnerabilities:
Bullying
Strengths:
False bravado
Weaknesses:
Self-esteem
Awards:
Future Grammys, Tonys, Oscars, and Emmys
Series Information
First appearance:
Nov. 21, 1997
Last appearance:
When God wants to take me.
Portrayer:
Heather Morris. Nah! Me, duh...!

Yo, what up Gleeks?! I'm Ms. Artie Abrams, but you can me Ms. A or Gabz. I'm super big Artie fan who loves to read, write, draw, paint, sing, and listen to music. I ship Bartie hard and hate any other person Artie's with. I'm not gonna bore you with useless info, so peace out suckahs!
Ms. Brittany Susan Pierce-Abrams (I don't wanna die.) 19:28, February 22, 2011 (UTC)
Gallery