Nayaforever
General Information
Gender:
Male
Age:
22
Hair Color:
A weird shade of blond
Eye Color:
Greenish Hazel
Birthday:
December 7, 1992
Height:
5'5.5"
Occupations:
The Supreme, Lopezian, Sebastan, Santanian, Quicker, Puckrocker, Jones
Aliases:
Brian Bear (Gabbers)
Supreme
Family & Friends
Relationships:
Grant Gustin (fiancé)


Colton Haynes (husband)
Naya Rivera (wife)

Friends:
Sebastian Smythe (bestie)


Santana Lopez (bestie)
Fiona Goode (mentor)
Barry Allen
Kelly Clarkson
Ariana Grande
Demi Lovato
Noah Puckerman
Mercedes Jones
Jake Puckerman
Ryder Lynn
Kitty Wilde
Madison Montgomery
Misty Day
Queenie
Stiles
Peter Hale
Derek Hale
Jackson Whittemore
Lydia
Beyoncé
Aidan and Ethan


Pets:
Chow-Shih Tzu (Ginger)


Australian-German Shepherd (Maxwell)

Enemies:
Zoe Benson


Myrtle Snow

Other Information
Interests:
Being the supreme
Clique:
Alpha Pack


Coven


Education:
Student at Miss Robichaux's Academy for Exceptional Young Citizens
Talent:
Concilium


Injury Transference
Pyrokinesis
Resurgence
Telekinesis
The Sight
Transmutation
Vitalum Vitalis


Vulnerabilities:
Self-esteem
Strengths:
Witchcraft


Dancing

Weaknesses:
I have none.
Awards:
The Supreme
Series Information
First episode:
January 5, 2012
Last episode:
Never
Portrayer:
Brian
♥ Love Above All Else~
Welcome, I'm Nayaforever.
"Sassy son of a betch who thinks he is amazing byut nobody can stand" - Jer
Perfection is a disease of a nation.
I also have Grant Gustin and Sebastian Smythe, Naya Rivera and Santana Lopez, Jacob Artist, Mark Salling, Dean Geyer and Brody Weston, and Kitty Wilde. 

♥ Love Above All Else~
~ Nayaforever ~
♥ "Let yourself be beautiful" ♬




I am a millennial. Generation Y; born between the birth of AIDS and 9/11, give or take. They call us the global generation. We are known for our entitlement and narcissism. Some say it's because we're the first generation where every kid gets a trophy just for showing up. Others think it's because social media allows us to post when we fart or have a sandwich for all the world to see. But it seems our one defining trait is a numbness to the world. An indifference to suffering. I know I did anything I could to not feel; sex, drugs, booze. Just take away the pain. I mean, that must have hurt like hell, right? Most people never get over stuff like that and I was like, 'Let's go get Jamba juice!'

I would give everything I have or will ever have just to feel pain again; to hurt. And that's the rub of all this, isn't it? I can't feel nothing. I can't feel anything. We think that pain is the worst feeling. It isn't. How could anything be worse than this eternal silence inside of me.

| | |
| --- | --- |
| | This user has been struck by a Smooth Criminal |
The most important thing is that on August 26, 2013 at 1:37 PM PST GRANT GUSTIN LIKED MY INSTAGRAM PHOTO!!!!!!!!!!!!!!!!!!!!!!!!!!!!!!

ALSO ON DECEMBER 2, 2013 AT 1:15 PM PST HE LIKED AND COMMENTED ON ONE OF MY PHOTOS!!!!!!!!!!!!!!!!!!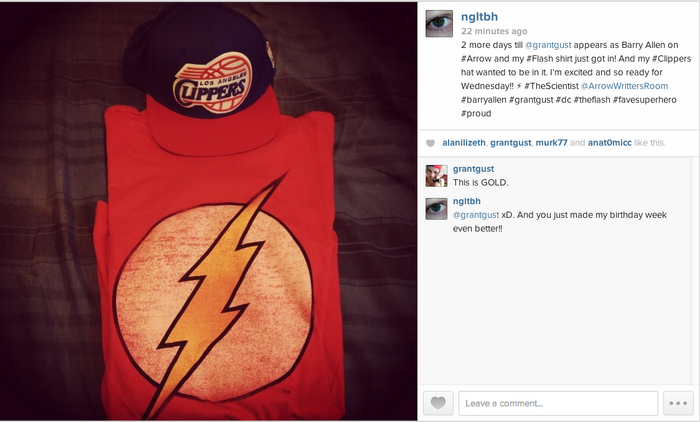 0embed/GJdiEzt1GPc1