Nicole
General Information
Gender:
Female
Age:
15
Hair Color:
Brown with blonde highlights
Eye Color:
Green
Birthday:
18th of March
Family & Friends
Relationships:
Forever alone
Pets:
Dog, bird, fish
Other Information
Interests:
Music, Glee, going to IKEA, being a major fan girl, Darren Criss
Talent:
Singing, finding stuff that's cheap and I don't know but little kids love me, so...
Strengths:
Random Glee facts
Weaknesses:
Klisses
Series Information
Hey there, I'm Nicole and I love Glee. That's kind of obvious because I'm on the Glee Wiki, so... Oh, and I love Klaine with all my heart. You may notice later. I'm from Australia, and I watch Glee on a station called Channel Ten. They're not showing anymore Glee for the WHOLE year. I hate Channel Ten, as you would think.
My only complaint about Glee is that some characters get mentioned more than others. Come on, Tina needs a solo. And so does Sam. Granted, he's no longer on the show, FML. BUT I SAW A TWEET HE WILL BE COMING BACK SO OMG MAYBE HE WILL GET A SOLO. Baby doesn't count as a solo as that was a duet with Sam in the full version. Same for Billionaire. I have also made a list that I will post at the bottom of the page of what I want from Glee. So yeah, IM OBSESSED AND I DONT CARE.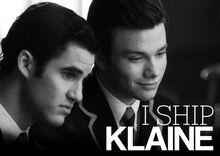 EVERYTHING IS KLAINE AND NOTHING HURTS.
KLAINEBOWS FILL MY WORLD.
NOVEMBER 8. MY BALLOT IS READY.
I love Justin Bieber, Darren Criss, Cory Monteith and um... yeah. My favourite TV show other than Glee is Pretty Little Liars.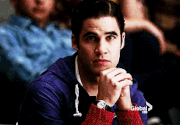 He's dapper, he's handsome and he's just freaking irrestible. It's impossible not to like anything about this guy. I JUST LOVE HIM TOO MUCH, OKAY? I CAN'T HELP MY FEELINGS FOR HIM TO JUST BURST LIKE A BLOSSOMING FLOWER IN SPRING. And that dance in Hot For Teacher? I'm Hot for Blaine.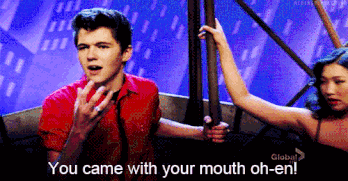 His Irish accent, and just... EVERYTHING ABOUT HIM. Rory came with his mouth oh-en, and that's why I love him so much.
Because she's the best dancer in Glee Club, along with Blaine and Mike, she's a unicorn and she plans to go topless on Tuesdays. And her relationship with Santana is just so freakin' adorable.
My Favorite Glee Episodes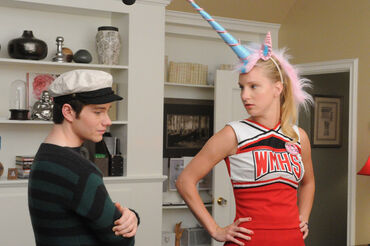 I love this episode for the fact for many reasons. Kurt's bulging pink fun sack, the unicorn riding Kurt, Beth-Quinn-Puck-Shelby storyline. And Brittany believes in unicorns. Also for the fact Blaine sang Something's Coming, and I'm just casually dead while Kurt gives him flirty eyes from above.
Before Klaine was invented, I was a Finchel fan. Not anymore, but this episode made me really excited. The kiss on the stairway, Break a leg and I love you, their dresses were amazing and BETH WAS BORN. And seeing Puck watch Quinn give birth was a major LOL.
MY FAVOURITE EPISODE. JUST...JUST LOOK WHY --->
My Favorite Glee Songs
The Couples I LOVE.
I love Klaine with all of my heart because they're just so freaking perfect (hence the song refrence) together. And Kurt is seriously lucky that Blaine is gay, or I'd be taking Blaine away from him. They're going to stay forever and ever and get their own spin off showing their perfect, perfect life.
Yeah, I love Klaine but this couple right here. They are just so amazing. Their voices go together beautifully, and I believe they should have lasted longer than one episode. You think that they're horrible together? Your argument is INVALID here.
The Couples That I HATE.
Fuinn
St. Berry
Shanecedes
Finn/ANYONE
My Glishlist (I update as I come up with more ideas.)
Klaine sex. (Well..)
Beiste gets a boyfriend. (No idea what to think of this.)
Brittana start dating. (YAAYYAYAYAYAYAYAYAY)
Tina gets a full solo.
Mike gets a full solo.
Quinn and Puck get back together.
Klaine break up (WAIT WAIT WAIT. IT'S NOT WHAT YOU THINK. Like, they break up, because I want to see how Kurt deals with a break up. But then they will get back together when they realise they love each other and that they are soul mates.)
Mercedes to quit Glee Club.
PDA from Klaine. (I WANT A KISS. I don't think a shoulder pat is too romantic. But the flowers were so cute.)
PDA from Brittana. (LIKE I SAID, A KISS. Not holding hands under a napkin.)
Rachel and Quinn drunken kiss. (One can only dream of this.)
Blaine and Rachel date. (AS MUCH I LOVE KLAINE, these two are freaking adorable.)
Karofsky comes out.
Blaine being introduced to Burt and Carole as Kurt's BF. (PLEEEEASE)
Sam to come back. I miss his trouty mouth :(
Quinn and Puck duet.
Another Brittana duet.
Jesse moves to another city. Or country. OR UNIVERSE.