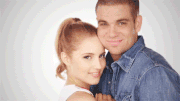 I love love love love glee <3
My Favorite Songs
Season 1
Season 2
Season 3
Fave Quinn Quotes:
" Ms Sylvester, I want to thank you ... For teaching me a valuble life lesson: When
you really believe in yourself, you don't have to bring other people down."
" Would you please stop talking your grossing out my baby."
" Rachel did it. Think about it. I stole the guy she's in love with, then i stole the guy she dated to get over the guy she's in love with, and I'm kind of a bitch to her."
" My baby hormones are making me moody."
" Thinking 'trust me' was a sensible birth control option."
" I seriously wanted to punch both of you."
" Wow what a catch can't believe i ever let you go."
" You used to be just sort of unlikeable. But now i feel like punching you every time you open your mouth."
" This is kind of hot actually."
" I can't believe what you did to my body i used to have abs!"
" Yeh killed us, we lost."
" Your not her mom! I'm her mom!"
" We totally don't think you'll screw it up this time."
Fave Santana Quotes:
" OK, look ... Believe what you want but no one's forcing me to be here. And if you tell anyone this, I'll deny it - but i like being in Glee Club. It's the best part of my day OK? I wasn't gonna go and mess it up."
" Let us give you and introduction on the way we work. You buy us dinner and we make out in front of you. It's like the best deal ever."
" Everything about you screams virgin. You're about as sexy as a cabbage patch kid. It's exhausting to look at you."
" What difference does it make? Everyone knows I'm just here to look hot."
" You haven't deleted his number yet "
" Well congratulations. Normally you dress like a fantasy of a perverted Japanese business man with a very dark specific fetish but I actually dig this look. Yay."

" So get up in my grill, cause Brits and I wants to get our anesthesia on."
" Look, I don't mean to be a bitch ... Well actually I do."
" OK, hold up. Like a million awesome gay jokes just popped into my head."
" You're so on my list dwarf."
" I won't tell Lauren to look out for poachers who might mistake her for the endangered white rhino."
" That's how we do it in Lima Heights!"
" The only straight I am is straight-up Bitch."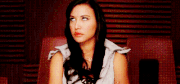 " I'm about to go all Lima Heights!"
Favourtie Brittany Quotes

" So hairography. It works best when you pretend like your getting tasered. It's like cool epilepsy."
" Did you know that Dophins are just gay sharks?"
" I've been here since first period. I had a cold and i took all my antibiotics at the same time, and now I can't remember how to leave."
" Does he mean like a burglar alarm?"
" You look terrible. I look awesome."
" Stop the violence."
" People thought i went on vacation, but actually I spent the summer lost in the sewers."
" I'm more talented then all of you. I see that clearly now. It' Brittany ... Bitch."
" It looks like a Jewish cloud."
' I gave him a card that says, heart attacks are just from loving to much."
" Remember that even the smallets envelope is heavy for an elf."
" How many M's are there in the letter R?"