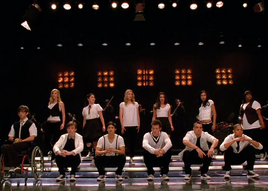 Hi there fellow GLEEKS :) I'm Rachel, seriously my name is really Rachel so you can say that I'm a gleek by fate.
I love singing and I love the show because it gives a different meaning to show choir that is often seen as boring.
I was never part of any Glee Club at school but I sing whenever there are important occasions at school.
I'm 100% Gleek. Rachel's my favorite (obviously, but I'm not a diva), I also like couples like Quam (Quinn & Sam) Chang-Chang (Tina & Mike Chang).
I just love the show, more seasons to come and spread the love gleeks
let's all GleekOut :) <3
My favorite pages
Edit
it's a personal favorite
I love this asian couple so much that sometimes I forget about FinnChel
I hated/loved Quinn before but then now it's pure love because she's with Sam. Oozing Chemistry, Blonde Bond